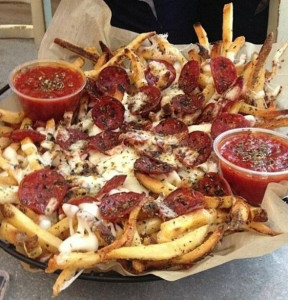 Here's a ridiculously simple recipe for family night that is sure to please everyone – pizza fries!
Pizza Fries Recipe
INGREDIENTS:
1 (2 lb) bag frozen french fries
1 cup pasta sauce
1 1/2 cups shredded mozzarella cheese
1/2 cup diced pepperoni
Dried Oregano for Seasoning
Crushed Red Pepper Flakes for Seasoning (optional)
Hot Sauce (Optional)
Marinara Sauce for Dipping (Optional)
DIRECTIONS:
1.Prepare the fries according to the package directions. Remove them from the oven. Pour the pasta sauce over the fries.
2.Top with the cheese, pepperoni, and a few dashes of oregano.
3.Bake for 5 minutes or until the cheese is melted.
4. Top with several shakes of red pepper flakes or hot sauce, if desired, or fork and dip pizza fries into marinara sauce.