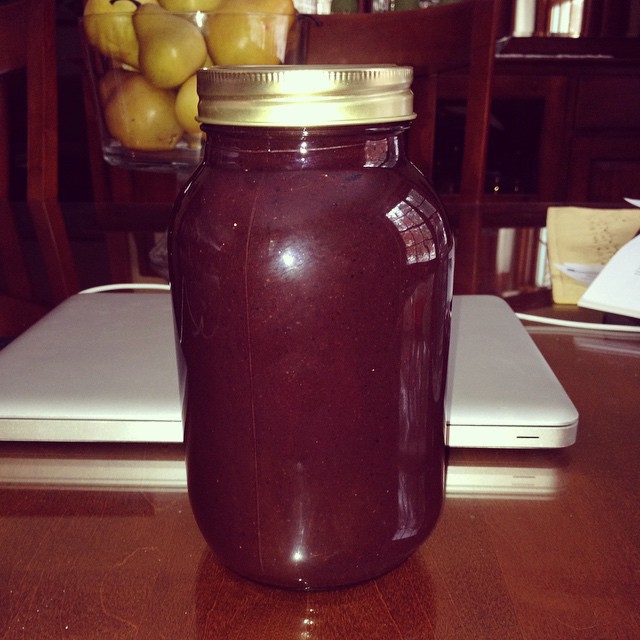 This awesome, mega-delicious homemade blueberry BBQ sauce recipe is one you have to try is you love your barbecue sauce to be on the slightly fruity and sweet side. I would include myself in that group, but it had better be an extremely balanced and tasty sweet BBQ sauce and not overpowering in the fruitiness department.
Thankfully, this blueberry BBQ sauce is wonderful, and has a little something for everyone – sweetness from the blueberries and brown sugar, tartness from the red wine vinegar and balsamic vinegar, smokiness from the chipotle chiles, spiciness from the habanero pepper, and full body and rich savoriness from the rest of the ingredients.
Mmmm-mmmm! Time to make some good stuff!
Ingredients:
3 pints blueberries
1/2 cup brown sugar
1 cup balsamic vinegar
1 cup red wine vinegar
1 clove garlic, minced
1 onion, sliced
1 habanero pepper
1 dark beer (12 oz can or bottle)
1 tablespoon ground coriander
1 tablespoon ground cumin
1 tablespoon ground coffee
1 tablespoon chipotle powder
Steps:
Add all the ingredients into a saucepan and cook at medium-low heat for two hours. It is going to reduce a lot over time and even start to boil near the end. I left it at the same temperature the entire time stirring about every twenty minutes for the first hour, every ten the second hour, and every minute for the last ten minutes.
After two hours pour the mixture into a food processor or blender and puree it. Then strain the sauce and enjoy!
Homemade Blueberry BBQ Sauce Recipe