How to Make Smoked Salmon
If you want to make the most delicious salmon recipe then you are in the right place. This article will help you in making beautiful, flaky, buttery-flavored, pink-colored smoked salmon. It has a unique taste and mesmerizing aroma which will boost your appetite. Let's find out more about the techniques and method of smoking a salmon.
There Are 2 Ways to Smoke Salmon: Cold Smoking and Hot Smoking
There are various ways of processing salmon fish but the most popular one is smoked salmon. It a process of preparing salmon fillets by curing and hot or cold smoking. Smoked salmon is considered an expensive commodity. Hot and cold smoking are two different methods of smoking the fish. Commercially available smoked salmon is usually cold smoked.
In cold smoking the fish is not cooked and has a very delicate texture. However, in hot smoking the fish is cooked which results in reducing the moisture and makes it more firm. Hot smoked salmon has a strong taste. Smoked salmon is commonly eaten with salads and pasta. This article focuses on hot smoking of salmon. There are four major steps of smoking salmon. Now let's get started!
Step 1: Selecting the Right Salmon
Salmon smoking is an easy but tricky job as compared to the smoking of meat or beef. The salmon fit for smoking is the one having a bright pinkish color with no stinky smell and the meat must be little firm to touch. Frozen fish is more preferable than fresh.
Step 2: Seasoning with Brine
Salmon normally does not require much flavoring, but to make it juicy and savory it should be seasoned by a dry rub or wet brine.
Dry rubs are mostly made by mixing sugar, fish seasonings, salt and black pepper. This mixture is rubbed on the salmon surface to coat the fish evenly. The dry rub is pressed into the meat of salmon so that it does not fall off while cooking.
Brine can be as simple as a mixture of salt and water. Good, common ingredients that you can use for your fish brine are kosher salt, brown sugar, bay leaves, celery stalks, fennel, onions and garlic. Simply mix up these ingredients in a large container, and go to the next step…
Step 3: Curing Process
After making the brine next step is curing. In this process the fish fillets are submerged in the brine mixture and kept in a refrigerator for around 6 to 8 hours. It is not advisable to keep it submerged for more than 8 hours as it gets more and more salty when submerged for longer amounts of time.
A vital step in smoking is the drying of fish after brining. For this purpose, the brined fish fillets are placed in a cool and breezy place or running a fan nearby. This is done to make a pellicle, which is a thin sticky surface of brine over the meat.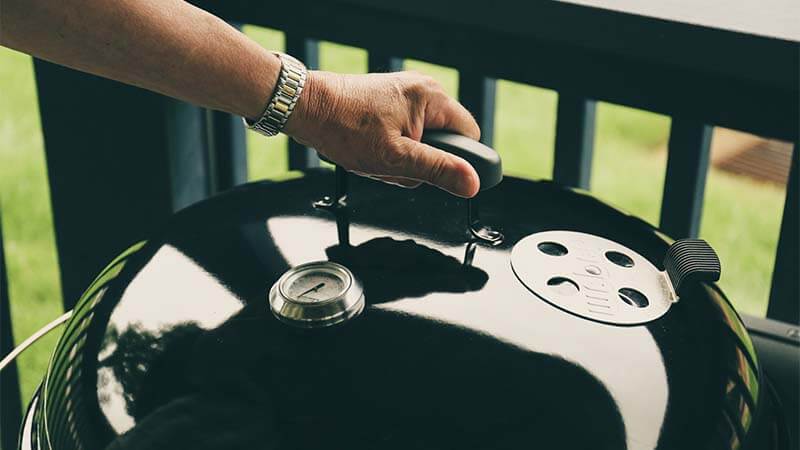 Finally, Step 4:  Smoking It!
The final step in smoking salmon is heating it. This review of best smokers will guide you in selecting the right smoker you need. The trick to perfect smoking lies in maintaining a steady and super low temperature. The smoker should be set to 160 degrees F, and add wood chips to produce that wonderful wood smoke. The wood used for flavor can be of apple, cherry, alder, oak, etc. I personally would avoid stronger woods like mesquite, as the heavy smoke flavor they produce can easily overpower the lighter taste of the fish. The salmon is smoked for minimum three hours until internal meat temperature is around 145 degrees F.
Smoking is all about the right temperature and time. The basic process of smoking is the same for all kinds of meat with variation of temperature and duration of cooking. The infographic below by Jack from BroBBQ gives complete information about these two factors in a descriptive manner for various types of meat. Let's check it out!
Please include attribution to BroBBQ.com with this graphic.
How To Smoke Salmon In 4 Easy Steps