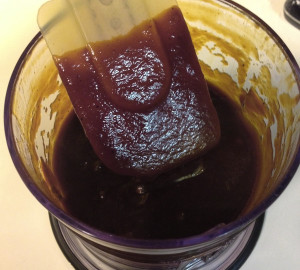 Being the crazy tinkerer in the kitchen that I am, I've had lots of experience at testing out recipes, as well as starting from scratch when concocting various sauces and dishes. Unfortunately, more have failed than have been successful, but those failures have only pushed me harder at finding ways to make something work out.
Such as the case at making my own homemade spicy steak sauce. There are a lot of copycat A.1. Steak Sauce recipes flooding the interwebs, but through a lot of trial and error, I believe I've tweaked a great facsimile of a copycat A.1. Steak Sauce. Not all sauces I consume have to be fiery and peppery, but I did want to make one that had a touch of spiciness to it. So here is my version of a spicy A.1.-style Steak Sauce that you can brew up in your own kitchen.
Homemade Copycat Spicy A.1. Steak Sauce Recipe
Ingredients:
1/2 Cup Dark Molasses
2 Green onions, chopped
3 Tbsp Coarse salt (kosher)
3 Tbsp Dry mustard
1 tsp Paprika
1/2 tsp Cayenne Powder
1 Clove Garlic, crushed or 1 tsp Garlic powder
1 Anchovy fillet, chopped or 1 Tbsp Anchovy paste
6 Tbsp Fresh Tamarind or 1 Tbsp Tamarind extract
1 tsp Black Pepper
1/2 tsp Fenugreek
1/2 tsp Powdered Ginger
1/2 tsp Ground Cinnamon
1 tsp Powdered Cloves
1/2 tsp Caradamen seeds
1 tsp of a Louisiana-style Hot Sauce (Tabasco, Frank's RedHot, etc.)
6 oz Rhine Wine
2 oz Rose Wine
1 pt White Vinegar
1 Tbsp Kitchen Bouquet browning and seasoning sauce
1 Tbsp Postum Powder
Directions: 
Put all the spices (except last 6 ingredients) through a blender until it is all a fine powder.
Place spice blend powder over a stove at low heat with half vinegar and simmer for 1 hour, adding in the rest of vinegar a little at a time as mixture is reduced in bulk.
Stir in hot sauce, both wines, Kitchen Bouquet. Cook 3 min to dissolve.
Remove from heat. Pour into 2-quart plastic container with lid. Let stand covered for 1 week.
Then strain thru cheese-cloth, six times. Bottle and cap tightly. Keep refrigerated indefinitely.
In addition to steaks, of course, this Homemade Copycat Spicy A.1. Steak Sauce is killer on hamburgers, meatballs, and chicken. It's sweet, savory, bold, and just a touch on the spicy side.
Homemade Copycat Spicy A.1. Steak Sauce Recipe