5 Veggie Foil Packs Your Grill Can't Live Without
There's that tweak with foil that makes recipes luxurious and for this reason, we choose to share a few of these packs that will leave you speechless for days.
The trick to having packs that leave unbeatable tastes and memories is to do a good mixture of vegetables and herbs and cook them to have a bit of crunch to them.
Veggie packs could be complete meals by themselves but if you are feeling a bit extra, marry it up with some grilled steak, or meat of choice.
1. Asparagus In Cheese
Asparagus is those accompaniments that you should have lying by your grilled steaks. They taste good, are crunchy and go well with everything.
Asparagus is packed with a bunch of nutrients; minerals, calcium, protein, vitamins, and fiber which makes it a go-to meal option for various dietary needs.
To top it up in taste this recipe takes these greens to a whole new level with its cheese fusion. It is an aromatic zesty and cheesy blend and will work well with any kind of beef or pork barbecue.
A trick to having the best cook, make sure to cook these with some crunch to them.
Recipe by Delish
2. Simple Garlicky Potato Packets
Have you ever wondered why potatoes are a to-make when talking barbecues? Answer: it tastes great and is filling.
Potatoes are good for kids and can be mashed if the little ones can't chew properly.
In this recipe, Diethood kicks up the flavor with a mix of garlic and herbs which gives the potatoes an aroma of luxury.
Serve this recipe with chicken, beef or lamb, or with salads if you are a vegetarian. It works just fine.
Potatoes are energy boosters with its high carb content. Make it for lunch.
Recipe by Diethood
3. Garlic Herb Veggie with Shrimp Fusion
Oh Goodness!
If you dislike seafood, this will give you a change of mind.
The taste of shrimp never got better with the aroma of garlic and herbs. And it sits in sausages too! Everything you need in protein sits right here in this dish.
Create your own veggie blend as you like, using this recipe as a guide.
Serve with a drink of choice and enjoy all the way.
Recipe by Chelsea's Messy Apron
4. Veggie Medley
Confused by options? Throw in your own mix of many veggies and trust your guts to have something amazing. Use this recipe as a guide.
Mix your choice of veggies; carrots, onions, sweet corn etc with a herb blend. Season with salt and pepper and proceed to pack, and grill.
It takes a very short time to make and is one of the perfect side dishes to have for any meat options.
Get all the nutrients that you need with a good blend like this. Don't forget to pass the love around.
Recipe by Blog Lovin
5. Cauli Pack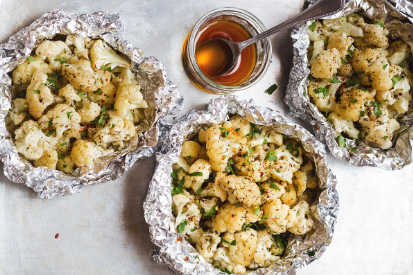 Healthy goodness! This cauliflower mix is what you need for a simple evening.
Simple to make as ABC, and boosted with a herb blend.
For those lazy days, just toss all the ingredients in a bowl, pack and grill. It takes just 5 minutes to be done.
Over a charcoal grill, the flavoring of the cauliflower will be enhanced. Find the best charcoal grill to buy here if you need to get one for this result.
Once ready, eat it as it is or add a fish grill to it.
Have a good time enjoying and sharing this dish.
Recipe by Diethood
5 Veggie Foil Packs Your Grill Can't Live Without