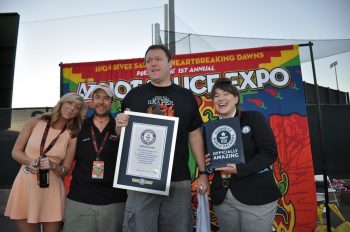 Just a few weeks ago at the first annual Arizona Hot Sauce Expo, daredevil chile pepper eater Greg Foster of Irvine, CA break the Guinness World Record for consuming the largest amount of Carolina Reaper chile peppers in one minute.
Greg was able to set a new record by munching down a mind-blowing 120 grams of Carolina Reapers (which came out to be 16 pepper pods) within 60 seconds. These Guinness World Record Reaper Challenges are held at all of the hot sauce expos produced by Steve Seabury and High River Sauces, which included the aforementioned Arizona Hot Sauce Expo, plus the NYC, California, and Portland Hot Sauce Expos.
For those of you who don't know, the Smokin' Ed's Carolina Reaper peppers are the Guinness World Record hottest chile, and average at around 1,569,300 units of the Scoville Heat Scale. Carolina Reapers were developed and grown by Ed Currie of the PuckerButt Pepper Company.
So how exactly did Greg did it? I recently chatted with him and asked him how he got into fiery foods, what he did to prepare himself for this challenge, and what it was like to go through the nuclear heat pain after consuming all of those chile peppers…