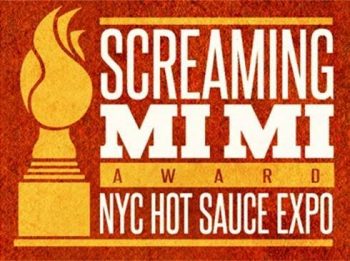 If You Want To Be The BEST Then You Have To WIN The BEST!
The NYC Hot Sauce Expo is pleased to present the 2017 Screaming Mi Mi Awards Show on April 22nd. Each year hundreds of hot sauce companies from around the globe compete and try to win the most esteemed and most admired award in the hot sauce industry. Past winners have been featured on TV, national magazines, newspapers and blogs which has lead for their product distributed by wholesalers and national retail outlets.
This year the Screaming Mi Mi Awards have partnered with Peppers.com, Fuego Box, Chile Pepper Magazine and the Scott Roberts hot sauce blog. These companies are the most respected and leading outlets within the hot sauce community. "I wanted to maximize the profile of the winners and there is no better way than to partner up with these amazing companies" states Seabury organizer of the NYC Hot Sauce Expo. "I want spicy connoisseurs to have easy access to the BEST Hot Sauces in the World and the BEST are Screaming Mi Mi Award winners" adds Seabury.