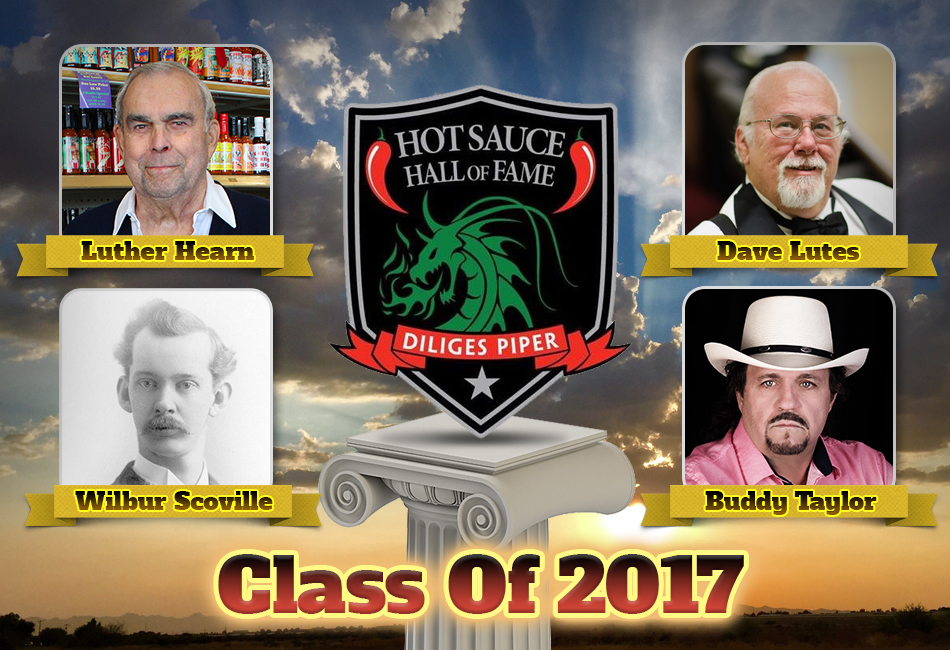 Hot Sauce Hall of Fame Class of 2017
After a long period of anticipation, the Hot Sauce Hall of Fame Foundation is very proud to announce the Hot Sauce Hall of Fame Class of 2017. The Hot Sauce Hall of Fame will induct 4 people all of which have been very instrumental in the fiery foods, which will take place at the NYC Hot Sauce Expo on April 22nd and 23rd at the Brooklyn Expo Center in Brooklyn, NY.
This year's group continues to celebrate and honor the biggest and brightest names in the industry. Here is your Hot Sauce Hall of Fame Class of 2017!
Luther Hearn – Peppers: Luther has built one of the biggest distributors in the United States that specializes in Hot Sauce, BBQ Sauce and Salsa. Peppers.com was one of the original websites to sell hot sauce and related products.
Dave Lutes – Hot Shots Distribution: Dave was founder of Hot Shots Distribution. One of the original hot sauce distributors and one of the biggest. Still operating for almost 20 years.
Wilber Scoville: Wilbur was an American pharmacist best known for his creation of the "Scoville Organoleptic Test", now standardized as the Scoville Scale. He devised the test and scale in 1912 while working at the Parke-Davis pharmaceutical company to measure pungency, "spiciness" or "heat", of various chile peppers based on the amount of the chemical capsaicin found in them.
Buddy Taylor – Gator Hammock Hot Sauce: Buddy started this influencial hot sauce company in 1989. Buddy has created a full line of sauces that have won numerous awards within the fiery foods industry. With over 25 years in the business, his sauces are available nationwide.
The Hot Sauce Hall of Fame enshrinement ceremony will be held on Saturday April 22nd  on the main stage of the NYC Hot Sauce Expo.  Inductees will receive a distinctive Red Jacket and a Hall of Fame Ring.
For More Information Please Contact Steve Seabury: steve@highriversauces.com
Info on the NYC Hot Sauce Expo: www.NYCHotSauceExpo.com
Previous Hot Sauce Hall of Fame Inductees:
Dave DeWitt
Jacob Frank
Sam Garner
John "CaJohn" Hard
Chip Hearn
Dave Hirschkop
Blair Lazar
Edmund McIlhenny
Marie Sharp
David Tran
Announcing…the Hot Sauce Hall of Fame Class of 2017 Inductees!