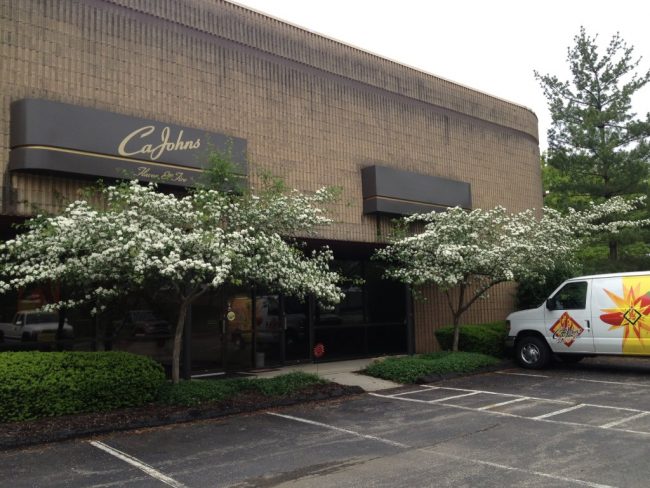 The following is my recollection from the CaJohns Open House event from Monday, August 2, 2010. These open houses were held at the CaJohns Fiery Foods facilities in the Columbus, Ohio area the day after the Weekend of Fire Hot Sauce Expo. These were CaJohn's way of providing excellent free food and commeraderie for chileheads owners of sauce companies. In addition to the post-WOF open houses, these get-togethers were also held in conjunction with other events such as the Columbus North Market Fiery Foods Festival, and were an absolute blast for anyone attending!
Having been guided by my iPhone's GPS/Map app, I was the first visitor to arrive at the new CaJohns facilities in the northern Columbus, Ohio suburb of Westerville. Not knowing where to park or even if this was even the correct building, I pulled the Roberts family truckster into a large back parking lot. I noticed the familiar white and yellow CaJohns van pulling out of a spot and heading around to the front of the building and I followed suit. John "CaJohn" Hard bounded out of the drivers seat and gave me a welcoming handshake. For a few minutes he chatted about the chile pepper plants (among them some Bhut Jolokias) that were planted out in front of the building before we darted inside.

The CaJohns Van
CaJohn first showed me the impressive trophy for the inaugural Reviewers Cup, a competition to see which hot sauce blogger was able to taste and identify ingredients in food most accurately. He confided in me a couple of hints as to what the contest would have in store for us. Prior to this, I had no idea what to expect (would we sample hot sauces? A dish of a multi-ingredient, mish-mash of components such as chili or jambalaya? Or would CaJohns Chef Steve Lawrence concoct something special and completely unanticipated for us?). CaJohn said that it would be simpler and that blogger participants would taste ingredients common to hot sauces and salsas. Hmmm…

The trophy nameplate of the brand spankin' new Reviewer's Cup Tournament
CaJohn then led me through his new digs for a quick tour. There was a huge showroom that contained numerous shelves and display cases crammed full of CaJohns products, collectors bottles and scores of awards, plus enough chile-related wall hangings and knick-knacks to make even the the most fanatical of hothead pack-rats envious. John then took me out to warehouse, which looked much larger than the picture I had in my mind of the old facility. There was also the new autographed Wall of Fame/Flame, already mostly filled up from people's signatures who had visited the building since its grand opening in March of this year. I had asked about the autograph Wall from the older Harold D. Hard building (where I had visited for previous open houses) and if it was going to be cut out and moved up to this new Westerville location. CaJohn assured me that the maintainers of the old facilities have guaranteed him that the old Wall will stay there and will remain intact for the foreseeable future, therefore the need for the new wall.
CaJohn opened the back door to show me the expansive back parking area (where I had first parked) and informed me of the idea of a possible outdoor food festival held here, with hot food, hot rods and hot babes in bikinis (okay, I made up that last part). With the ample space, and even a couple of sloped hills around the lot with an amphitheater-like appearance, this potentiality could be the start of something interesting for chileheads and foodies in central Ohio.
Heading back up front, chileheads started to trickle in as we were shown the individual offices filled with even more cool collectibles and chile decor. Going back out to the main showroom, where several tables were furnished for the small mob expected today, many of us enjoyed slices of a couple of cheesecakes baked by Jeff "Crazy Uncle Jester" Stevenson for Al "Buddah" Gioldenberg's birthday and did what truly makes these special events: just simply hung out with our chilehead brothers and sisters.
Many of my favorite spicy foods vendors also joined us for the day: Captain Thom, Nicole and Johnny of Heartbreaking Dawns, Chuck Evans of Montezuma Brand, and Vid and Ben from Torchbearer Sauces, among others.
The day's conversation consisted of everything from the Weekend of Fire show that had just wrapped up to college and NFL football predictions this year, to the idea that something might usurp the Bhut Jolokia, AKA Ghost Pepper, as the world's hottest chile in the coming year (some of us think it might be the fear-inducing Trinidad Scorpion).
The lunch provided by Chef Steve and crew did not disappoint: delicious jolokia sausages, jerk-marinaded chicken and fixins for soft tacos.
The Reviewers Cup
After the meal, some of us were getting antsy and a few of us had to hit the road to drive home from the Ohio hot sauce long weekend. The Reviewers Cup contest had not been yet set up, and after a bit of pressuring from the participants who had to leave soon (including yours truly), we were able to get CaJohns and crew the accelerate the process. I'm sure next year we'll get the contest started a bit sooner, and perhaps even hold it before lunch.
The taste-testing brawl was open to anyone who had done a review on any of the major chile blogs in the past year. The contestants who signed up were Betty Huddleston, Joe Levinson, myself, "Firehead" Thomas Gately, "Chilehead" Ed Rome, Buddah, and Bill Kraft. We each drew numbers and retreated back to the warehouse while the person up at bat was blindfolded in front of everyone in the showroom and made to sample several dry seasonings, a couple of seasoning mixtures, and a pair of salsas.
I was third in line to do the tasting. It was reiterated that the things I would be tasting would be ingredients common to hot sauce or salsa. I was blindfolded and then given the opportunity to smell each seasoning before sampling it on a tasting spoon.
Let me tell you, it was far more difficult than I had ever anticipated! Since everyday people rarely taste a single seasoning by itself directly on the tongue – for instance, ancho chile powder or rosemary – that it was tough to pinpoint exactly what it was. I could tell the ancho tasted like a dried pepper powder, but completely "out of context" from a hot sauce, paste, or dish it completely threw me off.
I thought I had royally blown it, but was semi-relieved to hear Betty and Joe (who both preceded me in the tasting) felt the same thing about their performances.
The remaining contestants took their turns and then the results were tabulated. There ended up being a three-way tie between Buddah, Firehead Thom, and myself, and pushed this to a second round. We each tasted some multiple-ingredient seasonings and had to pick out three components correctly.
I admittedly halfway-hoped to lose this bout, because by this time it was well into the late afternoon and we had an exhausting, eight-hour-long car ride back to Missouri. Anyway, the scores were added up, and this time a two-way tie came out of this, between me and Buddah! CaJohn had said that he never expected the contest be pushed to a third round.
Buddah and I were blindfolded one at a time and given yet another spice blend to analyze. The scores were added up, and Buddah finally bested me 4 to 3 and was subsequently awarded the first Reviewers Cup trophy. Again, I say to him congratulations. Not a bad way for him to end a fun and festive weekend AND celebrate a birthday!
I then gave many handshakes and hugs, said my goodbyes and hit the road.
Again, I want to give a thanks to CaJohn, Sue, Bret, Chef Steve, Jeremy, Jason, and Nate (I hope I'm not forgetting anybody!) of the CaJohns crew for their hospitality, generosity and their company and for making everyone feel like family.
If any chilehead is still on the fence about attending the Open House, I urge any and all of you to come next year. It's now a required part in my annual Weekend of Fire experience. I can't wait until next August!

The giant CaJohns sign…ur..mural inside the front entrance

An impressive line of products and appearal from CaJohns

I told CaJohn to run behind the desk and pretend he's busy doing something. He almost looks like he's working, doesn't it?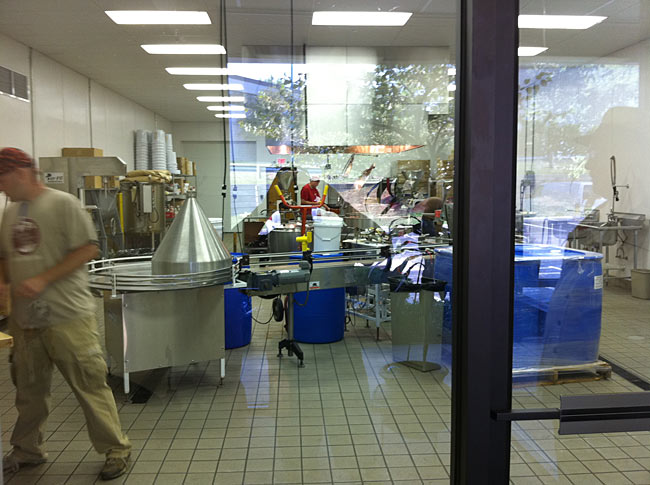 The larger, more expansive kitchen area

Ed is thinking, "Hey Passow, do you know how much money I could make for CaJohn if he just lets me sell this stuff on eBay for him?"

An actual oak barrel filled with Tabasco pepper mash

Bret Vitek's super burger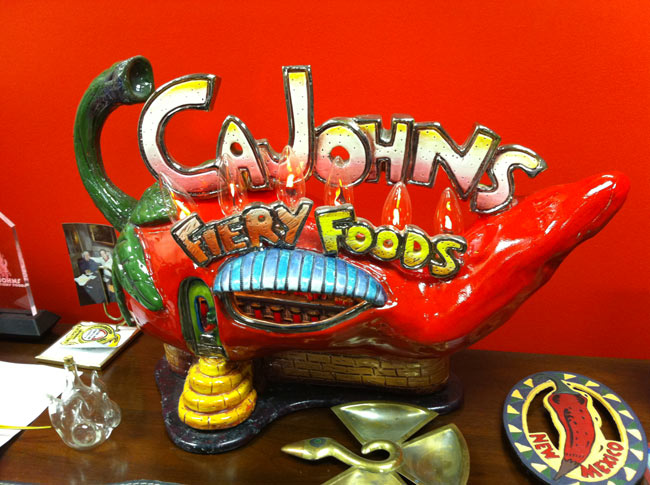 I saw this cool, custom-made collectible the last time I was visiting, but this time out CaJohn turned on the flickering lights that resembled flames.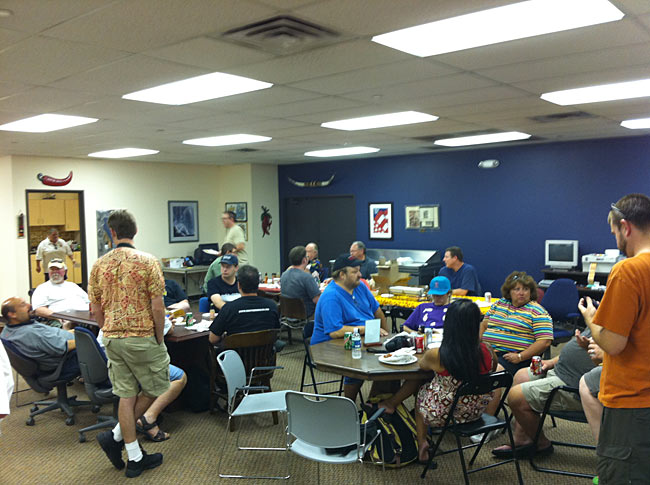 The gathering of chileheads and sauce makers, just shortly after lunch

Joe Levinson's preferred mode of transportation

Everyone who stops by CaJohns is told to sign the Wall of Flame. Both John and Sue assured everyone that the Wall at their older facility in the Harold D. Hard Building (where chileheads scribbled their John Hancocks from 2007-09) is still intact.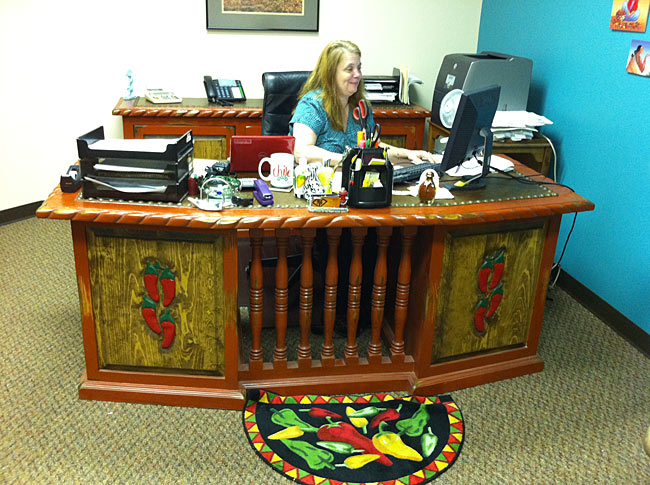 Sue gets to have all the cool furniture.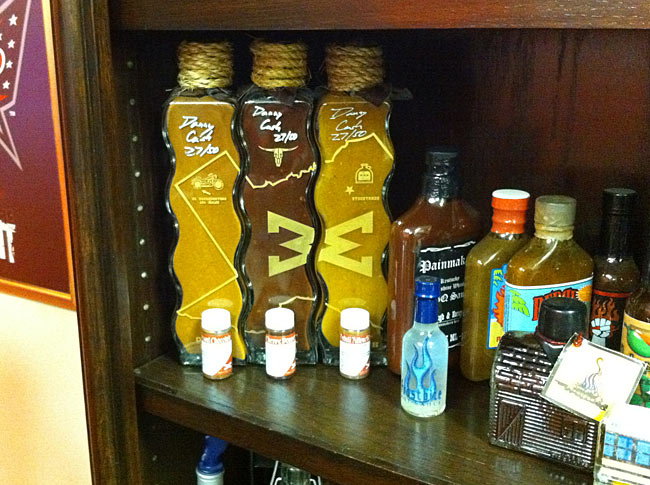 Just a few of CaJohn's many awesome collectibles. I especially love these Danny Cash bottles from the past three ZestFests.

A blind-folded Firehead Thomas attempting to identify spices he had just tasted in the Reviewer's Cup contest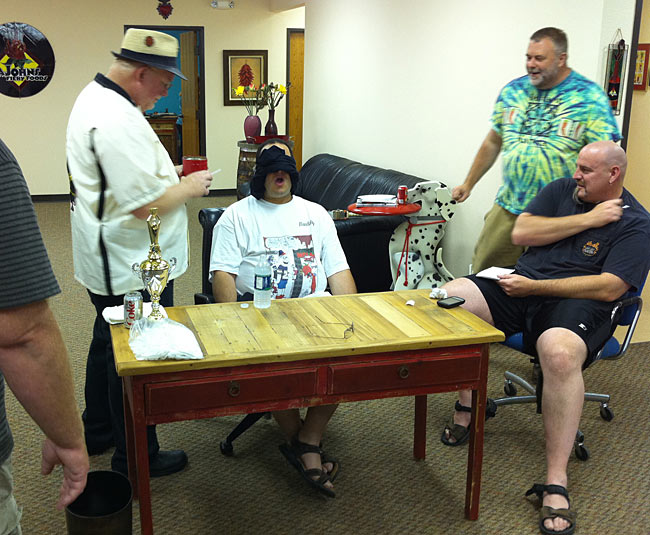 C'mon Buddah, open just a little wider!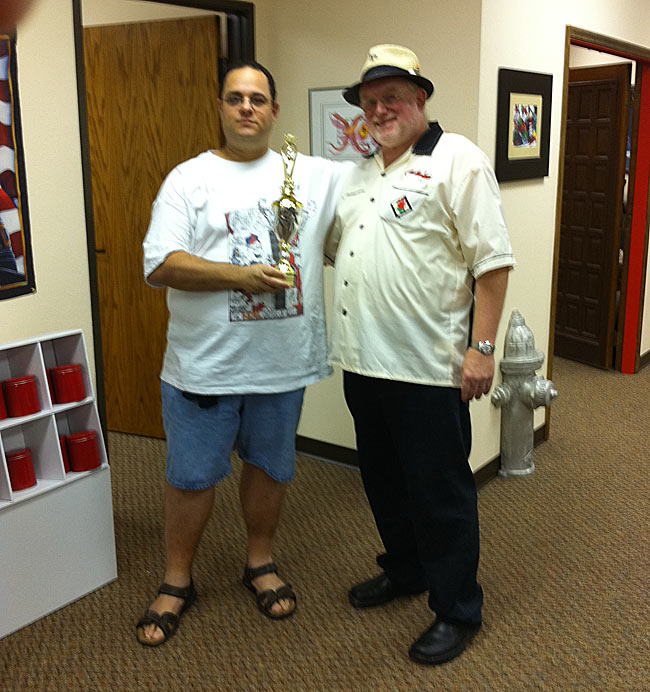 2010 Reviewer's Cup Winner (and Birthday Boy) Buddah with Cajohn
Blast From the Past – CaJohns Open House Diary and Photos