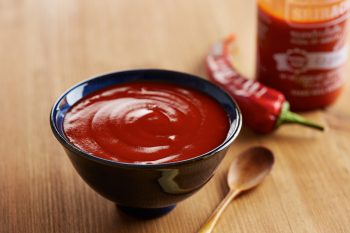 Ever wonder what condiment Americans are Googling more than any other? The answer is probably not a surprise to some of you.
It is Sriracha.
Sriracha chile pepper sauce, with the biggest-selling brand being the famous Huy Fong Foods "Rooster Sauce," has certainly taken the culinary world by storm over the past couple of years. Therefore, it's been on the minds of a lot of people, warranting searches on Google in a majority of the States.
Below is a handy infographic created by Fix Hot Sauce that shows that the trend towards Sriracha has grown in the past five years.
NOTE: Unfortunately, b0th the aforementioned Fix Hot Sauce and Business Insider Australia are taking this information and are erroneously reporting that Sriracha is "America's Favorite Condiment." Simple logic can tell you that Google searches do not equal sales. I mean, milk is in almost every U.S. home, but when is the last time you've done an internet search on milk? It is my hope that Fix Hot Sauce and Business Insider Australia both clarify this and correct their claims.
Sriracha is America's Most Searched Condiment Infographic
Sriracha is America's Most Searched Condiment