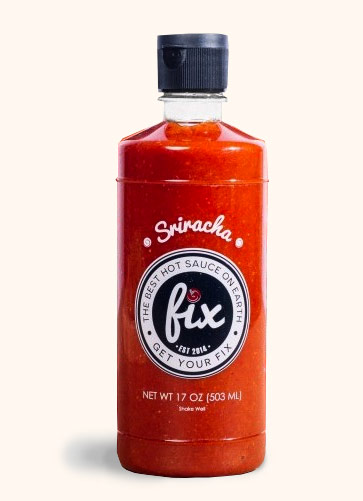 Enough about how much sriracha is today's big hot sauce trend. I know it is, you know it is, so enough gushing about how it's taken the world by storm. Instead, let's take a look at some of the artisan sauce makers and see what dazzling new directions they can take with the Thailand genre that goes by the name "sriracha".
I was contacted by Alex Loukas of the Fix Hot Sauce Team based in Seattle, Washington, to cover their emerging sriracha product of the same name. According to their website, this is their story:
"Our Fix journey started in Vietnam, where we saw and tasted the difference of authentic, farm-fresh, and non-processed goodness. Our minds were blown. From then, we made it our mission to bottle the premium flavors of South Asia and bring it back home.
We used to be interested in average bowls of pho served with your average hot sauce. We want more. And you deserve more. Fix was born to bring the best damn hot sauce to America."
Not only were they making the claim to have the best hot sauce, but I was also dying to know if I could ever truly love a sriracha sauce, so with my review of Fix Hot Sauce, it was a "double challenge accepted". Read on to see what I thought…
Ingredients:
Organic Chili Peppers, Garlic, Sea Salt, Sugar, Rice Vinegar, Less than 1% Natural Preservatives, Potassium Sorbate.
Aroma:
4 out of 5. Sweet and peppery, with almost a leaning towards a quasi-Italian tomato sauce or marinara sauce with moderate garlic overtones.
Appearance and Texture:
4 out of 5. Fix Hot Sauce is just what you'd expect out of a sriracha sauce: thick, pasty and with a good, evenly blended consistency. The plastic squeeze bottle allows for fairly even application to your foods.
Taste Straight Up:
4 out of 5. This was very enticing and packed in bold enough amounts of flavors while not going overboard with any of the individual components. I've long described that my (minor) gripe with sriracha sauces in general is that they may be a bit too harsh in the garlic department, almost to the point of being bitter, harsh and horseradish-like. Fix Hot Sauce smooths over those rough spots and offers a sweet, spicy and pretty tasty harmonization that really made me eager to pour this on my meals.
Taste with Food:
4.5 out of 5. Oh, yeah! This sauce was even better on some grub. Since a good, versatile sriracha sauce is considered by some to be like an Asian-kissed version of tomato ketchup, I first tried it on meatloaf.  Chunk by chunk, I liberally applied Fix Sriracha Sauce to the baked meat and it was wonderful! Just enough sweet chile sparkle and garlic pungency, with a lot of sweet and savory punch to compliment the meatloaf without overpowering it. I was impressed.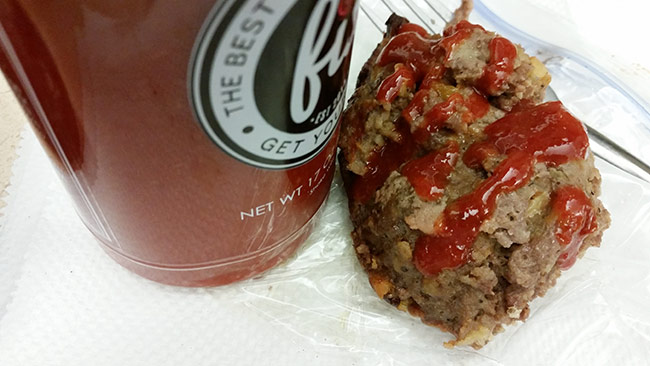 Next up were some good, basic egg rolls. Again, Fix Hot Sauce was an incredible accompaniment in most every way, with just enough fire, saltiness and sweetness and over flavor to make what could have been undistinguished munchies to a truly stellar meal.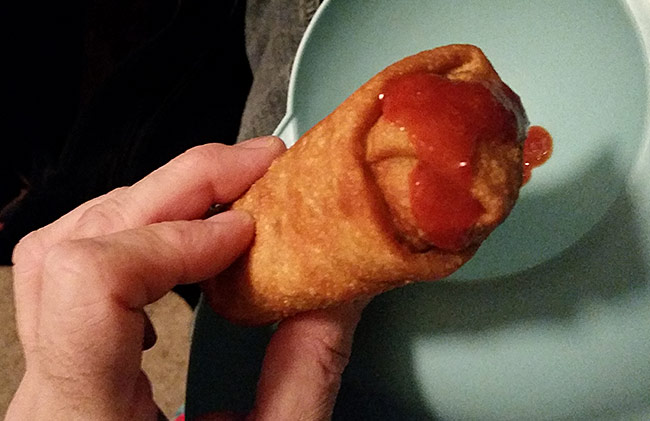 Heat:
1.5 out of 5. This is on par with what you'd expect in a general sriracha sauce in terms of burn. Nothing too drastically hot, but just enough chile pepper presence to warm up your tongue.
Label and Packaging:
4 out of 5. I think everyone on earth expects all sriracha sauces to come in a clear plastic squeeze bottle, and this fits that mold. The flip-top worked well, and the dispenser hole was just the right size out of which to squirt Fix Hot Sauce.
The label artwork was sparse but just appropriate for the contents. What makes this a bit different is that even though Fix has origins in Vietnam, the logo and fonts used are very western and modern-looking in nature.
Overall Rating:
I'm very, very impressed with what the Fix Hot Sauce folks have brought to the table. So impressed, in fact, is that I will go on record in saying that this is the best sriracha sauce I've ever tried. It's that good. I was once reluctant to include sriracha-style products in my regular rotation of hot sauce that I will use throughout the week, and I will credit Fix's contribution here as the one that finally broke that hesitation for me. While it may not be the best hot sauce I've ever consumed, this is easily one of the brightest I've encountered in 2015. Congrats, guys!
You can purchase this awesome sriracha goodness at the official Fix Hot Sauce website; it runs for $6.00 plus shipping for a 17 oz bottle, and it's worth every penny.
Review – Fix Hot Sauce Sriracha Sauce