Whenever there is a new king resting atop the "World's Hottest Chile Pepper" throne, you can bet that there will – for better or worse – be hoards of hot sauces that flood the market that contain that particular capsicum. Of course, unless you've been living under a rock the past year, you'll know that the current record holder chile is Smokin' Ed's Carolina Reaper, with an average of 1,569,383 Scoville Heat Units and measured peak levels of over 2,200,000 SHU. It's expected that sauce makers will scramble to concoct a condiment containing the Carolina Reaper pepper; and whether or not the Reaper is a main ingredient or only available in trace amounts within the actual product, you can count on these companies veritably featuring the pepper as a headliner attraction on the bottle's label. Additionally, many of these folks are looking mainly to quickly capitalize on the world's hottest pepper craze and will do a less-than-stellar job at creating a good product, and focus on the heat of the sauce.
What I am personally interested in is the flavor instead of pure fire. I ask, what can you do to utilize the taste of the Carolina Reaper chile pepper in a cohesive flavor harmonization? Can you sculpt a product formula that isn't a copycat of 500 other sauces that have come before it? Can it "wow" my taste buds in addition to "burning" them?
So I looked to a trio of proven fiery foods flavor master masters who have developed a Carolina Reaper-based hot sauce within the past year – Johnny McLaughlin of Heartbreaking Dawns, Steve Seabury of High River Sauces, and Ed Bucholtz of Born to Hula Sauces – to see if it can be done, and done well.
The Reaper-filled offerings I will cover from these gentlemen are as follows: Heartbreaking Dawns' Fervor Reaper Chile Hot Sauce, High River Sauces' Foo Foo Mama Choo Smokin' Ed's Carolina Reaper Sauce, and Born to Hula's Reaper of Sorrow Carolina Reaper Sauce.
What I will do in this extended review of first go over each sauce individually, and look at the ingredients, the bottle label, the texture and appearance, the aroma, and the initial tastes of each hot sauce.  Then, I will perform a battery of culinary tests and see how these three stack up against each other with meals. I will then crown one of them the sultan of sauce when it comes to employing the super-hot Carolina Reaper.
So let's get burnin'!
Heartbreaking Dawns' Fervor Reaper Chile Hot Sauce
Ingredients:
Apple Cider Vinegar, Orange Marmalade, Reaper Chile Peppers, Water, Red Habanero Peppers, Strawberries, Carrots, Honey, Onions, Gluten Free Soy Sauce, Salt, Garlic, Natural Gum, Ginger, Coriander

Label and Packaging:
3 out of 5. The HBD logo and the name of sauce are crisp and easy to read. I love the gold foil look of the label, with the faint background appearance of their trademark "skull angels" worshiping the chile pepper in the background. What knocks off points for me is the fact that in many lighting conditions you cannot read the sauce's description text or the ingredients list very clearly. You must have the right combination of bright, ambient light in the room or outside to make these out without tilting the bottle back and forth a dozen times.
Aroma:
3.5 out of 5. Fervor packs a bright, pleasant, orange fragrance, with hints of sweet vinegar and faint tones of onion.
Appearance and Texture:

3.5 out of 5. The sauce falls clearly into "medium" territory when it comes to consistency, and is not too thin, and not too thick. It's a smooth, beautiful, almost opaque-like red liquid with pieces of seeds and tiny, splinter-like pieces of chile peppers floating about. It's got good pourability and decent clinginess to food.
Taste Straight Up:
3 out of 5. Johnny McLaughlin thought wise to pair orange marmalade with the harsh citrus-y flavor of the reaper chile peppers and the red habanero peppers. Add some apple cider vinegar, and even a tiny sensation of some bitter orange zest, and you have a super-strong, tart and quasi-sour hot sauce. That extreme is balanced out in the end by a secondary sweetness of carrots, strawberries, ginger and honey, with subtle notes of onion and garlic that barely creep up on your tongue. Just imagine starting with an Asian sweet chile sauce, taking away most of the sugar, and then amping the bright, pungent chiles and orange tones up by a factor of five, and you get a rough approximation of what Heartbreaking Dawns Fervor Reaper Hot Sauce can be.
Heat:
3.5 out of 5. Fervor doesn't pull any punches when it comes to heat. Make no mistake about it; Fervor is flavor first, but that certainly does not mean the Carolina Reaper peppers or the Habanero burn is in any way diluted. Upon tasting this, you get both parts of instant and delayed heat. This is a gourmet sauce for chileheads, and would be a bit too hot for mild mouths.
High River Sauces' Foo Foo Mama Choo Carolina Reaper Hot Sauce
Ingredients:
Roasted Red Peppers, (Roasted peppers, Water, Salt, Citric Acid), Fire Roasted Tomatoes, (Vine Ripened Tomatoes, Tomato Juice, Salt, Citric Acid), Rice Wine Vinegar, Reaper Peppers, Onions, Brown Sugar, Garlic, Soy Sauce, Ginger Root, Salt, White Pepper, Secret Herbs & Spices.

Label and Packaging:
4.5 out of 5. High River continues it's winning streak of creating great and memorable labels for their products. The bamboo backdrop, the Asian-inspired cartoon dragon and the unique font on all the wording make this fun and cool to look at.
Aroma:
4 out of 5. High River Sauces' Foo Foo Mama Choo is more subtle than the aforementioned Fervor, with a downplayed blend of garlic and generic chile pepper aromas.
Appearance and Texture:


4 out of 5. Foo Foo Mama Choo rates in somewhere at around medium to medium-think on the viscosity scale. This is another crimson sauce with a bit more of a chunky, pulpy consistency highlighted by flecks of black (Are it black pepper? Fragments of roasted peppers?) and has superb stickiness on food.
Taste Straight Up:
4 out of 5.The overall flavor is another winning aspect about HRS Foo Foo Mama Choo. This elixir possesses a more general flavor profile that doesn't neatly get shoehorned into any sub-genre of hot sauce. I have to admit that I was anticipating more of a traditional Asian-style sweet chili product because of its labeling; I'm not sure if this is a negative or not, as others might get the same per-conceived idea as I did.
The first hit on the tongue is a hyper-delicious, roasted sweet chile and tomato blend up front, with a tart vinegar and bonfire chile pepper burn putting in a powerful supporting role and hitting with sledgehammer force on the tongue. Foo Foo Mama Choo boasts proportional displays in the sweet, savory and spicy departments. Depending on the bite you take, you may be able to detect peppercorns (in the form of white pepper), garlic, and an extremely low-key brush of herbs.
But this all mixes together in a terrific product. Out of the three I'm reviewing today, this is the most straightforward condiment and is pretty much an all-purpose table sauce for extreme chileheads.
Heat:
4 out of 5. Just like the overall taste is a right-down-the-middle, blended yet forthright and in-your-face presence, the heat wallops you in the same manner. There's a touch of some upfront fire, and then within 2 or 3 seconds you get crushed with the blast of Smokin' Ed's Carolina Reapers. Heat freaks can rejoice, and all but the most super-powered capsaicin-resistant chileheads will get their fix of spiciness.
Born to Hula Sauce's Reaper of Sorrow Carolina Reaper Sauce
Ingredients: Red Jalapeños, Red Wine Vinegar, Tomato, Carolina Reaper Peppers, Lemon, Garlic, Onion

Label and Packaging:
2 out of 5. Probably the most lackluster product label of the bunch. There is nothing distinguishing on the front of the label to inform you this is a Born to Hula product. It took me several seconds to figure out that in the artsy and almost blurry swirl of noise of red, yellow and black colors on the label is supposed to be the devil.  The font is uninspiring, and the whole balance of things almost makes this look like an amateur sauce maker created this label on their home printer. If Born to Hula decides to keep this as a permanent product, I would suggest they come up with a crisper and more brand-unifying label.

One thing I must mention is that on the side of the label, the description states that this is a "sriracha style sauce" so while that that doesn't explicitly claim that this is a Reaper-tinted replacement of Huy Fong Foods' "Rooster Sauce", it does give us a general direction of where Burn to Hula's Reaper of Sorrow is attempting to travel.
Aroma:
4 out of 5. A whiff of Reaper of Sorrow left me a bit surprised, as it's relatively mild compared to the other two. There's a harmonization of what I thought smelled like chiles, sweet roasted garlic and roasted onions. It is a bit misleading into making you think that this Born to Hula offering will be a lower-heat hot sauce.
Appearance and Texture:


3.5 out of 5. This is the more like a thin, red, brighter paste than the other two.  Think of it almost as a looser tomato ketchup with hot sauce visual inflections. It has admirable adherence to food with a decent overall look to it.
Taste Straight Up:
4 out of 5. Reaper of Sorrow is far less sriracha than you'd imagine. At it's core, this Carolina Reaper sauce seems to have peppers, vinegar and salt driving it's distinctiveness, despite what the ingredients list says. There are also tinges of onions and garlic perhaps making it vaguely reminiscent of a sriracha condiment. The tomatoes and lemon are very good chameleons in this mixture; even though I could not taste them straight out, you do get a sense of how they are ever so slightly influencing the flavor with some richness and tartness.
One of the most notable aspects of Born to Hula's products is that fact that they're not revolutionary with their sauce, but evolutionary. That means that for the most part, they're not crazy different with their flavor formulas, yet they can take pre-existing concepts and put their own little spin and tweaks on things and (for the most part) make them better. I see this happening a bit with Reaper of Sorrow Carolina Reaper Sauce.
All in all, there's a tangy sweetness providing secondary colors, while the hot chiles and vinegar blast out at the forefront, with beautiful layers of great taste through and through.
Heat:
3.5 out of 5. Born to Hula's Reaper of Sorrow takes a nice bit of sudden burn and almost seamlessly blurs it with the delayed pungency of the Carolina Reaper peppers. It builds and builds after several bites to a good, old-fashioned barn fire on your tongue. This may be too much for lesser heat freaks, yet chile pepper daredevils are gonna love this!
The Saucy Showdown!
Ladies and gentlemen, here's what you've all been waiting for. It's time to see a sauce vs. sauce vs. sauce battle to ultimately determine which one is the unequivocal best.  Sure, they are all quality products worthy of your hard earned hot sauce dollar.  They all serve their purposes, and have different uses. But it's time to see which one is the Boss of the Sauce.
To accomplish this, I've applied these three sauces to literally dozens of food items over the past 30+ days. Here are ones that really helped break down the strengths and weaknesses of our waring trio:
Chicken Salad Wrap
Heartbreaking Dawns' Fervor sauce actually gave this a bit of an smile-inducing flavor with it's citrus-tinted bluster. Born to Hula's Reaper of Sorrow provided a clean, tasty burn with bubbling notes of garlic and onion. And High River Sauces' Foo Foo Mama Choo was great match with its versatile, all-purpose flavor. When it came down to a winner, it was Foo Foo Mama Choo by a nose because of its seamless integration with the chicken salad.
Pepperoni Pizza
Ah, nothin' like a good slice of New York-style thin crust.  Pizza can be a lot of things when it comes to hot sauces, and a wide array of sauces can go well (or not so well) with it.
In this experiment, I tried two types of pizza.  One, some delivery pie from a local pizzeria.  Second, one of our famous Roberts boys homemade pizzas (the later is pictured below right before baking).
HBD's Fervor gave each type of pizza an awesome fruit-glistened tongue punch. Me likey! HRS's Foo Foo enough added zing from the heat and another winning performance with a balanced blend of sweetness and savoriness. BTH's Reaper of Sorrow was nice, but it lost just by a hair because the sweetness just didn't break through nearly as much as the other two. Advantage in this round? Heartbreaking Dawns' Fervor.
Nachos Supreme
When we have Nacho Night at Casa Del Roberts, it is always a buffet-style super-spread of a zillion options. We pile up our plates in Mt. Everest proportions, and we stuff our bellies full of nacho-y goodness until we almost burst.
I wanted to keep it relatively simplified for this test, so I opted for a few layers of round tortilla chips, seasoned beef and refried beans, with shredded cheddar cheese, tomatoes and pickled jalapeño slices to complete my mound of Mexican-style carnage.
Fervor had some good heat and an alright base-flavor, but wasn't the best pairing-up with nachos. Foo Foo Mama Choo faired much better with a more comprehensive taste and excellent spiciness. I don't know why I thought Reaper of Sorrow would be the dark horse coming into this, but it definitely proved to me not to underestimate any of these three Carolina Reaper hot sauces. And, whadaya know? Reaper of Sorrow came out the victor here.
Grilled Tilapia
Grilled white fish can be a tricky proposition because the wrong sauce can overpower it, or completely clash with the seafood altogether.
Reaper of Sorrow was applied lightly after the cook. While it was somewhat nice and possessed some unabashed heat, it didn't exactly thrill my mouth completely. Foo Foo Mama Choo was a tad better, yet still wasn't the ideal sauce for this application. Then Fervor stepped up to bat…oh yes! Its citrus tones and light sweetness, mixed with delicate touches of garlic, onion, ginger and coriander made this an amazing sauce for fish. The clear top dog in this bout: Heartbreaking Dawns' Fervor.
Buttermilk Biscuits with Cheese
One evening I had made some homemade biscuits to go along with our spaghetti, and had a few leftover for a lunch/snack the next day. I melted some sharp cheddar on the already-buttery and flaky balls of delicious bread, and was curious to see how these three would fare on them.
Fervor was so-so, and lacked in the necessary savory or herby components for this oddball cheesy biscuit. Moreover, it was perhaps a bit too harsh with the more pronounced tart and floral notes courtesy of the vinegar and chile peppers. Foo Foo Mama Choo was a step up and proved to be a luscious and spicy hot sauce. And then along came Reaper of Sorrow with a sweet tomato blend and hints of garlic and onion, and displayed that this dark horse of a reaper condiment was going to be a fierce competitor today. It was a very close call, but my "gun to my head" decision would have to go to picking Reaper of Sorrow as the winner.
Eggs
I actually had scrambled eggs prepared two different ways: one done "basic" with egg whites and yokes mixed with a little milk, and the other with a breakfast food medley all throw together with scrambled eggs, hash brown potatoes, pork sausage and a mild amount of cheddar cheese.
Although I'm not the number one proponent of the salt and vinegar-dominated Tabascos of the world, I tend to lean towards preferring these types of Louisiana style pepper sauces on my eggs.  It is from that vantage point that I pick my faves in this round.
Heartbreaking Dawns' Fervor Reaper Sauce simply was not made for eggs. While it has plenty of fiery bluster to please my chilehead tongue, the orange flavor clashed with the plain scrambled eggs and the multi-breakfast food omelet concoction.
Ironically, the higher hopes I had for High River Sauces' Foo Foo Mama Choo Reaper Sauce were dashed somewhat. Perhaps it was utilizing too much of sweet ingredients, but nonetheless, this would not be a sauce I would reach for when eating bare scrambled eggs. In my egg/hash brown/sausage/cheese mix, it tasted considerably better.
Most likely because of it's leaning towards more savory flavors, Born to Hula's Reaper of Sorrow Reaper Sauce emerged as the champ in this category. Yet even after all of this, I found that none of these Reaper chile pepper products were the perfect topper for eggs.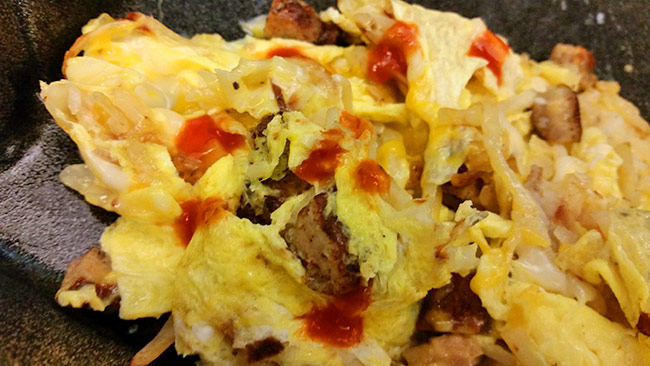 Tater Tots with Jalapeño Smoked Sausage Slices and Melted Cheddar
Hey, don't hate me. I love to pig out on food like this! You throw all of these guilty pleasure munchies together, splash on some killer hot sauce, and end up with a very happy belly.
Perhaps like no other meal mentioned before, this was almost like "the great equalizer" when I applied each of these three hot sauces to these super tater tots. There was something about these flavors and textures that mellowed out virtually all negative notes of the sauces, and accentuated the positives. All were superb.
In another "photo finish", Foo Foo Mama Choo barely edged out the other two competitors with its more general versatile taste profile.
Sloppy Joes with Colby-Jack Chunks
Believe me, although this seems like no-frills comfort food, this can be more difficult to pair than you'd imagine. The tomato-y base in the sloppy joe sauce, along with the mildly sweet amalgamation of colby and monterey-jack cheeses, require that a sauce break through the initial rich flavors without being overpowering.
HBD's Fervor sauce just didn't have what it took to be a suitable complementation to these sandwiches. It punched through the other flavors but in a bitter and clashing sort-of way. HRS' Foo Foo was more at home on these jacked-up sloppy joes, and zeroed in with a good sweet and peppery flavor, yet still had some intangible element that made me scratch my beard wondering why it felt short of being a perfect fit. And along came BTH's Reaper of Sorrow. It was the incredibly adept foil of the sloppy joe's tomato and onion-heavy sauce mix, and fit hand-in-hand with the cheesy chunks. Obviously, Reaper of Sorrow was once again the leader on overall deliciousness.
Who Wins Overall?
It's time to crown a champ in this Reaper Sauce Showdown. Again, all three have their advantages and come highly recommended from me.
Heartbreaking Dawns Fervor Reaper Chile Sauce is a great-tasting mix of the citrusy and the fruity to a blustery and floral attributes of the habanero pepper and reaper peppers. High River Sauces Foo Foo Mama Choo Smokin' Ed's Carolina Reaper Pepper Sauce packs a more-accessible and general purpose appeal as a more balanced table sauce for extreme chileheads. And Born to Hula's Reaper of Sorrow Carolina Reaper Sauce makes the transition from dark horse to workhorse with stunning versatility and a surprising chameleon-like ability to work with a number of dishes.
And it is because of Reaper of Sorrow's high compatibility and outstanding flavor that I will name it the best Carolina Reaper Hot Sauce, as well as one of the best sauces of 2014! Congratulations to Born to Hula!
Here are my overall scores, and the links to the websites where you can purchase these:
Heartbreaking Dawns Fervor Reaper Chile Sauce –

http://www.heartbreakingdawns.com
High River Sauces Foo Foo Mama Choo Sauce –


http://www.highriversauces.com
Born to Hula's Reaper of Sorrow Carolina Reaper Sauce –

http://www.borntohula.com
What Do YOU Think?
Have you tried any of these three that were pitted against each other in this brutal battle of the bottles? What do you think is the best?
Or maybe your favorite Carolina Reaper pepper sauce wasn't even in the running this time out. There certainly are lots of other great hot sauce companies that produce reaper products, including Race City Sauce Works, CaJohn's Fiery Foods, Sweet Heat Gourmet, Volcanic Peppers, and of course the man from which the Carolina Reaper Chile Pepper comes, Smokin' Ed Currie of the Pucketbutt Pepper Company.
Let me know your opinions in the comments below!
Sauce Showdown – Three Carolina Reaper Pepper Hot Sauces Go Head-To-Head