It's been hotly contested for the past couple of years, and we finally have some news that will help clear the air when it comes to the title of "world's hottest chile pepper".
Since 2010, the offical Guinness World Records title has been passed from the Bhut Jolokia (AKA "Ghost Chile"), the Infinity Chilli, the Naga Viper, and the Trinidad Scorpion Butch T.  In the meantime, another variety related to the Butch T, the Trinidad Moruga Scorpion, came to prominence because of an extended study done by the Chile Pepper Institute at New Mexico State University in later 2011. Because of the multitude of independent HPLC testing done (and not a "one shot" test done for other peppers), the Moruga Scorpion was the one myself and many other notable figures in the chile pepper world considered to be the real hottest.
Well, just today, the Carolina Reaper pepper (also closely related to many of the aforementioned chiles) was accepted and declared by the governing Guinness World Record body to be the new heat champ. Grown by Ed Currie of the Pucker Butt Pepper Company, the Carolina Reaper will soon be the talk of the fiery foods community.
[GARD]
Congratulations to Ed for this outstanding achievement! Here is the official press release announcing the Carolina Reaper as the new Guinness World Record for the Hottest Chile Pepper:
####
FOR IMMEDIATE RELEASE
November 14, 2013
SMOKIN' ED'S CAROLINA REAPER® WINS GUINNESS WORLD RECORD
SMOKIN' ED'S CAROLINA REAPER® OFFICIALLY THE HOTTEST CHILI PEPPER IN THE WORLD!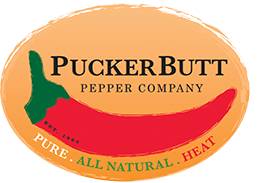 Fort Mill, SC, November 14, 2013 – Guinness World Records™ has notified Smokin' Ed Currie and Puckerbutt Pepper Company, LLC, that its' SMOKIN' ED'S CAROLINA REAPER® is officially the world's hottest chili pepper.
From its email notification, Guinness said:
"[w]e are delighted to confirm that you have successfully achieved a new GUINNESS WORLD RECORDS title for 'Hottest chili'. We would like to congratulate you on your record-breaking achievement. You are OFFICIALLY AMAZING. Your official GUINNESS WORLD RECORDS certificate confirming your world record is being created and will be sent to you within ten working days."
With a Guinness-submitted 1,569,383 SHU (scoville heat units) average and recently measured peak levels of over 2,200,000 SHU, SMOKIN' ED'S CAROLINA REAPER® has officially completed its long journey to the top of "super-hot" chili charts.
– Look for more information from Smokin' Ed Currie and Puckerbutt Pepper Company, LLC on their award-winning achievement soon!
Puckerbutt Pepper Company, LLC, home of SMOKIN' ED'S CAROLINA REAPER® – the world's hottest chili pepper, sells high quality, smokin'-hot mashes, sauces, fresh peppers, seeds, and other fine merchandise at stores throughout the country and on its website at: www.puckerbuttpeppercompany.com
# # #
Here is my video of taste-testing and cooking with the Carolina Reaper chile pepper.
Listen to my interview with Ed Currie (with Pepper Joe) talk about the Carolina Reaper during a 2012 Weekly Firecast epiosde.
Ed Currie's Carolina Reaper Wins Guinness World Record as the Hottest Chile Pepper