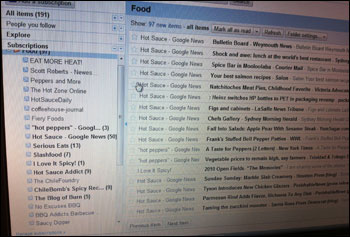 Nearly two years ago, it was suggested on The Hot Zone Online by Joe and Linda Levinson that the chilehead blogging world was entering a slow-down period. At the time, I agreed with their assessment. And subsequently because of the cooling-off, it lit a fire under me to focus more of my little blog's focus on my spicy food obsession than other topics (in hindsight, it proved to be a wise decision because previously my subject matter was all over the map).
Since then, newer blogs have burst onto the hot sauce scene. Sure, a few sites have already dropped off the radar, a couple are rarely updated and have grown stagnant ('tis the nature of the interwebs), but there are now more quality chile pepper and fiery foods-focused blogs than I can ever recall. As a huge fan of many of these web destinations, I am ecstatic, for I can feed my spicy cravings with more reviews, news, photos and commentary virtually every day without skipping a beat.
Even more exciting is the prospect of Nick Lindauer re-introducing the original Hot Sauce Blog, something hinted at when Doug Spiros of Peppers and More and I recently talked to him.
Additionally, the amount of hot sauce and chile pepper eating videos has exploded. Just look at YouTube and do a search for "ghost pepper", for example, and you'll find enough entertainment (some better than others) to fill your next several evenings.
What do YOU think? Are we entering a new "golden age" of chilehead blogs with real substance, or is the hot sauce landscape pretty much the same as it ever was?
Are We in the Midst of a Hot Sauce Blog Renaissance?