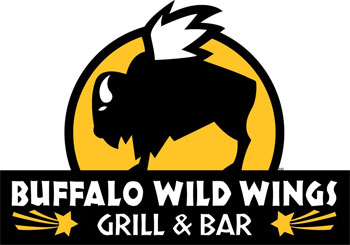 I think that as fiery foods become more and more mainstream, restaurants serving buffalo wings (traditionally fried, unbreaded chicken wings) and/or hot wings (typically buffalo wings with breading) will grow exponentially to the point of being just as commonplace as burgers or pizza (some may argue that they already are).
Buffalo Wild Wings is America's most popular chicken wing-centric chain in terms of number of locations, with over 700 stores across 43 U.S. States. The company was founded 28 years ago as Buffalo Wing Wings and Weck and was sometimes abbreviated as BW3. Since then, the "Weck" (aka a kummelweck sandwich with beef) part was dropped as the chain focused more on sports bar food along with a multimedia-fueled game day atmosphere.
Not only as a fan of Buffalo Wild Wings, but as one who covers popular spicy foods, I knew I had to speak with someone as this genre becomes a major force in American cuisine. Sylvia Matzke-Hill, Director of Research and Development for BWW, recently took time out of her busy schedule to talk with me about the process of creating new products and sauces, the new seasonings, and the whole debate on B-Dubs' hottest sauce, Blazin' Sauce, its Scoville Heat Unit rating.
Scott: Can you give me a brief history of Buffalo Wild Wings?
Sylvia: It started about 27 years ago by a couple of guys named Scott Lowery and Jim Disbrow. They were both going to Ohio State University at the time. They were out late at night looking for some great buffalo wings, they couldn't find any.
So they figured that this would be a great restaurant to start. They went back they pooled their money together, and started the first Buffalo Wild Wings restaurant.
Scott: And where was this located?
Sylvia: Columbus, Ohio. Right near the campus of Ohio State University.
Scott: The corporate headquarters of Buffalo Wild Wings is currently in Minneapolis?
Sylvia: Yes, we moved to Minneapolis to say about 15 years ago.
Scott: What role do you play within the company as the Director of the Research and Development Team?
Sylvia: I work on testing, developing, and implementation of new products. We do have a test kitchen facility that I work out of. In addition to the development, I work on the quality assurance, making sure what we do specify comes in the back door [of BWW restaurants]. We work with training make sure the products rolled out in the right way, and that we serve the guests with the best product we can.
Scott: What's a typical day for you at Buffalo Wild Wings in the Research and Development Department?
Sylvia: We spend a lot of time in the test kitchen. So a typical day, we do a lot with our vendors. We will spend some time talking with them, talking about new products new "ideations". We spent some time doing some research, based on what's happening in the industry. We'll spend two or three hours in the kitchen cooking up things and testing things. We'll spend some time following up on those tests, something that's out in the field. Right now we have about seven tests going on.
We also talk to the stores, and we go out into the different markets where we are doing a test to see how things are going. We like to touch base with the customers, because we can't do a lot in the "ivory tower", so to speak. It's nice to be out there talking with them, to see what it's really like. We do have a menu team, as well as a beverage team, which can include people from every department in the company. We meet once every two weeks. We talk about things that we have on test, things that we like to see. There is franchise representation on the team as well, so the franchisees are sharing ideas, things they think might be good, and what they are seeing. So we will talk with them.
Then there's the typical stuff, paperwork, getting your stuff organized and put together, and the usual responding to e-mails. We have a guest comment line. So Research and Development is responsible for answering those questions and anything a guest would send in. We try to get back with the guest within 24 hours on any suggestions they have or for any ideas or concerns they might come up with. That kind of goes across the board.
There is a lot of plant audits. So we go out and visit or vendors, and go into their facilities. We try to do that at least one to two times a year. We watch the product being made at the manufacturer make sure it follows specifications and make sure everything is on track, so that it's right in coming in the back for the way that we want.
Scott: What's the corporate culture like there at Buffalo Wild Wings?
Sylvia: We're about beer, wings and sports. The culture is very much a game day experience, at the corporate office as well as a restaurants. We want to be the place to be when the game is on or when the game is off. We try to keep that culture at the corporate office as well as the restaurants.
Scott: Do you have big screen TVs at your corporate HQ? If so, is it sometimes hard for employees to get things done while the games are on?
Sylvia: (laughs) You learn to work with a lot of things going on in the background. We have a big lounge which we call "The Buffalo Lounge", and the big screen TVs are in it. We get to play Buzztime® Trivia or video games just like the restaurants. We've got the TVs going on all the time, and things like that, but you just learn to work in that environment. We do a lot of cool activities. For instance when the World Cup was on a few months ago, we were all the break room cheering them on, so it's a lot of fun.
Scott: Now I want to ask some questions about Buffalo Wild Wings' food. Who currently manufactures your sauces?
Sylvia: Our sauces are manufactured by a company called Marzetti's. They are based out of Columbus, Ohio. They have been making our sauces for the past 20, 21 years.
Scott: Approximately how many wings does Buffalo Wild Wings sell in a specific time period, say a month or year?
Sylvia: Actually we go through 1.5 million wings per week.
Scott: That's quite a bit. (laughs)
Sylvia: That's a lot of chicken.
Scott: Do you have any statistics on the food you sell, for instance how many wings you sell in proportion to the other menu items?
Sylvia: The majority of our customers order wings. About 97% of our customers who go through doors order wings. As far as our product mix, as a percentage of the meal itself, it's around 50% or 60% that are wings.
Scott: What's the process you go through when you're developing a new menu item, such is a new seasoning or flavor for wings, or something different altogether, such as the Wild Flatbreads?
Sylvia: We follow the same process for every product we touch. So it doesn't matter before testing the new day-part whether it be a new lunch menu, or a new seasoning, or even a new drink. We follow the same process.
The first is the ideation phase: we go out and market, we try to get ideas, we play around with food, and we try to get chefs in to help us create. So we ideate on the idea.
From that we do what we call a "field test". We actually go out to some restaurants do some testing. We cook up a new product and we ask the guests what they think about it. We usually do that at night, or when they're ordering lunch, and it's all dependent on what the products are.
Based on that, we will do what we call a "market test". We take about 15 to 20 locations across the United States, so it depends on different demographics, different geographics, and we will test it anywhere from 3 to 5 weeks.
Then based on how that goes, we will do what we call a "system-wide test" or an "LTO", or a Limited Time Offering. We will test that across all nearly 700 restaurants, and we will test it for three or four months to see how well it works and see if operationally we can execute it and see if the guests just like it. If that is successful, the new product goes on the menu.
Scott: So how did some of the new seasoning flavors, such as the Salt and Vinegar, the Chipotle BBQ and the Desert Heat, come about?
Sylvia: We actually use that same process. We've actually been working on those for the last year and a half. We came up with the concept about a year and a half ago for the Desert Heat. Last summer we did what we called a sauce versus seasoning competition. We had the seasoning Desert Heat, and we had the sauce called Pepper Infusion. People came back and absolutely loved the seasoning. They thought the Desert Heat was great and loved the concept of seasonings.
So then we came back and came up with the concept of the Salt and Vinegar, the Chipotle BBQ and the Buffalo. Those actually hit the LTO in February, and went on the menu permanently in July.
After we got those started, we're already working on the next set for next year.
Scott: Any hints you can give me on what they might be? (laughs)
Sylvia: I can't. But they're things that you'll love. See, Buffalo Wild Wings is about beer, wings and sports, and the wings part is chicken as well as the flavorings. So those are really our two key components from our competition. We're really hoping we can bring out new flavors, and continue to rival with them, whether they be trendy whether they be heat, whether they be sauce or seasonings. So we continue to push that kind of envelope as much as we can.
We have quite a few new sauces in development. We're really looking at the whole spectrum. Next year, we are going to really be focusing on wings, focusing on our history and who we really are. We are probably looking at launching four or five new sauces next year and new flavors. All really tell you, at this point in time is that they're across the board, they're unique and different and you won't be able find them anywhere else. We've got them out in the test markets, and we've gotten some really positive feedback on them.
Scott: Dry seasonings on wings, at least what I've been noticing the past 15 to 20 years that I've been eating them, is a fairly new concept. Do you anticipate a lot of growth in this area?
Sylvia: We do. It's something unique and it's different. We tried to put a little twist to our seasonings in the development phase and then a few things so that they stick to the wings a little bit better, versus taking a literal sprinkling of salt and pepper and making it stick on the wings. We see it as the next category in the next place to go. With things like a salt and vinegar, you can never have a salt and vinegar in a liquid form because it really wouldn't work very well. But it really opens up a whole new arena of flavor, where it tastes like a "fireworks in your mouth" kind of thing. It's like where you eat it, and in there you get a heat and a sweet, so it kind of "explodes" in your mouth. So seasonings can help us do that.
Scott: What do you think sets up a part buffalo Wild Wings from your competitors?
Sylvia: I think part of it is the wings in the flavors. Another part of it is sports environment and game day the experience all day and all night. You just can't seem to find it anywhere else, with the excitement and the fun and the camaraderie that's there. You combine that with the wings, and it really seems to set us apart.
During the Blazin' Challenge I work on creating a "Joker smile" with the sauce.
Scott: I want to ask you about the Blazin' challenge. Some markets across the country have them, while others don't. I live in the St. Louis area. Local BWW locations had only one special time in the past five years where they did the Challenge; this was during March Madness in 2010, and I participated in that. Can you tell me why the Blazin' Challenge is done in some markets but not in others?
Sylvia: I can. Actually Buffalo Wild Wings is one-third corporate legal stores, and two-third franchise-owned locations. There are a lot of programs that are optional, and the Blazin' Challenge happens to be one of those programs. There's quite a few stores in the St. Louis market that are franchised, and they've chosen not to do the Blazin' Challenge. However I will tell you that one of our objectives over the next year is to get everyone on the same page, so that it doesn't matter if it's company-owned or franchised, you would offer the same program.
Scott: While we're on the topic of the Blazin' Challenge, have you thought of developing an even hotter sauce than the Blazin' sauce for hardcore chileheads, perhaps one with the Bhut Jolokia chile pepper in it?
Sylvia: We have [thought of developing them]. We continue to look at new sauces. What we are finding is that a lot of people like to move up the heat range. So we continue to look at hotter sauces even more than Blazin', and some other options along that way.
Scott: Around five years I contacted Buffalo Wild Wings corporate, and they informed me Scoville rating for the Blazin' Sauce is around 200,000 to 350,000 Scoville Heat Units. Have you done any recent High-Performance Liquid Chromatography testing on your sauces to see with the heat level is on them? Or do you really not get into that?
Sylvia: No, we really don't do too much, and the reason is the Scoville Units is a measure of the chile pepper and its heat. Our Blazin' Sauce is mostly pepper; but with our other sauces, once you mix the peppers in with other things (like the Spicy Garlic Sauce) it becomes very hard to measure its Scoville rating. Therefore it starts to dilute it. Really the Scoville is heat measurement of a pepper. We kind of stayed away from that, just because so many of our sauces, like Caribbean Jerk, not only does it have some heat in it, but also has a lot of other spices. Even though we kind of think we know what [Scoville estimates are], we're not exactly sure, so we're not going to make any specific claims.
Scott: I have a Scoville chart on my website. Probably out of any subject matter I get e-mails on for any topic concerning my website, the Scoville rating of the Blazin' Sauce gets mentioned than anything else. It's always a point of contention, a point of debate. I respond to people who write in and say, "hey listen, it's not going to be exact, as it is liquid. You can't get real accuracy with HPLC testing." I guess that kind of confirms that, doesn't it?
Sylvia: Exactly. That's kind of our biggest concern. Because as you can totally understand, as soon as you put something in writing it becomes the standard. We're afraid someone else will go out and measure it, and say, "we measured it and it turned out to be this, and you said it was that, so that's false advertising!" So we try to stay away from, here is our range here is what we think, so thanks for asking.
Scott: No problem. And I put a disclaimer up there, that these are only rough estimates and take any measurements with a grain of salt.
Are there any plans to have the sauces for sale in retail stores, or do you want to keep them inside the BWW locations?
Sylvia: That's actually a great question. We do sell our sauces and bottles retail but we do sell them in restaurants. At this point in time our tagline is "You Have To Be Here". So we are a little adamant about putting it in grocery stores, just because we're wanting you to come into the restaurants and see that game day experience. Even though we do sell them in retail, we also sell them online. You can go onto the website and they could be shipped right to your house.
Scott: What's your personal favorite hot sauce flavor?
Sylvia: I love 'em all! What I found in talking with more and more people and as we continue to add more sauces, that depending on the product that you eat, or product that you have, different sauces work better. Personally I love the Asian Zing on my wraps and on my Buffalitos and things like that. The Chipotle BBQ seasoning I love on my burgers and my grilled chicken sandwiches. The Honey BBQ is my favorite on the boneless and the traditional wings.
Scott: What are your best-selling sauces?
Sylvia: Honey BBQ. That's hands-down number-one selling sauce. From there, we drop down to Spicy Garlic, Medium and Mild. Those are kind of our next tier of sales level sauces after the Honey BBQ. From there, sales kind of fall and Asian Zing and the Mango Habanero and those are the next group. And then the next group down is really kind of the hotter sauces: the Hot, the Wild in the Blazin'; they're all kind of in the next group, with all the rest following those.
Now with the seasonings, the number one selling seasoning is the Desert Heat, and then Chipotle BBQ, and the Salt and Vinegar are next, and then the Buffalo is last.
Scott: Does BWW plan to phase out any existing sauces in order to integrate the newer sauces into the line?
Sylvia: At this point in time it's actually a great debate question. Because we are wings and sauce was really important to us, we feel like we really need to keep adding. People do have their favorites. When we look at the list, we say, "what could we take away?" There's not really much. Because people say, "well we really can't take away that one, and we can't take away this one." So for right now, we're really looking just to add. I'm sure at some point in time we're going to have to look deep and hard to see which ones we can take away. We're really just looking to add flavors and go on from there.
FireTalkers: Interview with Sylvia Matzke-Hill of Buffalo Wild Wings