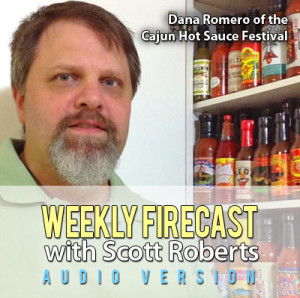 The Audio Weekly Firecast with Scott Roberts:
Weekly Firecast Podcast Episode #38 – Hot Sauce Festival Chat with Dana Romero
The Chairman of the most recent Cajun Hot Sauce Festival, Dana Romero, stops by the Firecast for a fiery interview. Dana discusses his ambitious plans for the upcoming International Hot Sauce Festival, which is slated to be held in a different city every subsequent year, plus his concept for a World Hot Sauce Awards. Regular guest Ken Alexander chats with Scott about the proliferation of spicy foods in the mainstream diet, Scott reviews Red CAT-astrophe Hot Sauce made with red wine, and tells you how to achieve bite-through skin in your barbecued chicken.
 Links mentioned in the episode:
• International Hot Sauce Festival Facebook Page
• Louisiana Hot Sauce Festival
• Cajun Hot Sauce Festival
• Red CAT-astrophe Hot Sauce
• Ken's Fiery World
• Scott Roberts Facebook Page
• Scott Roberts Twitter Page
Listen Instantly!
Click Above to Listen to This Episode Now!
Download this episode |
Subscribe via iTunes |
Subscribe via RSS Feed
Weekly Firecast Episode #38 – Hot Sauce Festival Chat with Dana Romero