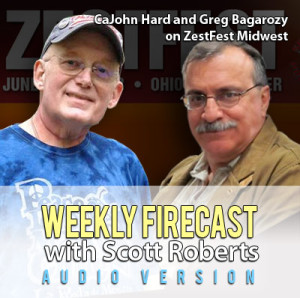 The Audio Weekly Firecast with Scott Roberts:
Weekly Firecast Podcast Episode #39 – ZestFest Midwest Preview with Greg Bagarozy and CaJohn Hard
Both Spicy Food Productions LLC President Greg Bagarozy and Ohio-based sauce maker CaJohn Hard return to join Scott and talk about the new ZestFest spinoff show, ZestFest Midwest in Columbus, Ohio. Ken Alexander talks about how to add flavor and lose weight by adding spice to your diet, and Scott tells you how to cold-smoke chile peppers.
Links mentioned in the episode:
• ZestFest Midwest
• CaJohn's Fiery Foods
• Ken's Fiery World
• Scott Roberts Facebook Page
• Scott Roberts Twitter Page
Listen Instantly!
Click Above to Listen to This Episode Now!
Download this episode |
Subscribe via iTunes |
Subscribe via RSS Feed
Weekly Firecast Episode #39 – ZestFest Midwest Preview with Greg Bagarozy and CaJohn Hard, Plus How to Smoke Chile Peppers