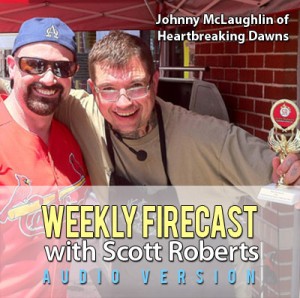 The Audio Weekly Firecast with Scott Roberts:
Weekly Firecast Podcast Episode #27 – Johnny McLaughlin of Heartbreaking Dawns Interview
Scott has an hour-long-plus conversation with rising hot sauce superstar Johnny McLaughlin of Heartbreaking Dawns, who talks about his background, the origins of several of his products, his latest adventures in pit beef, his new soda line put out under the 1776 Beverage Company name, why pure capsaicin crystals in hot sauces won't be a trend, the Columbus North Market Fiery Foods Festival and more. Chilehead reviewer and blogger Ken Alexander of FieryWorld.com debuts his Ken's Fiery World segment. Scott reviews Bone Lee Tadpole's Original Gourmet Hot Sauce, and gives some cheesy advice for his Foodie Tip of the Week.
Links mentioned in the episode:
• Official Heartbreaking Dawns Website
• Cooking Up the Hits – Heartbreaking Dawns' Cooking Blog
• It's a Fiery World – Ken Alexander's Blog
• Hot Sauce Weekly Podcast – Johnny McLaughlin talks about his appearance on Food Network's Chopped
• Bone Lee's Original Gourmet Hot Sauce
• 2013 North Market Fiery Foods Weekend Recap and Photos
• Scott Roberts Facebook Page
• Scott Roberts Twitter Page
Listen Instantly!
 Click Above to Listen to This Episode Now!
Download this episode |
Subscribe via iTunes |
Subscribe via RSS Feed
Weekly Firecast Episode #27 – Johnny McLaughlin of Heartbreaking Dawns Interview