2013 North Market Fiery Foods Weekend Recap and Photos
Scott Roberts
February 23, 2013 at 1:33 pm
food

Digg

Share
Tweet

Ron "Bumblefoot" Thal of Guns N' Roses, me and CaJohn Hard
Friday
Kevin and I kicked off our journey eastward to begin an 8-hour trek from the Greater St. Louis, Missouri area to Columbus, Ohio. Now, venturing towards Ohio is old hat for us now; many of my ex-wife's relatives reside in Columbus or in the small town of Cambridge (approximately 90 minutes further west towards Steelers Country); plus I've attended the last five Weekend of Fire events in Fairfield, OH, so this trip back and forth along Interstate 70 is something I've done dozens of times.
And in all honesty, I don't think that ever ONCE has weather or road congestion cooperated with us. Whether it be thunderstorms, moderate snow, blizzards, or ludicrous highway construction, something has always slowed our drive across the Midwest, whether leaving home or going back towards it. In this case, it was a pair of patches of snowy conditions (one in eastern Indiana, where visibility was ridiculously low, and the other in western Ohio as we rode into Columbus itself) that delayed us about 30 minutes. No worries this time, because we still made decent time and were able to check into the hotel in Westerville by 6:00 pm, where Kev and I shared a room with Johnny McLaughlin of Heartbreaking Dawns, who as many of you know is one of the coolest, most down-to-earth, and most talented individuals in the spicy foods biz.

The entrance to CaJOhn's Fiery Foods

John "CaJohn" Hard
Speaking of "coolest" and "down-to-earth", CaJohn and Sue Hard of CaJohn's Fiery Foods and crew displayed hospitality beyond the call of duty and hosted one of their Open Houses at their Westerville facilities that evening. Literally a two minute drive from the hotel (if it were not for wintery conditions, we could have walked over there), CaJohn's proved to be one of the "must attend" events of the weekend as dozens of chileheads and arriving North Market Fiery Foods Festival vendors congregated for a fun night of good food (CaJohn's provided many of the edibles, plus others brought in their own culinary items - much too numerous to mention) and great camaraderie. Jim Duffy of Refining Fire Chiles brought to life one of the running in-jokes from the Facebook Chileheads group and brought a Twister game. for the newbies to CaJohn's Fiery Foods, Chef Steve Lawrence gave them a tour of the facilities, including taking them to the "Wall of Flame", where chileheads have long autographed one of the warehouse walls.

CaJohn's Wall of Flame

Chilehead Twister
Kevin, Johnny and I returned back to the hotel room to get some much-needed rest for the long day ahead of us. Kevin, being the typical bounce-off-the-walls 12-year-old kid who wanted to stay up all night, made us watch a couple hours of a Diners, Drive-Ins and Dives marathon on the Food Network. The pig-out food on TV looked so good that Johnny and I were on the verge of going out and seeking what all-night restaurants were in the area to satisfy our late night cravings.

Ryan Graub and Kevin
Saturday
Kevin and I scarfed down a quick breakfast at the hotel before taking the twenty-minute drive to downtown Columbus where the North Market sits. We made it up to see many of the vendors setting up their tables and waited to be judges in Al "Buddah" Goldenberg's Great Spicy Chicken Salad Challenge. A few were downright outstanding, and a few were dwelling in "meh" territory, but the victor ended up being Chad Lowcock of Race City Sauce Works. Other contests that day (which invited audience participation were Heartbreaking Dawns's Scornbread Challenge, Race City Sauce Works' Schweaty Samballs & then lastly the Jalapeno eating contest.

The schedule of events

Sheriff Kevin

Ed Bucholtz of Born to Hula Sauces (left) and Chad Lowcock of Race City Sauce Works

Overlooking the CaJohn's Flavor and Fire kiosk on the North Market's first floor

Vendors getting their tables set up before the crowds rush in

Doc Cordray of CaJohn's Fiery Foods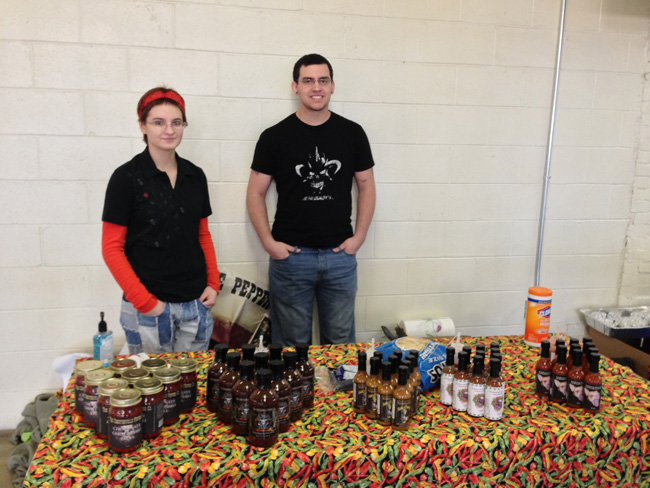 The Chesterville Pepper Co. table

Chilehead Eric Grant like a deer caught in the headlights!

Clockwise from top left: David "Hudd" Huddleston, Betty Huddleston, Al "Buddah" Goldenberg, nd Kevin Roberts

Jeremy and Kat Walsh of Bigfat's Hot Sauce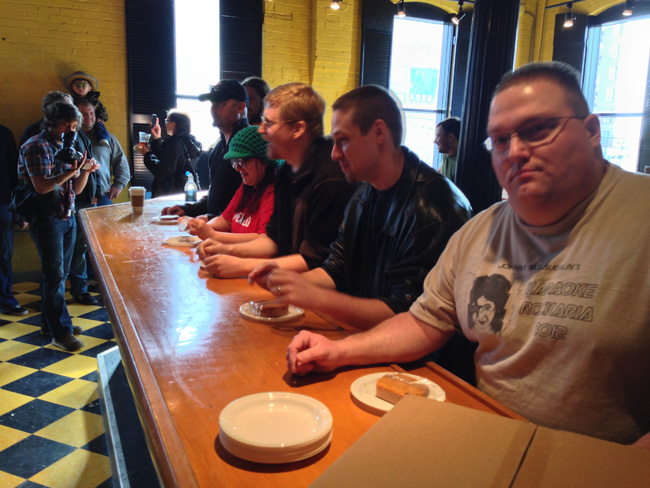 The lineup for Heartbreaking Dawns' Scorn Bread Contest, with Steve "The Machine" Smallwood on the right patiently waiting
As far as "hot" new vendors, I had previously tasted most everyone's offerings, with the exception of a couple of new products. Genuinely new to me were Sweet Thing Gourmet's excellent pepper and non-pepper jellies (which Kevin fell in love with) and Bumblefoot and Hound Comics's sauces (which ranged the spectrum in terms of likability). Smoking J's Fiery Foods was, thanks to my hazy memory, one of those companies where it seemed like I've tasted their sauces before but found out that I hadn't.
When it came to lunch, Johnny had recommended a cajun and creole joint that he claimed was a block away from the North Market called Da Levee. Kevin and I, with the images of shrimp po'boys dancing in our heads making our empty bellies gurgle with hungry anticipation, started our walk up there but then found out that the "one block" turned into "several blocks". The decreasing temperatures and increasing snowfall made it seem like twenty blocks. When we finally arrived at Da Levee, we discovered that they were currently undergoing renovations. This put Kevin in a funk and we finally settled on a Chinese place to quell our starvin' stomachs.
Later when it was time to leave the North Market for the day, we exited the building to the parking lot and encountered what was probably a homeless black man trying to force flyers for a "free pizza" to everyone outside. To call him "pushy" and "rude" was an understatement - this guy was an downright asshole, jumping out in front of cars and hitting windows to try to force people to roll their windows down. And he came "this close" to physically assaulting my son Kevin even after politely refusing his pizza flyer. If the North Market in ANY way advocates this kind of unexceptable behavior or activity, then shame on them. This would be of the caliber of action that would prevent us from ever making the drive from Missouri to Columbus and patronize the North Market ever again, because no one should endure this kind of harassment. I plan to contact North Market's Mary Martineau (who was a friendly and gracious host) about this matter.
After a cool down back at the hotel, my Missouri buddy Ryan Graub stopped by the room (many of us chileheads and vendors were all staying at the Red Roof Inn), and I told him my concerns about tonight's Fiery Asian Dinner at China Dynasty restaurant. Buddah had played it up in years past about how spicy this food would be. Take a gander at Buddah's pictures from two years ago on his blog at http://iloveitspicy.com/2011/02/23/2011-north-market-fiery-food-show-recap and you'll see photos of a suffering Jonathan Passow (someone in chilehead circles who could normally take the heat), several people holding up glasses of milk, and even CaJohn himself with some milk! I informed Ryan that I wasn't interested in anything that would test the upper echolon of my heat tolerance limits. I simply wanted a great-tasting Asian meal that happened to be spicy, and considered ordering from their regular menu while everyone else got blown away by volcanic heat and went figuratively (or maybe literally) running for milk.
When we got to the restaurant, I on a whim decided to try the Fiery Asian Dinner. My concerns were completely unfounded; and, as a matter of fact, virtually all of the foods brought out by the kitchen (they had previously been supplied a couple of gallon Ziploc bags full of some of the hottest chiles) were actually quite mild and could have easily been twice as hot and still not approach anywhere near challenging levels. But the food was excellent tasting, and plate after plate of scrumptious sides and main dishes were brought to each table and passed around via a lazy susan.

The Fiery Asian Dinner at China Dynasty: myself, Johnny McLaughlin of Heartbreaking Dawns, Linda and Joe Levinson of TheHotZoneOnline.com, and David "Hudd" Huddleston
Sunday
A lazy, sleep-in day for us. Kevin and I moseyed into the North Market around 1:00 PM, just in time to do a bit of shopping around, and then to be wrangled into doing Volcanic Peppers' Husker Balls from Hell Challenge, which featured a pair of spicy popcorn globes. Heat has never halted me in any eating challenges, but speed eating against others has. I am NOT a fast eater. Especially in contests that involve food that absorbs moisture like popcorn (I'd like to see the Nathan's Hot Dog Eating Contest contestants down their hot dog buns without first dunking them in water). Give me your spiciest dishes and 20 minutes on a clock, and Mr. Slow and Steady will win the race here.

Chef Ricky Sanders of The Madison Chocolatiers West and Kevin Roberts

My piss-poor attempt at trying to eat a spicy popcorn ball fast in Volcanic Peppers' Husker Balls from Hell Challenge.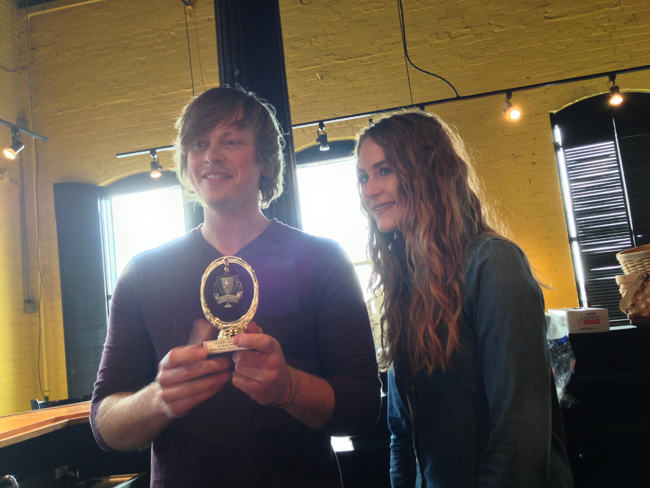 First and Second Place Winners in Volcanic Peppers' Husker Balls from Hell Challenge
Kevin and I were a tandem team joining three others in judging the amateur salsa contest, and fellow judge Joe Levinson of http://thehotzoneonline.com agreed with Kevin and I on who was the clear winner (and of course emerged as the overall champ in the contest). I gave this gentlemen (I for the life of me can't remember his name) my business card and asked if he would share his salsa recipe for my blog. I'm still hoping he contacts me and lets everyone in on this amazing green salsa he concocted.

The winner of the Amateur Salsa Contest
Rounding out the day was perhaps the flagship contest of the entire North Market Fiery Foods Weekend, the wing contest. This was done in six rounds, each using some of the hottest sauces available by the attending vendors, all concluding with a custom-made Race City Sauce Works Sambal wing sauce (after the whole event was over, I tasted some of this on wings, and let me tell you that this is a fantastic wing sauce, lbeit an extremely hot one!). The favorite to win the whole bout was Steve "The Machine" Smallwood, and he once again emerged the champ.

The sauces during the six rounds of the Chicken Wing Eating Contest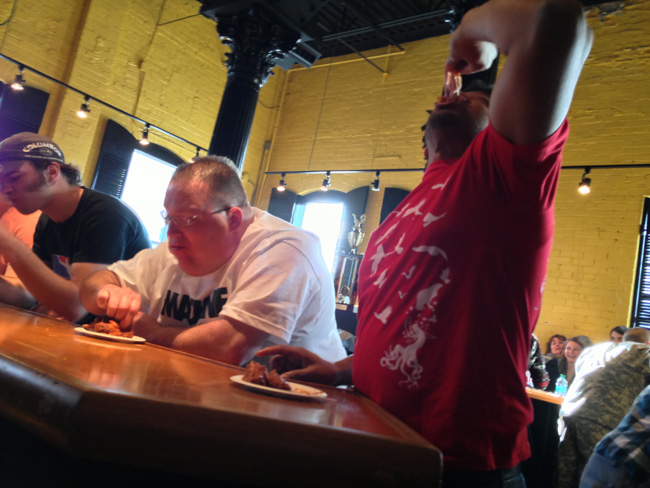 Steve "The Machine" Smallwood (center) and Dante Allen of the North Market's Curds & Whey demonstrate their unique wing eating styles

Steve "The Machine" Smallwood is the North Market's "three-peat" wing contest winner
The two day festival at the North Market wrapped up at 5:00 pm on Sunday, but that certainly did not end he weekend. It's a tradition that CaJohn treats everyone to a big Mexican meal at Fiesta Jalisco, and for those of us who have never attend this dinner had our eyes light up at the shear size of the plates (they were like serving tray) and generous portions of food. A fun time was had by all.

The dinner at Fiesta Jalisco

Chuck Evans of Montezuma Brand and girlfriend.