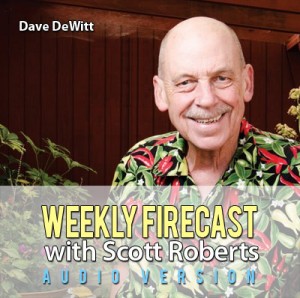 The Audio Weekly Firecast with Scott Roberts:
Weekly Firecast Podcast Episode #26 – The Pope of Peppers Dave DeWitt on the 25th Anniversary Fiery Foods Show
Scott chats with chile pepper expert and author Dave DeWitt (aka the "Pope of Peppers"), who is also producer of the National Fiery Foods and Barbecue Show, on the 25th anniversary of the annual event. The late Tabasco CEO Paul McIllhenny is also remembered. Scott debuts the Foodie Tip of the Week and reviews Fri-B-Que Hot Sauce.
Links mentioned in the episode:
• Official Fiery Foods Show Website
• Dave's Fiery Foods & Barbecue SuperSite
• Fri-B-Que Hot Sauce Website
• Scott Roberts Facebook Page
• Scott Roberts Twitter Page
Listen Instantly!
 Click Above to Listen to This Episode Now!
Download this episode |
Subscribe via iTunes |
Subscribe via RSS Feed
Weekly Firecast Episode #26 – Dave DeWitt on the 25th Anniversary Fiery Foods Show