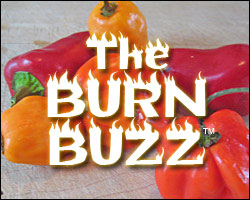 It's been a while since I've done an edition of the Burn Buzz, where I list hot n' interesting links about spicy food and BBQ that have been floating around on the intertubes lately…
High-Dose Capsaicin Patch Approved – Link 2
Mike Cates of Hot Shots Has Brain Aneurysm – Wishing him and his family well. Please keep him in your thoughts and prayers.
Maine-Made Rubs and BBQ Sauces Win International "Fiery Foods" Competition – Link 2
Cocaine and Pepper Spray – A Lethal Mix?
Chili Cook-Off Brews Up Heated Competition
Hot Rods in Smokin' Hot Sauce – Malaysian KFC loocations sell chicken pieces stacked on a skewer with a smokey hot sauce dip.
Capsaicin Skin Sprays Repel Bed Bugs with the Power of Hot Peppers
FDA Approves New Drug Treatment for Long-Term Pain Relief after Shingles Attacks
Hot Sauce and a Comb……Security Threats Inside And Out For 9/11 Trial
The Burn Buzz – Spicy Food News 11/18/09