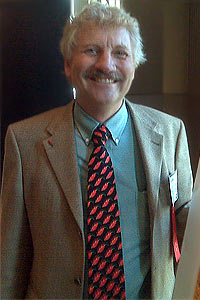 I just came upon some news about Dr. Paul Bosland of New Mexico State University Chile Pepper Institute – he is this year's recipient of Governor's New Mexico Distinguished Public Service Award. Congrats to Paul!
Here is the news release courtesy of KRQE News 13 of Albuquerque, NM:
Justin Bannister, NMSU News Bureau
LAS CRUCES (KRQE) – Even in New Mexico, it's rare to find someone with a front license plate that reads "Chileman."
Then again, it's rare to find anyone who knows more about chile and whose research has done more to help the state's chile industry than Paul Bosland, a professor in Plant and Environmental Sciences at New Mexico State University. Bosland is the recipient of one of this year's Governor's New Mexico Distinguished Public Service Awards.
"Service is an important component of my appointment at NMSU, and I have tried to reach out to the community through chile pepper research," Bosland said. "As an educator, teaching and helping others is always fulfilling. Seeing students learn and grow makes my job very rewarding."
Bosland leads the chile breeding and genetics research program at NMSU. He's the co-founder and director of the Chile Pepper Institute at New Mexico State University and is recognized internationally as one of the foremost experts on chiles.
This year marks the 40th anniversary of the Governor's New Mexico Distinguished Public Service Awards, an annual celebration that recognizes citizens throughout New Mexico for their outstanding contributions to public service and to the improvement of government at all levels by both government employees and private citizens.
Bosland works with the ASSURED program, which shows the science side of agriculture to students who come from migrant farm-working families. The program is funded by the National Science Foundation and has encouraged several first-generation students to pursue degrees in agricultural research.
Bosland has published more than 100 scientific papers dealing with chile genetics, breeding and germplasm evaluation. He serves as co-chairman of the International Chile Pepper Conference, which has grown to become the world's largest conference dedicated to the chile pepper. He is the founder and curator of the Capsicum Genetics Cooperative and also served as the chairman of the U.S. Department of Agriculture Capsicum Crop Advisory Committee.
Bosland has a bachelor's in genetics and a master's in vegetable crops from the University of California-Davis. His Ph.D. is in plant breeding and genetics from the University of Wisconsin-Madison.
He has been named a Regents Professor, a Fellow of the American Society of Horticultural Science, and one of the 2,000 Outstanding Scientists of the 20th Century. The European Scientific Committee on Capsicum and Eggplant honored him by being the first American ever selected to serve on this committee.
Bosland and his program have been featured in media outlets ranging from National Geographic, the New York Times, New Yorker Magazine, Men's Health, CBS Sunday Morning, Food Network, Discovery Channel, and he was an expert consult to the television show "Who Wants to be a Millionaire?"
Link: http://www.krqe.com/dpp/local_guide/grow_local/chileman-honored-for-service-to-state
Dr. Paul Bosland Wins Governor's Distinguished Service Award