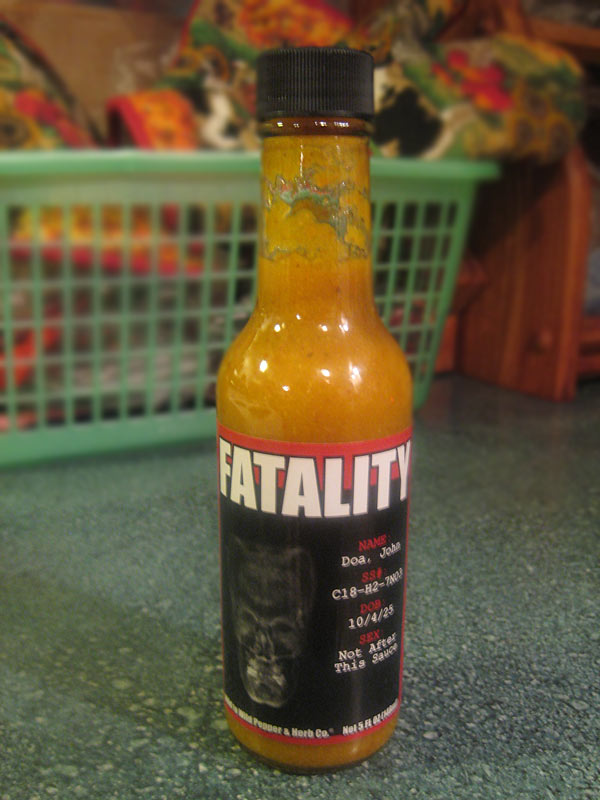 Fatality Hot Sauce is another sauce devised by Jim Campbell and the Mild to Wild Pepper & Herb Company. This one, as you might have guessed by the name, features the mighty fatalii chile pepper. Fataliis are in the chinense species of chiles – the same one that includes habaneros and jolokias -and are absolute scorchers. Despite the fact that they only rate on the high end of what an orange habanero would be heat-wise (somewhere around 350,000 SHU), their special mix of the capsaicinoids – with dihydrocapsaicin being the dominant one – is speculated to be the reason that fataliis taste hotter than 570,000 SHU red savinas to most people that I've talked to.
Jim knows his peppers and knows how to balance ingredients very well within his sauces. Fatality is a good effort and is a terrific choice if you're on the prowl for a nice extract-free condiment to splash on your food, especially one that will really take things to the next fiery level.
Ingredients:
Fatalii Peppers, Vinegar, Garlic, Citric Acid, and Vitamin C
Aroma:
3.5 out of 5. The distinctive fruity fragrance of fatalii peppers is front and center. This was a good sign when I had first smelled this; and even though I don't mind there being a good deal of vinegar and salt (that later of which Fatality does not contain) in my sauces, I knew this would not be an excessive vinegar love-fest.
Appearance and Texture:
4 out of 5. Since ripe fataliis are a beautiful yellow/orange color when ripe, this sauce possesses a wonderful color that's deep and yellow with a little "dirtiness" thrown in. The medium-level texture and consistency are nearly perfect for a sauce of its kind.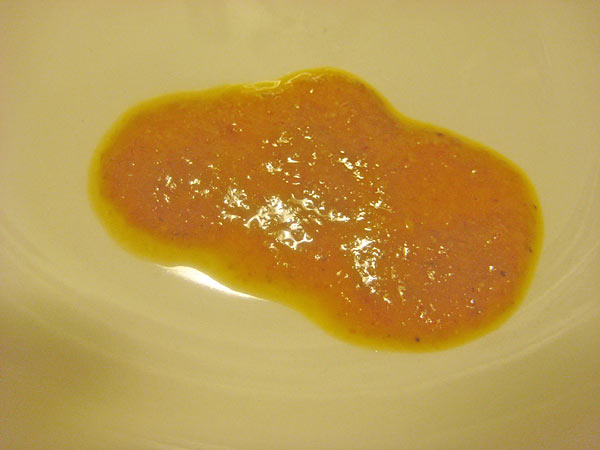 Taste Straight Up:
4.5 out of 5. Upon tasting the sauce there was the expected flavor of the peppers that hit me first, all nice and sweet n' fruity, clear as a bell. Hints of vinegar and garlic can be felt, but they are not at all excessive. The fatalii's the most prominent sensation in this mix. So much, in fact, that if I closed my eyes and concentrated, I could have sworn I had just bitten into a couple of sliced fatalii rings. The tartness from the other ingredients rounded out the sauce and gave it a tad bit of complexity.
Taste on Food:
As good as this sauce may be, I don't consider this to be significantly versatile. Because of it's extreme heat it approaches additive territory but not quite – it's still something hardcore chileheads could douse semi-liberally on their food if they're ready for a good burn. I suppose from time to time you could replace your "go-to" condiment with Fatality when you eat chicken nuggets, eggs, and pizza. With its fruity nature and searing heat, this might pair well with Asian foods, pastas, and Caribbean-style dishes.
Heat:
4 out of 5. Whammo! Fatality is not for the faint of heart. There's a slight, delayed heat – you get the taste of the fataliis a second before you get hit by the heat. Once the burn comes on in full force, it grabs the back of your tongue and the throat and doesn't let go for nearly 10 minutes. Use sparingly if you merely want some added flavor and warmth, or apply in heavy amounts for one gargantuan incendiary journey.
Label:
5 out of 5. I love this. Chile artist Jeff Schickowski, who Campbell employs for graphic design and website maintenance, did a spectacular job in creating a memorable label. It features "data" that might be found on a death certificate, including the social security number that is actually the molecular formula for capsaicin. Plus a spooky x-rayed image of a fatalii pepper superimposed over a skull is spiffy cool.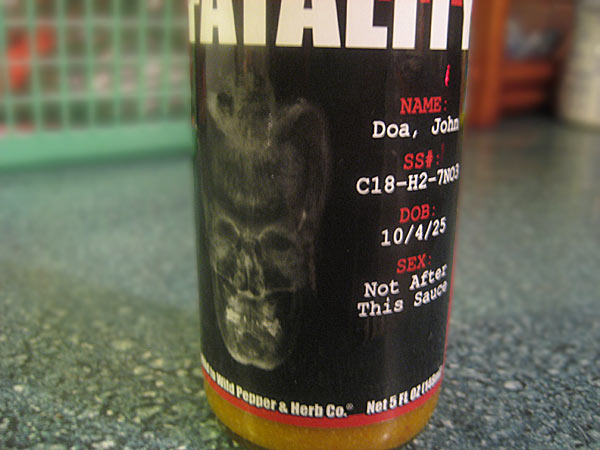 Overall:
I really like Fatality. It may be a simple sauce, but it retains the flavor and heat of fataliis successfully while being more than just pureed chiles. To get a bottle for yourself, go to Mild to Wild's website on their sauce page at http://www.wildpepper.com/sauces.html.
Review – Mild to Wild Fatality Hot Sauce