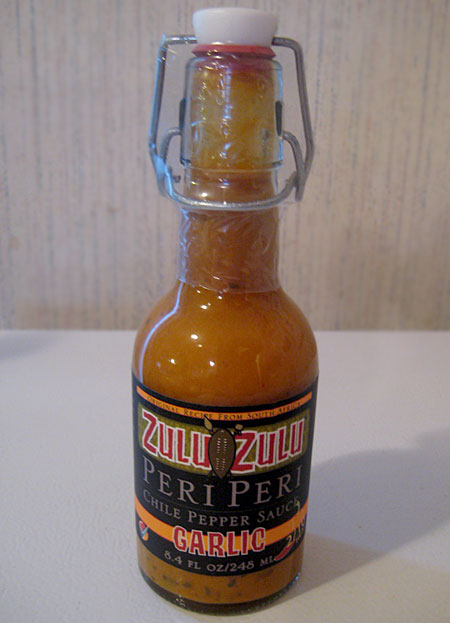 Here's a little number that's produced by SouthAfricans.com out of Atlanta, GA. It's called Zulu Zulu Peri Peri Garlic Chile Pepper Sauce. It uses, yep, you guessed it, the ever increasingly-used African Bird's Eye peppers and states on the bottle that the "original recipe [was] from South African". I'm always up for trying how others outside of the Western Hemisphere incorporate chile peppers in foods, so let's see what this sauce has under the hood…
Ingredients:
Water, vinegar, onions, herbs & spices, lemon, oil (soy), peppers, garlic, peri peri peppers (African Bird's Eyes), stabilizer. Contains no artificial flavors, colorants or preservatives.
Texture and Appearance:
3.5 out of 5. Light orange and bespeckled with larger green flakes and tiny red particles. This sauce was thick n' rich but could not really be defined as "creamy". Although this might be obvious knowledge to some of you, to me this was more of a cooking sauce and less of a condiment.
Aroma:
4 out of 5. Very nice scent, dominated by the lush tartness of lemons and the bite of onions and garlic.
Taste Straight Up:
4 out of 5. The flavor has great luminosity and complexity. A first lick of this produces a dizzying rush of spices followed rapidly by mellow garlic. A few seconds in the sourness of lemon and vinegar bounces in to take control of the flavor while the proceeding ingredients balance out the flavors with sturdy supporting roles. Loud hints of onions and small traces of African Bird's Eyes peak through, although I would have preferred a touch stronger performance from the peppers.
Taste on Food:
4 out of 5. I grilled some chicken breasts and put Zulu Zulu on at the end of the cook. Served with some shells and cheese (cheddar & monterrey jack), this made for a deliciously tart and sour meal.
Suggested Uses:
Chicken is the obvious choice, but this would also hold up on seafood and would give shrimp a nice, citrusy, tangy and garlicky kick. This would blend in admirably with a wide array of pastas.
Heat:
1.5 out of 5. The tartness gives this the illusion that Zulu Zulu Peri Peri Garlic Chile Pepper Sauce is hotter than it actually is. The mild burn comes way on the back end of a bite and never reaches anything substantial. Unless you think that milk and cookies are spicy, this won't set your tongue ablaze. In fact, you may be like me and desire more peppery fire from this sauce.
Bottle and Label:
It's not everyday you see a wired cap and seal on a hot sauce bottle, so that is a little noteworthy (but quite frankly employing this is a waste in my opinion unless you're going to use the bottle over and over). The label's graphics are sharp and give an African feel. If the makers of this are shooting for that then they've hit the bulls-eye and would pull in exotic and gourmet food lovers. If they are desiring hot sauce fanatics or average citizens who love chile peppers, then they may have missed the marked by a few millimeters. I like it, so I'm giving the overall appearance a 4.5 out of 5.
Overall:
If you're hankerin' for something with garlic and a sour zing to it, then Zulu Zulu Peri Peri Garlic Chile Pepper Sauce is worth a spin. You can grab a bottle at SweatNSpice.com for $7.15 (not a bad deal for the unorthodox 8.4 oz bottle).
Review – Zulu Zulu Peri Peri Garlic Chile Pepper Sauce