The sriracha craze is building to dizzying new heights, and here we are already with another major QSR chain pushing in the case of White Castle (Subway had introduced theirs last year). The 93-year-old-company has (with the usual disclaimer of "for a limited time only") introduced two different chicken sandwiches with the zing of sriracha sauce: the Ultimate Sriracha Chicken Slider and the Sriracha Chicken Slider.
Both are of the slider variety and feature fried chicken patties with breading that is seasoned with the flavor of sriracha. Sriracha, for the few of you who don't know, is the type of Asian-style sauce with strong garlic and salt tones, a hint of sweetness on a red chile pepper base. It's most famous version is Huy Fond Foods' Sriracha Sauce, sometimes nicknamed "Rooster Sauce" because of the rooster image on the bottle.
Sriracha Chicken Slider
The Sriracha Chicken Slider is White Castle's "base" model out of the two. It is very simple in its structure: bun, sriracha-breaded white meat chicken, and a dollop of chipotle mayonnaise. I opened up the bun and saw this: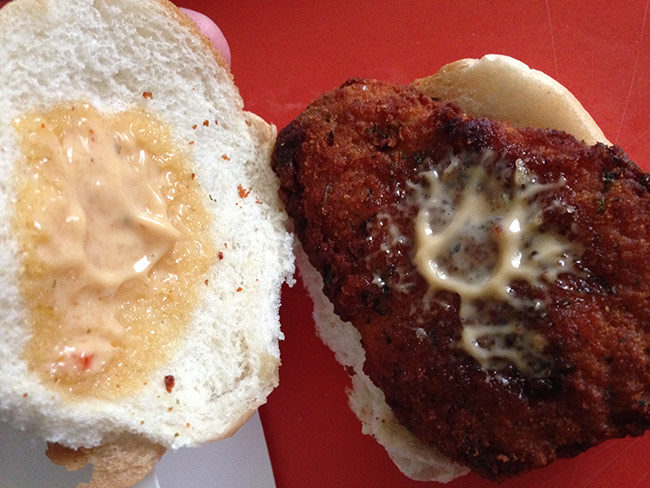 Believe me, as underwhelming as it looks, the flavor was even more depressing.  For those of you with kids, or those who are familiar the wide variety of cheap, frozen, microwavable, supermarket-bought chicken, then you probably have a general idea of how abysmal that food can be. And the sriracha chicken here from White Castle…ugh. The breading tasted burnt.  There was no distinctive "sriracha" flavoring of any kind, only a slightest vagueness of a generic chile pepper spiciness.  The chicken was bland and dry. The tiny spot of the chipotle mayo on White Castle's Sriracha Chicken Slider was a a laughable one; it provided no flavor or much-needed moisture. Perhaps the bun was the only saving grace; while this is the standard White castle Slider bun, it's presence here was the only welcome component in the sandwich.
White Castle really dropped the ball big time with this one.  A major failure.
Heat: 

Taste Overall: 

Scott with White Castle Executive Chef Phillip Bach
Ultimate Sriracha Chicken Slider
Okay, maybe the sins of the original Sriracha Chicken Slider can be redeemed with the Ultimate Sriracha Chicken Slider. It, too, has the same sandwich parts of bun, breaded sriracha white meat chicken patty, and chipotle mayo, but this also has a slice of jalapeno cheese and several fried jalapeno crisps.
These added components made the Ultimate Sriracha Slider worlds better, yet it still was not celestial in terms of taste. The cheese gave it some much needed warmth in spice, stickiness in texture and almost a bit of moisture in mouth-feel. The jalapeno crisps (which in concept can be a staggering delicious topping or snack, as in the case of Deano's Jalapenos cheddar-coated sliced jalapeno chips, which won my Product of the Year award for 2010) provided at least 80% of any noticeable heat on the while damned sandwich and gave it some very unique crunch.
It was still not enough to save the Ultimate Sriracha Chicken Slider from mediocrity. The almost non-existent sriracha flavoring in the dark, burnt breading still made this a sandwish I'd never want to eat again.
Heat: 
Overall Taste: 
What Could Be Improved?
It can be easy to dismiss these are being a cheap, fast food cash-ins on the sriracha trend. That would be as futile as me griping that McDonald's McRib isn't up to snuff with some perfectly-smoked, succulent St. Louis-style pork spare ribs. I ain't asking for perfection, but White castle could have easily done a better job.
Chick Fil-A's Spicy Chicken Sandwich is a fiery foods property where they did things right. Heck, even Jack in the Box's and Dairy Queen's offerings in the spicy sandwich ring have been less than stellar but are clearly edible and passable. But what could White Castle have done to fix their Ultimate Sriracha Chicken Slider and the Sriracha Chicken Sliders?
For starters, put enough of that chipotle mayo on where I can actually taste it! And if you're going to have a dry sandwich, you'll need quite a bit to lube the mouth for easy chewing and swallowing.
Second, and most importantly, improve the flavor of the chicken! Add some real sriracha flavoring in the breading. Make it "sing"! Make it pop! Give me some tones of real chile peppers and garlic.  Don't make my taste buds fish for it. Nor do I want that overly-processed feel – if I want a cheapo $1.09 Swanson "chicken nugget" meal from the grocery store, I would have gone there instead to satisfy more processed chicken cravings. If Chick Fil-A can make a frozen spicy chicken patty "come to life" with juiciness, spiciness and satisfaction, then why couldn't White Castle?
Review – White Castle Sriracha Chicken Sliders