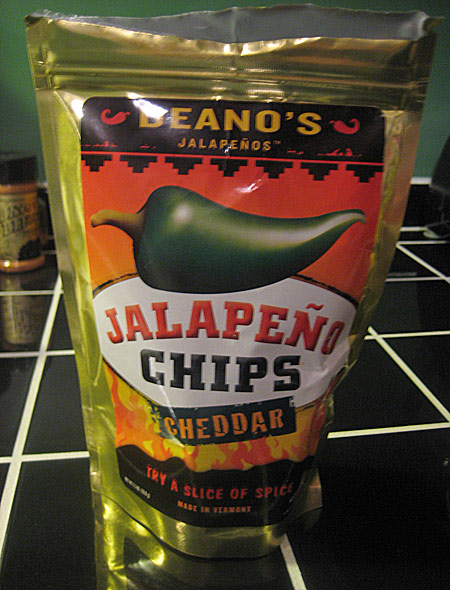 This snack has been heavily lauded by chilehead bloggers, mostly since the 2010 Fiery Foods Show transpired a few months ago, as one of the best new spicy snacks they've had the pleasure of chomping down on. I also sampled it at the FFS, made my opinion known that I liked it, and purchased a few bags from Ranch Camp Chip Company owner Doehne Duckworth for home consumption. I had already given his Deano's Jalapeno Chips a notch in the positive column, but do I think it lives up to the immense hype bestowed upon it by my pepperhead brethren?
I would have to give an incontestable "yes". Believe the hype, folks. Deano's Jalapeno's are insanely delicious and are sure to rapidly become a favorite among those who crave heat and cheddar cheese flavor in their snacks. I'm also predicting that in another five years, Deano's will become a giant in the specialty food world or the concept and recipe will have been sold to a larger chip manufacturer to make its creator mucho deniro off of this stuff. It's that good.
Ingredients:
Jalapenos, canola oil, cornstarch, whey, buttermilk solids, cheeses (cheddar and granular), whey protein concentrate, salt, sodium phosphate, citric acid, yellow 5 & 6, lacyic acid, enzyme
Texture, Taste and Heat:
You may have already seen what has been written and videoed about this marvelous product. If not, here's the cliff notes: at its bare core, Deano's Jalapenos are thinly sliced jalapeno peppers that are fried in oil and covered with cheese powder. That's it. There are no fillers like potatoes, corn or wheat ground up, processed and pressed in to give it a generic chip-like flavor. The jalapenos themselves shine through and with the heavy cheddar sprinkling they taste similar to a nacho chip with a pickled jalapeno on top, only without any distracting vinegar-like pickling juice or potentially soggy tortilla chips.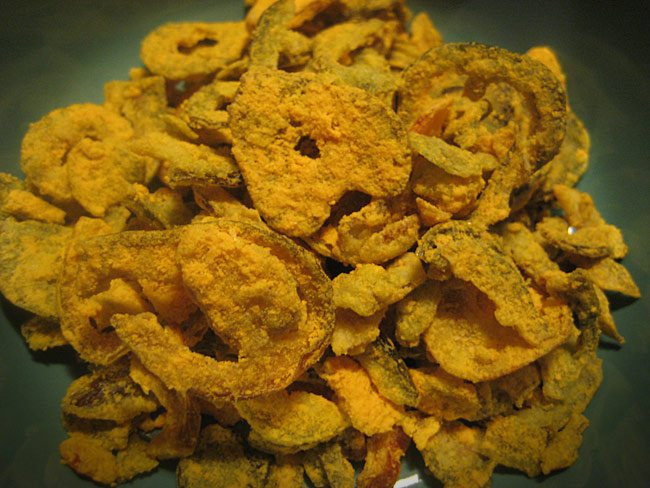 Perusing the blogs, it seems like not a whole lot was mentioned about the texture of Deano's Jalapenos and the feel they have on your tongue. I could easily imagine a thicker cut of jalapeno pepper becoming too hard and jawbreaker-esque after frying, and Mr. Duckworth probably had experimented with several thickness before settling on this one. The individual chips are less than wafer thin and have a "melt in your mouth" sensation yet still retain a crispiness that makes this seem like a cracker. Seriously, if I were blindfolded and given some to eat for the first time, I would swear someone had given me fragments of a light and super cheesy Nabisco snack cracker.
The cheddar, though heavy enough on the snacks to leave a residue on your fingertips, was never too dominant to mask the flavor of the jalapeno slices.
Just like fresh jalapenos, Deano's chips suffer the same heat level inconsistencies. One handful of Deano's Jalapenos would be relatively tame, while the very next bite of them would have a respectable burn. I think this may turn away mild food fans from initially trying these.
The only other negative I see with this snack is that the bags are too small. While I'm not one would have plow through a half a pound bag of Doritos in one sitting, I like my chip portions a decent size. This 2.5 oz bag suggests there are five 80-calorie servings contained within. Uhhn-uhh, I don't think so. These tiny little portions could barely feed a fly. I would say there are two servings at the very most.
At the Fiery Foods Show, Doehne had mentioned doing a hotter version of these chips with habaneros mixed in with the jalapenos, and also a variation of the straight jalapenos where ranch flavoring replaced the cheese powder. If he were to successfully pull these off, I would definitely purchase stock with the Ranch Camp Chip Company would ever have an IPO.
Lastly, I just have to state that these are a major new find and came "that close" to being on my list of all-time favorite spicy snacks. Deano's fantastic and addictive product comes with my highest recommendation and I simply cannot rave enough about them.
Score: 5 out of 5.
Fore more information on where to buy these beauties, hop on over to deanosjalapenos.com.
Review – Deano's Jalapenos Chips