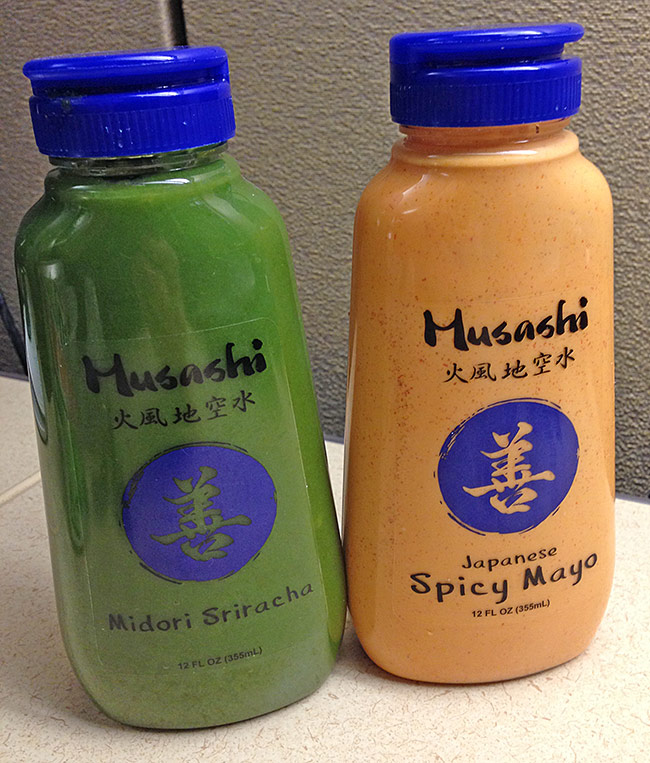 Musashi Green Sriracha and Spicy Mayo sauces
"Sriracha" is certainly the big buzzword in the chilehead industry (and perhaps the whole condiment industry as well) this year. The Asian-style sauce has taken foodies by storm, and I predict that it's going to get even more ubiquitous next year.
One sure sign of any trend's popularity is the off-shoots from what is considered to be the "mainstream" genre.  Case in point…green sriracha. This one comes from the Musashi Foods, and is billed to be "a unique Japanese interpretation of the classic sauce".  Hmmm…what does that mean exactly? Well, for starters, it uses green serrano chiles instead of the classic red chiles in more traditional srirachas. Also, it aims to be a bit more complex with brown sugar, red cabbage juice and turmeric. 
Also up for review is Musashi Japanese Spicy Mayo, an orange blend of fiery, far Eastern-style ingredients and a regular mayonnaise spread. But first, the Musashi Midori Green Sriracha…
Musashi Midori Green Sriracha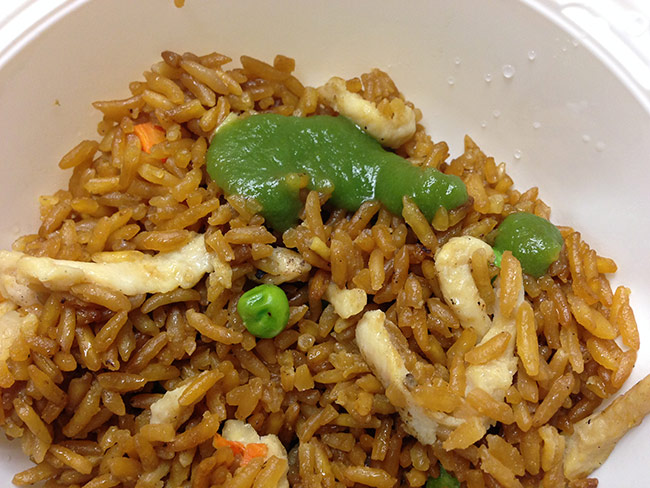 Musashi Midori Green Sriracha Ingredients: green serrano peppers, garlic, rice vinegar, brown sugar, salt, xanthan gum, less than 1% preservatives, red cabbage juice, turmeric, sodium bicarbonate, glycerin
Aroma:
3 out of 5. There's a waft of fresh chiles and a very, very sharp tone from the vinegar and garlic. It's a bit more edgier than your typical red srirachas.
Texture and Appearance:
4.5 out of 5. This is a beautiful green hued condiment, and it scored big points from me for having a very thick and consistent viscosity, not unlike a properly mixed and shaken-up bottle of tomato ketchup. Coming out of the plastic squeeze bottle, it was nearly perfect.
Taste Straight Up:
3 out of 5.  This is highly tart and garlicky. Expect far less of the typical sweet notes of red sriracha, and more of a pungent, high-end blast. There also was not a whole lot of saltiness, which to me was good in this case. The actual taste of the serranos played a supporting role, being very buried (yet I bet without the serrano chile flavor, Musashi Midori Green Sriracha's base taste wold be lost). For a sriracha sauce, this impressed me while simultaneously not "wow"-ing me.
Taste on Food:
3.5 out of 5.  I gave Musashi Midori Green Sriracha some heavy-duty work on "everyday" items like sandwiches, eggs, chicken breasts, and hamburgers.  Considering that Huy Fong Foods "Rooster" Sauce is used on anything and everything by it's devotees, I figured I would follow suit with Musashi's product.
Of course, some Asian-style cuisine was necessary as well. Roberts family household staples chicken fried rice and fried egg rolls were used to fill this need. As an egg roll "dip", Musashi Midori Sriracha didn't give it the all-around savory boost I was expecting, but still was a decent garlic and heat transmitter. Mixed in with the friend rice, it was wonderful, and provided the dish just enough heat and taste to make me crave seconds.
Heat:
2 out of 5.  It's not too high in the burn department, and a lot of the perceived heat comes from the pungency of the garlic and the bluster from the rice wine vinegar.
Musashi Japanese Spicy Mayo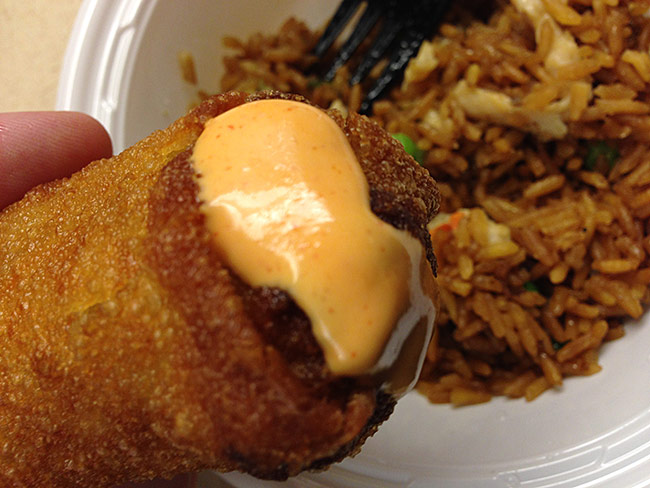 Musashi Japanese Spicy Mayo Ingredients: mayonnaise (soybean oil, water, eggs, vinegar, sugar, salt, mustard flour, spices and EDTA (preservative)), water, red serrano peppers, vinegar, garlic, sugar, sesame oil, xanthan gum, sodium benzoate (preservative), potassium sorbate (preservative).
Aroma:
3.5 out of 5. Sweet, light, and spicy, with a hint of tartness.  About what you would expect from a spicy mayo or chipotle mayo.
Texture and Appearance:
4 out of 5. Musashi Japanese Spicy Mayo is smooth, creaming and thick, possessing a base light orange hue with thousands of minuscule red and brown specks floating about. Excellent stickiness as a dip or condiment.
Taste Straight Up:
3 out of 5.  Very light, minimally oily, softly sweet…until about 2 seconds later, when the almost non-descript high-end bitterness and fieriness kick in. The spicy component does not really take center stage flavor-wise, but is very long-lasting with a prolonged light burn on the back of your tongue. The red serranos in this definitely pack more of a punch than their green counterparts in the Musashi Midori Green Sriracha.
Taste on Food:
3 out of 5.  Many of the same applications I mentioned above were used for this Musashi Japanese Spicy Mayo. It was more hit and more miss; meaning, it did terrifically on some things while failing big time on others.  On sandwiches? Excellent! Egg rolls? Dynamite! Chicken fried rice? Yuck! A leafy green salad with baby spinach and romaine lettuce? Surprisingly, not so good. You'll just have to play with it yourself to find the proper usage.
Heat:
2.5 out of 5.  Like mentioned above in the "Taste Straight Up" description, it's a tad hotter than the green sriracha, and gives a coating of heat to the back of the tongue and back of the throat. It lingers quite long. It's not the ultimate in high-intensity burnage, so unless you're a big mild mouth, there's not much to beware.
Labels and Bottling on Both
3.5 out of The Musashi Midori Green Sriracha Sauce and Musashi Japanese Spicy Mayo Sauce come in convenient plastic squeeze bottles. I like the minimalist artwork and lettering on each; they're clean and effective.  However, the white text on the beck of the Spicy Mayo bottle is extremely hard to make out, especially in contrast with the orange-colored condiment peering from behind it.
In Summary
Both the Musashi Midori Green Sriracha Sauce and Musashi Japanese Spicy Mayo Sauce are worth a try. Being neither a hardcore sriracha fan nor a heavy-duty spicy mayo lover, they were good enough to impress me (and that's saying a lot!).
You can purchase both the Musashi Midori Green Sriracha Sauce and Musashi Japanese Spicy Mayo Sauce online at the official Musashi website.
Review – Musashi Midori Green Sriracha and Japanese Spicy Mayo Sauces