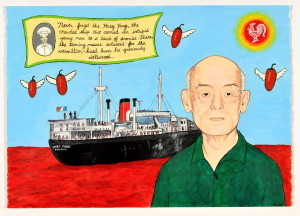 Going on now through July 12, 2014, there is an art exhibition at the Chinese American Museum in Los Angeles, California titled LA Heat: Taste Changing Condiments.
It was created to pay tribute to the backstories and contributions of two sauces in particular: Huy Fong Foods Sriracha and Tapatio hot sauces.
According to the museum's website:
Sriracha and Tapatio hot sauces are two examples of the recent homegrown all-American condiments that have dramatically impacted American cuisine.  The rise in popularity of these condiments signifies an increase in Asian and Latino populations living in the US and especially in Los Angeles after the passing of the Immigration and Nationality Act in 1965.  

In 1971, Mexican immigrant Jose-Luis Saavedra, Sr., started Tapatio Hot Sauce, a unique combination of red chili peppers, spices and a hint of garlic, in a warehouse in Maywood, California.

David Tran, an immigrant from Vietnam of Chinese ancestry, started making Thai-inspired Sriracha sauce blended from chili peppers, vinegar, garlic in small shop in Los Angeles Chinatown in 1983.  

In large American cities everywhere, both Sriracha and Tapatio contend to rival Heinz Ketchup and French's mustard as the all-American condiment for the Y-Generation, for these hot sauces have become interwoven into the American cultural fabric and thus becoming an ubiquitous condiment in American cuisine.
You can find out more information about the fiery art show, including the participating artists, at http://camla.org/current-exhibits/
LA Museum Honors Sriracha and Tapatio with Hot Sauce Art