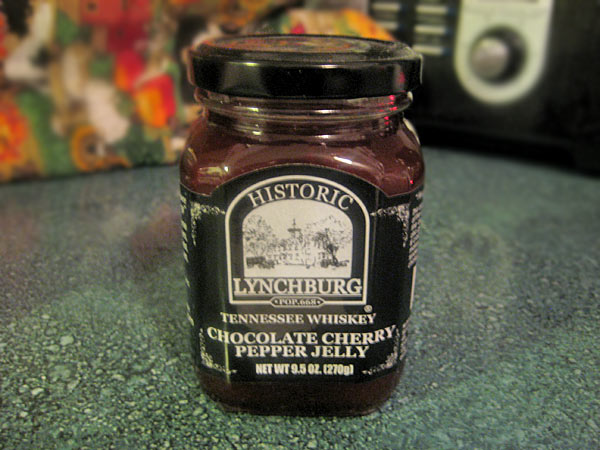 Certain peppers lend themselves wonderfully to concoctions with fruit and sugar and I happen to think that sometime in the next ten or twenty years spicy sweets will explode into the mainstream. What exactly will be the cornerstone of this trend – candy, syrups and ice cream toppers, a jam or jelly, or maybe even a fruit and chile pepper based salsa – I do not know. It may be a little of everything. Nowadays they may be viewed as novelty items, but something will really catch on with your next door neighbors Plain Jane and Bob, you know, the ones who wince at the thought of putting a drop of Tabasco on their oysters.
That's just my prediction. I could be wrong. What I can say accurately is that specialty food manufacturers are making nearly everything under the sun both old and new with peppers of all heat levels. One such type of sub-niche items I'm seeing more of are variations of tried and true pepper jelly.
A great many pepperheads have confided in me that they're just not into pepper jelly. I may only be an occasional jelly or jam user but they have a certain appeal to me. You can spread, smear or mix this stuff on a vast assortment of things you would never even consider putting a vinegar n' chiles mix on. One such is the subject of this review, Historic Lynchburg Tennessee Whiskey Chocolate Cherry Pepper Jelly made by Porky's Gourmet Foods.
Ingredients:
White cane sugar, sweet red peppers, vinegar, cocoa, cherries, fruit pectin, vanilla, spices, Jack Daniel's Whiskey
Aroma:
3 out of 5. The first whiff I took of this Chocolate Cherry Pepper Jelly reminded me of a chocolate jello that I ate a few times when I lived in Mexico City. Yes, I said chocolate jello. It was like a real cheap chocolate pudding crossed with a tootsie roll flavor. But I digress. Another smell of Chocolate Cherry Pepper Jelly conjured up a resemblance to chocolate-covered orange jell candies. Additional sniffs revealed sharp aromas of fruit and cherries, a touch of vanilla, and even the strong spark of whiskey.
Appearance and Texture:
3 out of 5. This is medium brown with a slight reddish tine. Dig and mix a spoon in this and you'll uncover bits of cherries and red peppers.
Taste Straight Up:
3.5 out of 5. Fruit and sugar flavors dominate this jelly. A chocolaty taste was in the background, but still noticeable enough. I would guess that any additional cocoa flavor would have made this taste odd, so expect a fruit/pepper jelly out of this that is only slightly accented by chocolate. The Jack Daniel's Whiskey adds a tiny bit of zing to this. It's not "hot" or "spicy" by the standard definition one would apply as this contains no hot chile peppers, only sweet red bells. The multitude of ingredients harmonize well enough to produce an admirable overall taste.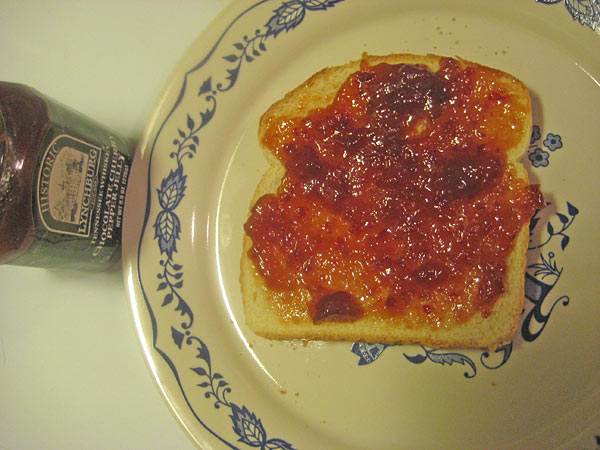 Taste on Food:
3 out of 5. Biscuits, bagels, and toast are obvious candidates for a good pepper jelly, so I opted for that last choice and used good ol' American white bread and toasted it up. This jelly should work okay enough for people who employ a jam or jelly as part of their breakfast regimen. I could honestly say I liked it, although after several bites the chocolate flavor was wearing on me (I guess that's better than me wearing it on my shirt). I have to be in the mood to eat and enjoy chocolate, so perhaps this was one instance when I wasn't.
Heat:
0 out of 5. No heat to speak of, but tart, strong flavors may give this a 0.25 for those who can't take much spice in their foods.
Label:
3 out of 5. The black and white text gracing the label may give the casual observer the impression of this being an official Jack Daniel's product. It's not. I suppose it's different enough to avoid tripping off any trademark alarms for any lawyers based in Lynchburg, Tennessee. That having been said, it's quaint, nice, and it gives a down home feel.
Overall:
If you regularly consume this kind of stuff and are up for some interesting new flavor combinations, give Historic Lynchburg Tennessee Whiskey Chocolate Cherry Pepper Jelly a try.
Porky's Gourmet Foods has several sub-brands and produces a vast assortment of sauces, seasonings, spreads, and jellies, which are available for purchase at http://porkysgourmet.com/main.html. I've tried many of them, and think that most are high-quality – Porky's even has Golden Chiles and Scovie Awards to back up any similar claims to this one.
Review – Historic Lynchburg Tennessee Whiskey Chocolate Cherry Pepper Jelly