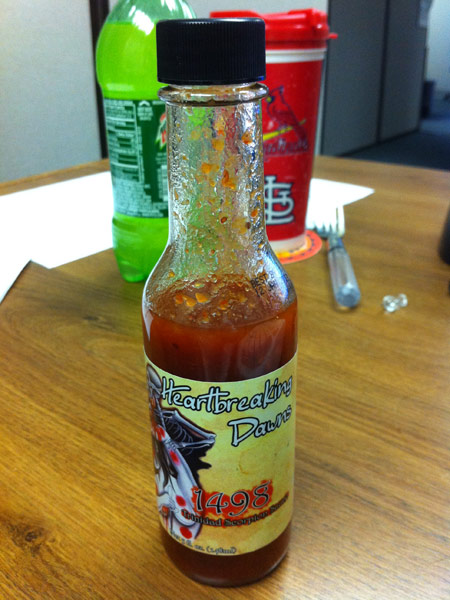 Ladies and gents, I present to you my favorite new sauce of the year. It's taken a mighty long while for this product to build itself up to that lofty level; Nicole and Johnny of Heartbreaking Dawns had shipped me a prototype bottle of this, their Trinidad Scorpion sauce, last Fall along with some of their yummy, experimental 7 Pot Chile Pepper Jelly. Ample time was given to me to employ the sauce in a variety of ways. I found that I liked it but didn't love it, but I thought that it might have widespread appeal (and it did have signs of that, for my non-chilehead ex-wife had tasted some of this before our divorce and gave it a thumbs up, despite it scorching her tongue).
A few mere months later, Johnny sent a bottle of the Trinidad Scorpion sauce with the finished label artwork (absolutely killer!) and it's final name, 1498 Trinidad Scorpion Sauce. The number 1498 signifies the year that Christopher Columbus discovered the island of Trinidad. Very clever, I think. Unfortunately, in conversation I still find myself mixed up on the year and will accidentally call this stuff 1493 or 1488. Oops. I have to tell myself that old children's rhyme, "In 1492, Columbus sailed the ocean blue" and then account for a additional few years for the voyage where Columbus stepped on Trinidad soil.
One final note before the review. Heartbreaking Dawns' 1498 is in all likelihood the first commercially available American hot sauce that uses the Trinidad Scorpion chile pepper. Since these chiles are arguably the hottest in the world, this marks the beginning of a new era of higher-level heat sauces that don't have to rely on extracts to get their kick.
Ingredients:
Trinidad Scorpion Peppers, Scotch Bonnet Peppers, Cider Vinegar, Apricot Preserves, Water, Blueberries, Carrots, Honey, Onion, Soy Sauce, Sea Salt, Garlic, Ginger, White Pepper
Aroma:
4 out of 5. Very sharp tones from the vinegar and the scorpions. There is a touch of sweetness to round out the scent, so to the un-analytical nose this may smell like a fruity habanero sauce.
Appearance and Texture:
3 out of 5. It's comparable to a thinner cayenne pepper sauce with a bit more thickness to it. I would have preferred this to have additional heft for it to cross directly into medium consistency territory where I like sauces to be, but beggars can't be choosy. Appearance-wise, it's slightly pulpy yet blended well with oodles of shreds and specks. The darker flecks, which provide some nice color accents, are probably the blueberry skins. It's easy to splash on (perhaps 1498 is a tad too loose) and smooth-feeling on the tongue.
Taste Straight Up:
4.5 out of 5. Those who know me well know that I'm not crazy about the flavor of the Trinidad Scorpion pepper (that's right, super-hot chiles do have their own distinctive tastes!). I love the extreme burn but I don't care too much for their bitter, floral attributes. In my opinion, they're similar to the fatalli chiles in this regard. When eating capsicum chinense chile peppers or pepper sauces, I would much rather pick the sweeter, more citrus-like tones of a bhut jolokia or a number of different habaneros.
But I digress. Let's dive into the flavor of 1498. Immediately you'll taste the floral-like bluster of the Scorpions mixed with the twang of the cider vinegar (I'm glad Johnny used this, as regular white vinegar might have proved to be a skosh too tart). A hint of the fruit genus prunus (the same one that contains plums, peaches, etc.) taste shone through thanks to the apricots. The aforementioned flavors plus the sting of the scotch bonnet chiles, blueberries, carrots (a highly under-praised sauce sweetener and texture-izer), honey, onions and salt all merged into one hot, tangy and sweet blend.
When I first encountered 1498 last Fall, I summed up the taste as being a glorified Louisiana-style pepper sauce with the notes and heat of Trinidad Scorps. That certainly was not a knock at it by any means. It's just that I wasn't bonkers over the sauce. That is, until I started using it regularly…
Taste on Food:
5 out of 5. Any unpleasantness that I typically find with Scorpion peppers disappear into the flavorful mix. This sauce is damn good. I could go on and on with different foods. Tacos. Pizza. Bloody Marys. Nachos. Burritos. Fried potatoes. Eggs. Egg rolls. Chicken tenders. Mixed with melted butter and used on wings. Whatever you regularly drizzle, pour and dunk hot sauce on or into, 1498 is killer on!
A few of my personal favorites are pizza…
And in a cheese burrito. I like to nuke the flour tortilla and cheese for about twenty seconds, splash on 1948 liberally, fold up the burrito and nuke it for an extra 20 seconds. Yum City, here we come!
To sum this up, I'm reminded of the lyrics of Spiral Starecase's 1969 tune "More Today Than Yesterday":
"I don't remember what day it was
I didn't notice what time it was
All I know is that I fell in love with you…"
Only it was the opposite of this that was true. I remember precisely the moment I fell in love with 1498. My butt was parked at the Blogger Booth at this year's ZestFest, taking a lunch break with some over-priced concession stand nachos. The food was in dire need of perking up their taste as well as their lack of any discernible heat. Heartbreaking Dawns was sharing a booth with Peppers next to me, and Johnny was kind enough to let me use some of their sample bottle on my grub. It was fantastic enough to not only make the processed cheese sauce and stale tortilla chips edible but delicious as well. Oh yeah, it was love then…
Heat:
3.5 out of 5. The burn is an important factor, especially considering this is a Trinidad Scorpion sauce. While this is undoubtedly one hot condiment, it's not an all-out tear-inducing, hiccup-producing sweatfest. Your tongue will be definitely lit up with a slow, lingering heat, but is very manageable for most chileheads. I think it's perfect for a sauce that uses the best of both worlds when it comes to a super-hot chile – both the flavor and the fire.
Label:
5 out of 5. Like I've mentioned, 1498 sports ridiculously cool artwork. I like the yellows and tans appearing in the background, continuing on the color scheme started with HBD's grilling sauces.
Overall:

Johnny McLaughlin has done it again. 1498 has it all: "table sauce" appeal, enough raging fire to please the hardcore chileheads, endless versatility, and most important of all, phenomenal taste. This gets my highest recommendation.
Run, don't walk, to the official Heartbreaking Dawns website and grab you a 5 oz. bottle for $8.25 plus shipping. It's worth every penny and more.
Here is Nicole Ramsperger of Heartbreaking Dawns and I doing spoonfuls of 1498 Hot Sauce at January's ZestFest:
Review – Heartbreaking Dawns 1498 Trinidad Scorpion Hot Sauce