St. Louis and its surrounding 'burbs are largely dry when it comes to spicy eating challenges, plus the Gateway Area is not exactly a bastion of fiery cuisine in general. It was only a mere four weeks ago that I got a tip that some little Thai eatery up in North County was offering what us heat freaks were craving for…a capsaicin-fueled grapple that would test the limits on what our tongues could take.
The restaurant was called Pearl Cafe. Owners Scott and Tommy Truong decided to up the ante on heat in their regular dishes (which include highly-praised fare like tom yum gai, curries, and noodles) to get some additional attention for themselves.
Normally, the spiciness level in Pearl Cafe's dishes are counted in the single digits (such as 0, 1, 2 and so on) but for this challenge they started it at what they dub "level 25". Once a patron successfully completes that level, they can proceed in increments of 25 until they hit the magic upper ceiling of "level 100" or the "King of Spice" club.
This type of thing was right up my alley, so during a lunch break at work I took a 5-minute drive to this Thai restaurant that rests along Lindbergh Blvd. I was greeted by Tommy Truong and I introduced myself. I inquired about doing the challenge and wanted to see if I could skip the "starter" level of 25 and immediately jump to doing the level 100 test. Tommy discussed it in the kitchen area with Scott and offered me a compromise in that I could start out at level 50.
I ordered the Thai Braised Chicken for my Level 50 entree. I was instructed to eat all of the solid food on the plate in order to complete the level, with no time limit. The dish definitely was a bit spicy, but I feel that most hardcore chileheads would not have a problem with finishing this. Not only was the heat level admirable, but the food was delicious as well!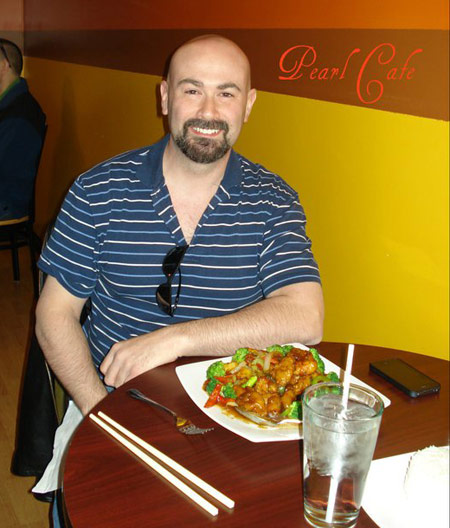 Before the Level 50 Thai Braised Chicken
After the Level 50 Thai Braised Chicken
Seeing as how this level of heat wasn't much of a challenge, Tommy informed me I could move directly to 100 the next time I visit Pearl Cafe for lunch.
One week later, it was go time. Tommy knew what I had arrived for and I chose Thai Spicy Chicken Fried Rice as the gauntlet. Since this was a spicy dish to begin with, Tommy had jokingly said that the pre-existing heat of a level 1 or 2 added with the level 100 heat made this a "level 102" challenge. Several minutes later a large square plate containing a hefty amount of rice, chicken and vegetables was placed in front of me. The scrumptious aroma was heavy with bhut jolokia powder so I knew that I was in store for a hot lunch.
Scott had given me this container of jolokia powder. All of this goes into a level 100 dish.
The Level 100 Spicy Thai Fried Rice – this was as good as it looks!
Before the Level 100 Spicy Thai Fried Rice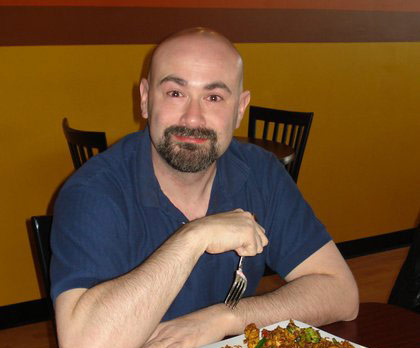 Several bites in – I wasn't sweating but I was starting to get red, watery peepers
Approximately one-half to two-thirds of the way in, I was starting to hit a wall. It wasn't the spiciness of the dish that was slowing my progress, but the amount of food on the plate! I was simply getting full. Tommy encouraged me to press on as I attempted to take short breaks to clear space in my stomach.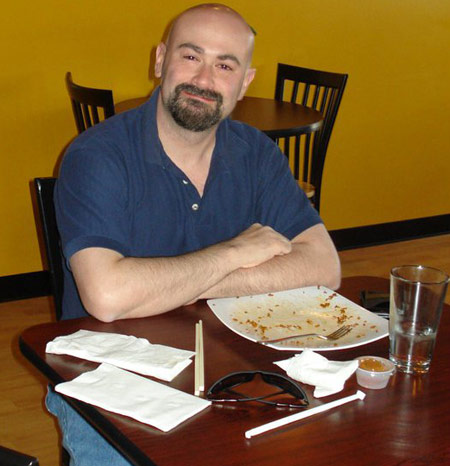 Done!
A clean plate!
Victory was finally obtained. I do have to give the Pearl Cafe props for creating one smoldering dish. Unlike a lot of chain restaurants that boast spicy menu items with their "atomic" or "nuclear" wings that routinely disappoint with the lackluster heat, this had quite a bit of infernal kick to it.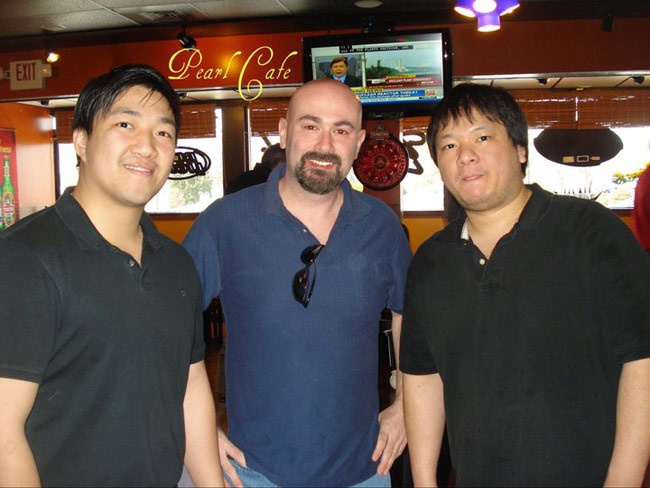 Myself (still having the red eyes) planked by Tommy Truong (left) and Scott Truong
Whether or not you're a heat freak, I urge all St. Louis area residents to give Pearl Cafe a try. They serve really tasty Thai food at ridiculously affordable prices, and it's perfect for a quick lunch, a casual dinner or anytime you're in the mood for some killer takeout. Plus Scott, Tommy and the entire crew at Pearl are incredibly cool as can be. Be sure to tell them I sent you!
Website:
Address:
8416 North Lindbergh Boulevard
Florissant, MO 63031
Phone:
(314) 831-3701
Pearl Cafe Level 100 Spicy Eating Challenge