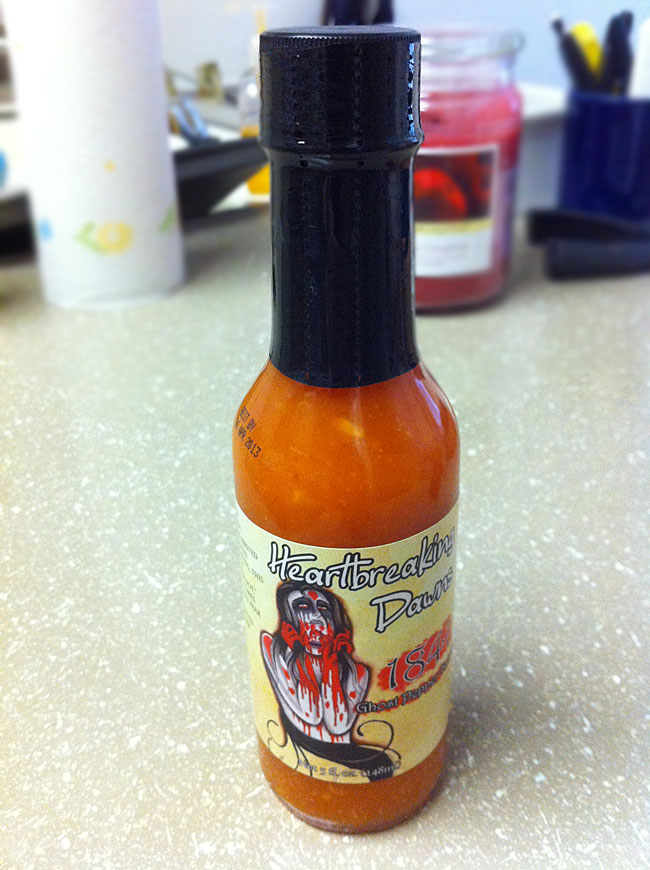 I don't normally throw around accolades with any sort of casual frequency. I'm cautious to declare any food product I try – whether it be a barbecue sauce, a salsa, a mustard, a seasoning, or a hot sauce – to be "great". I have to know for sure that it has the culinary spunk before it rises above the level of an agreeable but generic item.
When I gave the lofty moniker of best sauce (so far) of 2011 to Heartbreaking Dawns 1498 Trinidad Scorpion Hot Sauce, I didn't think that title would be usurped so quickly. I believe it was "Firehead" Thomas Gately who informed me that Heartbreaking Dawns' Johnny McLaughlin had sent him a test bottle of the new ghost pepper sauce on which he was working and proclaimed that this newer sauce was even better than 1498. At this year's ZestFest, Johnny told me his plans of releasing additional sauces to fit in with the "year" naming convention, so of course the then-upcoming one would be another year…this one being 1841 (which the bottle explains as the year Reverend Miles Bronson arrived amongst the Naga people in India, ending the widespread practice of headhunting).
So back to the point: did I agree with Firehead Thom's assessment? I have to give a resounding yes. 1841 Ghost Pepper Sauce is better than the best; it's a little miracle of a sauce with a nicely swarthy burst of flamage with more than enough flavor to compliment it. It's a far cry from the 1498 was in that 1841 is a fruit-dominated sweet sauce compared to the former's Louisiana-style vinegar twang.
Ingredients:
Pears, Applesauce, Cider Vinegar, Ghost Peppers (Bhut Jolokia), water, Onion, carrot, Lime Juice, Sugar, Sea Salt, Garlic, White Pepper
Aroma:
4.5 out of 5. Sweet n' sassy fragrance. The fruitiness dominates the aroma with a push from vinegar brings up an unmistakable tartness. The natural, fruity, citrus-like qualities of the bhut jolokia merge with the pears and applesauce so that while it's not overpowering, the lovely capsicum chinese smell is definitely there.
Appearance and Texture:
5 out of 5. 1841 is a deepish orange on the verge of approaching red. It possesses a near-translucency common to that of other pineapple, mango or carrot-based hot sauces. It has a medium consistency and it pours perfectly. Shreds of ingredients form nice mini-clumps on the side of the bottle, almost like a deep orange and runny applesauce.
Taste Straight Up:
5 out of 5. Oh my God! This is so utterly delicious I could eat it with a spoon. Upon the initial taste I was greeted by a magnificent fruity blend that wasn't too sweet and had a bit of a garden vegetable slant on it. The brightness of the vinegar appeared a half-second later and then the hot and beautiful flavor of the bhuts blasted in my mouth like little fiery embers of love and goodness. Subsequent tastes made the sauce even better and better.
Taste On Food
5 out of 5. My first task I had planned out was to marinade some chicken breasts in the 1841 sauce. I then got some Thai-style stir fry veggies such as onions, bell peppers, zucchini, pineapple and tomatoes while I cooked the chicken. I mixed all of it with chicken fried rice and poured on thick splashes of the 1841. Dear Lord, thank you for allowing us to have a bit of Heaven on a plate. This was one of the best meals I've eaten on quite a while. Amen.
I think 1841 would be killer on anything, just as long as you go for sauces with a sweet edge.
Heat:
3.5 out of 5. Despite it containing bhut jolokia, this sauce is not as scorching as it could have been. Again, Johnny masterfully utilized the flavor of the ghost chiles and harmonized them with the other ingredients. The heat is secondary, and it still packs a mean punch. Hardcore chileheads will love this as a product that will numb their tongues with heavy usage. Anyone else may want to use this sparingly or not at all.
Label:
4 out of 5. This fits in squarely with the overall style started by the 1498 sauce. This one is slightly less appealing with a headhunter putting on a drippingly-bloody female head/mask over himself.
Overall:

With this, Johnny has entered squarely into hot sauce "superstar" status, reaching heights obtained by folks such as CaJohn. He's someone who can adroitly balance and juggle flavor tones with delicate precision, AND he is someone who is one of the coolest and most down-to-earth individuals in the fiery foods industry. 1841 gets my highest recommendation.
This sauce and other sauces, seasonings and snacks are for sale at the official Heartbreaking Dawns website. 1841 comes in a standard 5 oz. woozy bottle for $7.95 plus shipping. Buy it. You'll go bonkers over it!
Review – Heartbreaking Dawns 1841 Ghost Pepper Sauce