With the hot sauce and barbecue markets cluttered with hawkers of crappy extracts and "me-too" products not worthy of a second purchase, it's refreshing to see those in the industry who believe in the rock-solid principles of quality and integrity. Steve Burnham of Blue's BBQ is one such person. He is an ex-pilot, BBQ caterer, musician and is now in the sauce business full time.
Steve believes in creating quality sauces that don't fit neatly within one sub-genre of condiments or food-toppers; and in fact, they transcend multiple categories by being all-purpose table sauces (a topic we'll get into later in the interview). His Blue's BBQ offerings like Blue's Carolina Pepper Sauce and Blue's Habanero Reserve work with just about anything that's currently in your refrigerator, freezer or kitchen cupboards.
Just released a few months ago, Blue's Chipotle Mustard Pepper Sauce is an outstanding blend that delicately balances sensations of sweet, smoky, tangy and lightly spicy unlike most other sauces I've come across in the past few years. I absolutely love it and consider it to be an early candidate for my sauce of the year for 2010.
Anyway, Steve conversed with me a few weeks ago about his sauces, distribution of his products and his general thoughts on the fiery foods industry.
Scott: What did you do before you started making sauces?
Steve: I flew airplanes for 28 years. I flew Piedmont Airlines and then US Airways until '05 when I resigned. And then worked for Hendrick Motorsports for almost 5 years.
Scott: At what point did you get into the sauce business? Did you taste someone else's sauce and think, "hmmm, I can do something just as good or better"?
Steve: Yeah. Actually, it's been 10, 15 years ago. I always loved to cook and would piddle around with the kitchen sauces. It was early 2000, maybe 2001 I was piddling with some sauces and actually started a little catering company. I used big, pull-behind smokers. I would go to events such as wedding and festivals. I would do pork, ribs, chicken. Everyone liked the catering but everyone loved the sauces. I thought, well, why don't I jump into the sauces a little bit maybe as a side business.
In the early days I got FDA approval to do the sauces out of the house. I did that for a while and the company started growing to the point where there was no way I could keep up by doing it out of the house. I went to a co-packer, and now they do runs of 150 gallons at a time.
Scott: Going back to your first sauces, how many sauces did you have at the time your were doing the catering company?
Steve: One.
Scott: Just the one? And that was the Carolina Pepper Sauce?
Steve: It was Carolina Pepper Sauce, and I used it on my pulled pork. When I did ribs and chicken, I would buy gallons of barbecue sauce from stores. I used my own sauce for the pulled pork.
Scott: How long did it take you to come up with the first recipe for it?
Steve: Probably about seven months. I piddled a little bit with it, and it would be too vinegary, too sweet or too salty. I kinda went back and forth until I got to a point where people said, "this is it!"
Of course, Carolina Pepper Sauce is a North Carolina thing; it's vinegar-based. It's not a Memphis sauce, it's not a Kansas City sauce, and not really a Midwest sauce. But it's kind of catching on.
Scott: Did you aim to have your Carolina Pepper Sauce possess attributes of being an all-purpose table sauce as opposed to being more of a general BBQ sauce? Or was your take on what a Carolina-style sauce should be just naturally end up being an all-purpose sauce?
Steve: Actually, when I started putting it on barbecue, I liked it on barbecue and I started putting it on eggs, and as a salad dressing, and other things, and I thought, "you know, this is not a barbecue sauce-specific thing for North Carolina". It's more of that all-purpose table sauce that works like a Worcestershire, where you can put it on anything. You can use it as a marinade. It's good on pork, it's good on eggs and salads and everything. And then I started thinking, "you know what? Let's not even market this as a barbecue sauce. Let's call this an all-purpose sauce". That's kind of what it's become.
Scott: Do you think that's hurt or helped you? There are probably some people out there that are looking for just a BBQ sauce or just a hot sauce, or do you think because it's all-purpose, people who might not have purchased if it were pigeonholed as one of those specialty sauces they buy more of it because it does crosses lines category-wise?
Steve: I would say that I don't think it's helped or hurt me. What I found with most people is, they wanna know what's the hottest sauce you carry. It's like, "light me up with the hottest you've got." I'm kind of going down a different road. I want a good, quality sauce that when you buy a bottle you use it, you buy another bottle and use it, and on and on. As far as the Carolina Pepper Sauce, I don't know if it's helped or hurt me with the way I've marketed it.
Scott: Yeah, it's kinda hard to see unless you've gone down the other path. I just didn't know if people have come up to me and expressed concerns, perhaps a little confusion about it…
Steve: As far as the all-purposeness about it?
Scott: Yes.
Steve: Actually, I think what killed me with the sauce to start out with was my label. I think the first label I did was kind of generic. Any sauce out there, if you go into any grocery store there are hundreds of sauces. Chances are, nobody's gonna try a new product. Us chileheads, we're sauce connoisseurs, and we might try new stuff. But most people will not try a new product unless its "buy one, get one free", or marketed and taste demoed.
My label killed me to start with because people didn't really know what it was. I had a hot red chile pepper on the label suggesting it was hot, so people thought it was going to be like a hot sauce. So as far as marketing, I think that that was my mistake and I didn't know any better because I was just starting out. I've since changed the labels, and I'm marketing it as an all-purpose, gourmet sauce.
I guess to answer your question from earlier, it seems to be helping now that the label's changed. I'm telling people it's not food-specific, and that it's good on everything. It's simply a condiment you need to have in your fridge.
Scott: Speaking of that, I love the labels on your sauces because of things like the guitar – I'm an ex-guitarist myself – and I like the baby playing the guitar on your Habanero Reserve, and the skeleton bandito on the Chipotle Mustard Pepper Sauce. Who came up with this concept of integrating musical instruments?
Steve: Well, I'm a guitarist. Not by trade, but I'm a bit of a guitar hack. I love blues guitar, and of course that's where the name Blue's BBQ came from.
What I was planning on doing was to continue to fly for US Airways and start this catering company, of course it was gonna be Blue's BBQ, and do these events and I was gonna have blues music playing and when I was in town I was gonna play some blues. When I morphed into the sauces I just never changed the name.
As far as the label's concerned with me being a guitarist…one of the guys who used to play in our band, our lead guitarists became a graphic designer. He kind of teamed up with me and we decided every label we were gonna go with the name vertical instead of horizontal, and that somewhere on the label was going to be a guitar. So that is kind of our trademark. One of the big things with labels are you look at a bottle, you need to know what the product is looking at it directly. You don't wanna have to turn the bottle around thinking "what is this? Is this hot sauce? Is this BBQ sauce?" Well, by putting my name vertically, you can look at it and see what the name is. And hopefully at that same angle it'll say an all-purpose sauce, or a hot sauce or a chipotle mustard sauce. That's kind of why we went down that road.
Scott: After you had first created your Carolina Pepper Sauce, how long did it take you to come up with the Habanero Reserve?
Steve: To be honest with you, I did the pepper sauce, and I let that go for about a year or so, and I started getting calls from Luther Hearn up at Peppers saying, "we really like your sauce, but are you going to come up with something hotter?" So I basically took my pepper sauce recipe and started adding habaneros to it, added garlic to it, started thickening it with more habaneros. That's basically how I came up with the Habanero Reserve Pepper Sauce. I guess it took me about a year and a half, almost two years to come up with a hot sauce and not an all-purpose sauce.
Scott: Describe your Habanero Reserve Sauce for those who have never tasted it.
Steve: The Habanero Reserve to me is one of the better hot sauces out there. It's got a good flavor with a medium to upper-medium heat. It's all-natural so there's no bitterness or metallic-like taste of extracts. It's a tomato-based sauce with a cider vinegar, wine, juice and then the fresh habaneros. I never use powdered; they're all fresh habaneros. You just get a good flavor of the Habanero with a medium heat. It's designed basically for wings. If you like buffalo wings, what you'll do is melt a little bit of salted butter, place it with the Habanero Reserve, and just toss it with fried wings. One of the things different with the habanero Reserve is most hot sauces have no sweetness whatsoever, unless you go into mango hot sauces and stuff like that. The Hab Reserve has a little bit of sugar in it, so if you toss your wings in it and go one extra step further and put them on a hot grill it will caramelize the sauce. I'm telling you, it makes the best wings you've ever had.
Scott: Sounds really good. And then the new sauce, the Chipotle Mustard Pepper Sauce, what did you have in mind for that before you developed that?
Steve: That is going to be a hard one to answer. I was trying to develop a mango habanero hot sauce! I wanted it sweet, but I wanted it blistering hot. I still have bottle of the prototypes in my fridge. I had mangoes, peaches and oranges in it, and I still could not get it fruity enough. For some reason I was at a grocery store and I bought a jar of chipotle peppers. I came home and I was making tacos or something like that, pulled out the chipotle peppers and I thought, you know what? I've been going down the wrong road. I could go with a chipotle instead of a sweet hot. And that's kind of how that morphed.
Scott: And then you added turmeric to give it a mustard flavor?
Steve: Yeah, the turmeric gives it that taste. It's a hot sauce, but it's got the smoked chiles in it which give it a smoky flavor, but the turmeric gives it a mustard quality without having any mustard in it. Most mustards out there…I'm sure you've seen it out there; there used to be just French's and a few major yellow mustards out there. Now if you go into grocery stores, they actually have whole rows of mustards; gourmet-like stuff. I thought, instead of doing another mustard like that, let's go ahead and do a hot sauce and give it a mustardy flavor.
There have been other manufacturers that have done it, but what they've kind of mistakenly done is by having mustard in the hot sauce, it loses its pourability. So I thought, let's throw in some turmeric and give it a mustardy flavor and it's still gonna be a hot sauce.
That's how I went down that road. It's worked out well, I'm selling a lot of it. Not enough, but a lot of it.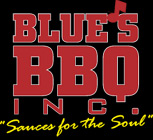 Scott: I think it's one of the most interesting sauces I've had in the past year or so. You look at the ingredients in the title…chipotle, mustard, and pepper, and you don't know quite what to expect. Maybe a strong mustard out of it. But it's not really a mustard. When you think of hot sauces and mustard, someone may think of tropical, Caribbean, Jamaican or something with pungent, exotic flavors. I think what's there in yours works well together but I'm thinking you might need a totally different name for this.
Steve: That is probably something I should have done. I don't think it's named correctly, but of course I can't go back now.
Scott: Yeah. You just have to let people taste it for themselves, I guess. Do you have any other products in development?
Steve: I'm thinking now, to go after this chipotle mustard, maybe something with wasabi in it. I've kind of given up on "sweet hot". There's other products like the Vidalia Onion one, and Melinda's got the market cornered on sweet, hot sauces. I'd rather do something almost totally different. So that road may lead to a wasabi hot sauce.
Scott: How often do you eat your own sauces?
Steve: Pretty much every day. The Chipotle Mustard I guarantee you every day. The pepper sauce, it just depends on what we're having for dinner. The chipotle mustard, I'm pretty much hooked on it; I need a 12-point program to get off of it!
Scott: Are there any hot sauces or BBQ sauces that you don't make yourself that you eat?
Steve: Actually, I'm getting ready to do a review for The Hot Zone Online. They're doing the 30 reviews in 30 days. I'm getting ready to do a review of Blowin' Smoke BBQ Sauce, which is in North Carolina. I'm also going to do Bone Suckin' Salsa as a review.
Scott: The salsa and not the hot sauce?
Steve: Yes.
Scott: That sounds interesting.
Steve: I remember 15 years ago when I was still flying for US Airways. I was in and out of Raleigh-Durham Airport all the time. It was the only place you could find Bone Suckin' Sauce, which back then was just a BBQ sauce. And now Ford's Foods, which owns Bone Suckin' Sauce, are everywhere in the world. They've become like a Tabasco. So I'm going to do a review of Bone Suckin' Salsa. We'll see what happens. The ingredients look really good.
So anyway, as far as other sauces I like, I like Blowin' Smoke, I like Bone Suckin' Salsa…and KC Masterpiece as far as a BBQ sauce is good. There's CrackerHouse has good products. And Captain Spongefoot, too.
Scott: Do other sauces that you don't produce yourself ever influence you and give you ideas, or do you tend to go off and do your own creations?
Steve: I would say every sauce out there influences me a little bit. where I'm really miffed right now, and I won't mention any manufacturers, there are sauces that are just plain nasty. They are white hot vinegar sauces that are extract-hot and they sell like crazy.
Scott: I think I know what you're talking about…
Steve: And I just can't crack the code on why I'm here, I do good sauces…and of course I like my own products, but they're good products and other people tell me they're good. I can't bust into the kind of volume those other manufacturers do, and I just can't figure it out. So I'm starting to think maybe I should look into extracts and make something that will just light you up on fire, and doesn't even have to have a good taste.
Scott: I think you should make it taste good if you do this. In my opinion, there are not enough extract sauces out there that taste good. Obviously, a lot of their popularity stems from the thrill-seekers looking for the hottest thing out there.
Steve: Right.
Scott: Some of the manufacturers that I won't mention rely on their name and remain popular. People will hear about those sauces first when they first get into hot sauces, and will gravitate towards those sauces. Unfortunately, the really good ones often find it hard to bubble up to the surface because of this.
Steve: It's hard to get wholesalers or even retailers to listen to you when you say, "hey try this one over that one" because they're gonna go with the brands they know people know.
And with the one manufacturer, who is probably the pioneer in extracts, the average consumer will buy one bottle of their sauce every three years. yet this company is selling hands down 10 to 1, probably 100 to 1 over me. What I really need to figure out is how to take the next step with volume. I can't sell just cases; I need to be selling palettes. And that's where I don't understand what I need to do to accomplish that.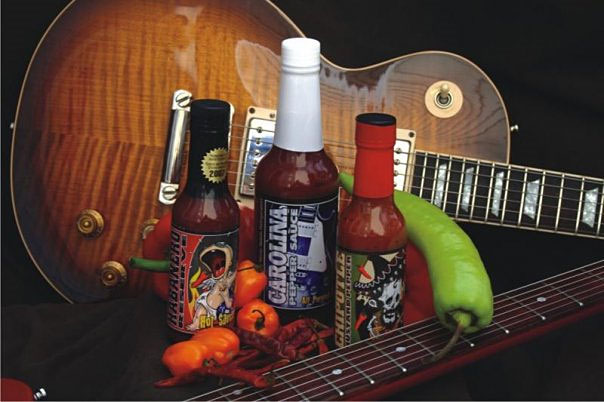 Scott: Currently how many stores and restaurants carry your products?
Steve: To be honest with you, I'm not sure. I'm in four distributors. I'm in Hot Shots in Charlotte. I'm in Peppers in Delaware. Those are probably the two largest distributors in the country. I'm also in Wythe Will Distributing, which is in Virginia and they supply all my sauce to the Earth Fare Grocers, which you're probably not familiar with being in St. Louis. Earth-Fare, there's numerous stores of theirs in the Southeast. I'm in another distributor called OLBRO out of Burgess, NY. He distributes more international than domestic.
So those are my four distributors. As far as restaurants, I've actually got 12 gallons of sauce cooking on the stove now as we're talking, I probably do 20 to 25 gallons per months just for local restaurants. Other than that, I really don't know where my sauces are because I go through distributors.
I've got one guy, who does the Blowin' Smoke I'm getting ready to do the review of, he's taking my sauces and he's got a route. He's got 170 markets he does every other week. He just goes around and all my sauces are in those markets, but they're mostly mom and pop stores, food marts and places like that. I've kind of shied away from the big chains just because there doesn't seem to be any money in them.
Scott: Yeah, a lot of the big chains have stocking fees, shelving fees…
Steve: Yeah, down here in the Southeast we've got a big chain called Food Lion. They've got a shelving fee, a stocking fee and they even have a buyback fee. The buyback fee is where if your product doesn't sell in a certain amount of time, you've gotta buy it back.
Out in the Midwest where you're at they've got a place called the Old Farm Market, which are actually based in Indiana; they sell my sauces. To be honest with you, Scott, I don't know where they're at. When I was buying for a living I would fly all over the country and I'd see them here and I'd see them there. But if I'm ever gonna make any money I've got to see them for sale everywhere.
Scott: It takes volume. And it takes people eating large amounts of it, too. One aspect I like of your sauce is the great taste. It's not just where you try a little bit and you get your heat thrill from it, and after that you tend to put it in your fridge and leave it in there for months. With your sauces, you constantly want to use them all the time.
Steve: That's exactly what I'm after. You know, buy it, use it, buy another one, use it…
Scott: I think a lot of newer hot sauce manufacturers out there are missing that. If you ultimately want to become successful, you have to have a product people use a lot of and purchase frequently.
Steve: Right.
Scott: It's like with CaJohn, he once said a bulk of his regular sales are his salsas and not his hot sauces.
Steve: Exactly. I'm trying to come up with products that are almost like a gallon of milk. Anybody with kids buys a gallon of milk every three days. That's what I want my sauces to be like and to sell like. I don't know how to get to that point unless I figure out a way to add nicotine to a sauce [laughs].
The products are doing okay; they're good, quality products, they're good labels, but I've gotta figure out a way to get more volume.
What I've also been doing is hitting Twitter pretty hard and Facebook pretty hard, and bringing up buzz that way. I need to start spending some more marketing dollars, and try to become the next Tabasco.
Scott: What do you think about going to hot sauce shows or general food shows and festivals?
Steve: I do a few food shows locally. I'm a member of Goodness Grows in North Carolina or North Carolina Specialty Foods. I go to those shows and to be honest with you, what I've found is to get all these buyers in like Sysco, U.S. Foods and big grocery chains, what the North Carolina government does is invite all these buyers to come in, but they have full buffet set up, they have open bar set up just because that's the only way these people will come. All the buyers will come in and all they do is drink and eat, and they're not there to buy anything. You spend a couple hundred bucks, which is cheap if you get some exposure. But I've not had any success with that. I thought about doing the Fiery Foods Show in New Mexico, and I have been talking to the folks at Hot Shots and they're done with the Fiery Foods Show. They went a few weeks ago and they're not going back anymore. they said there's just no money in it.
Scott: That and the fact that Mike and Dave from them passed away, unfortunately.
Steve: I know, and I've been kind of courting them saying, "let me come work with you guys. I can help you". I don't know what's going on there right now. The company is changing and I won't say it's for the worse, but it is changing. My "jury" is still out on what their plans are for the future.
But as far as other shows to go to, I would love to but they almost price you out of them. There's a big Atlanta food show I might go to. One in New York I might attend. Unless you get government help like through SUSTA…there's government programs that will kind of help you to go do shows like that, because the booths are ten, fifteen thousand dollars. That's a lot of bottles of sauce you've gotta sell just to break even.
FireTalkers: Interview with Steve Burnham of Blue's BBQ