David Stehnike is an organic farmer based in Oregon who aims not to have just another crushed chile product in his Dave's Dragon Dust, but the highest-quality, freshest and hottest overall. By God, I think maybe he's accomplished that, because this stuff makes most other pure chile seasonings seem tame, limp and over-dried by comparison. That's actually not meant as a put-down towards anyone else, but it's meant as a compliment to Dragon Dust. If fresh chile peppers are not readily available in your kitchen and you're in the need for a rapid shot of scalding heat in your dishes, Dragon Dust may be the next best thing.
Ingredients:
Habaneros from around the world including Caribbean Red, Red Savina, Jamaican Hot Red. Plus Scotch Bonnet, Serrano, Cayenne, Thai, Tepin, Pequin, Bhut Jolokia and Chipotle chiles
Aroma:
4.5 out of 5. This product has a very fresh smell, as if the chiles had just been dehydrated and ground up earlier that day. I think the aroma is as "nice" as one can expect, because if this were much more pungent or if you take too heavy of a whiff, you'll get a painful blast up your nostrils and irritate your mucus membranes.
Appearance and Texture:
5 out of 5. This is best looking crunched or ground chile seasoning I've seen, bar none. It's even nicer looking than my own dried chile pepper blend which I call "Scotty's Dirty Bomb" (and in case you're wondering, I do NOT sell that commercially, so don't ask). The photo doesn't do it justice as to how beautiful and colorful Dragon Dust is. You get a vast assortment of bright reds, oranges and yellows along with the expected browns of the chipotles plus chile seeds. Dave gives credit of the remarkable color to his slow drying process, in which the peppers are able to avoid losing their luster and not look dull, faded or over-dried.
Taste:
5 out of 5. Dragon Dust is fantastic. Many crushed chile seasonings I've tried were decent but possessed a bland and dark, or had a too overly-smokey flavor to compensate for the lack of freshness in the pepper flakes. With Dragon Dust, the majority of what you detect is the distinctive taste of the habaneros and scotch bonnets with only a hint of a smokiness
Taste on Food:
5 out of 5. A simplistic yet reliable test of any chile seasoning worth its weight in gold is to see how it does on a hamburger.
I liberally shook Dragon Dust on both sides of a ground beef patty and "smashed" it on there so that the flakes and specks adhered to the meat better: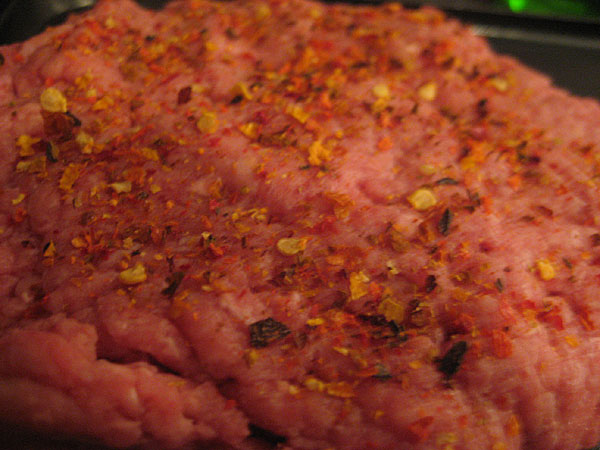 How 'bout some shredded cheddar? Don't mind of I do!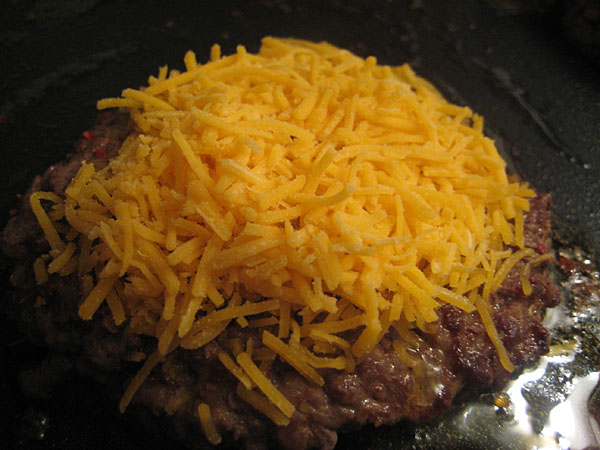 Let's kick it up a few notches and give the cheese a healthy dousing of Dragon Dust, too:
After the cheese melted around the edges, I put the burger patty on some wheat bread with pickles.
It was very, very tasty. And hot! Boy, did it surprise me with its intense fire and bluster.
This would be a fantastic replacement for your regular chile seasoning and would be good with soups, pizza, chili, eggs, or grilled meats. But only a light sprinkle should do fine on most occasions. A little of this will go a long way.
Heat:
4.5 out of 5. I've said it in earlier reviews that I will almost always reserve a "5" rating for ultra-hot extract sauces and actual pieces of raw bhut jolokias and trinidad scorpions. Virtually all natural sauces and seasonings fail, for one reason or another, to be able to give the heat that last tiny push over the edge of capsaicin insanity. I don't know what it is about Dragon Dust, but it came pretty damn close to a teary-eyed, snot-dripping, stomach-cramping, tongue-squeezing, red-faced, incapacitating heat. Perhaps the variety of chile peppers simply "covered all the bases" with differing intensity levels, heat levels and speeds at which the heat is detected. Maybe there was an extra large amount of red savinas and bhuts in my bottle. Whatever it was, it kicked my ass pretty good.
The heat is immediate and reaches full bore in seconds. After sprinkling some on my hand and licking the seasoning off, it lit my tongue up something fierce and didn't quit for 3-5 minutes.
This product is for true chileheads only. Only true heat freaks need to look into this. Make no mistake it about it, this is WAY beyond the crushed red chile seasoning you'll find in your local grocery store, probably by a factor of 5.
Label:
4 out of 5.
This clean, modern-looking label features a dragon breathing fire on a red chile apparently skewered on the end of his tail. The colors are vibrant enough to be recognizable on a grocery store shelf without being overly bright or gaudy.
In Conclusion
A 1.75 oz. bottle of this will run you $16.95. This is a bit expensive, and even Dave admits that. But he justifies the price by stating that this will last you a long time because the estimated number of servings is around 300 or 400. As hot as this stuff is, I do not doubt that fact.
To get more info or to purchase online, go to http://www.dragonsdust.com.
Review – Dave's Dragon Dust