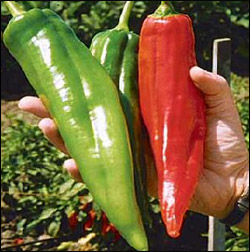 From the Las Cruces [Nex Mexico] Sun News:
EYE ON RESEARCH: NMSU produces super-flavored chile
By Justin Bannister/For the Sun-News
Posted: 12/28/2009 12:00:00 AM MST
LAS CRUCES – Prepare to take your enchiladas, burritos and anything else made from chile to a whole new level. Researchers at New Mexico State University's Chile Pepper Institute have partnered with Las Cruces-based Biad Chili Products LLC to produce a super-flavored chile, bred to have five times the aroma and flavor compounds of similar chiles grown today.
The chile is part of the NuMex Heritage lines, derived from seeds that were frozen in the 1960s from the original plant strains.
Dr. Paul Bosland, director of the Chile Pepper Institute, said decades of breeding practices that emphasized the traits of plant yield and disease resistance have caused several green chile varieties to lose their signature taste and aroma. The new chile peppers still have beneficial traits for farmers but also have 500 percent more flavor.
The seeds researchers had to work with, a total of 200 in the original batch the university received, had a 50 percent germination rate – not bad considering how long they had been kept under liquid nitrogen at the U.S. Department of Agriculture's National Seed Storage Laboratory in Fort Collins, Colorado.
Bosland said it was 10 years between first receiving the frozen New Mexico 6-4 seeds and releasing them to the public as NuMex Heritage 6-4. Each year, researchers only had one cycle of selection, where they chose the chile pods with the best color and flavor, as well as those with meaty walls and with skin that was easily peeled. They also looked for plants with the fastest germination time, best foliage, most disease tolerance and those that stood up best to New Mexico's hot weather and saline soils. Once the plants with the most beneficial traits were selected, their seeds were planted the next year and the process started again.
"Once we saw three straight years of consistency with the plants, we felt comfortable enough with their release," Bosland said.
During the selection process, careful steps are taken to make sure insects do not inadvertently cross pollinate different chile varieties — a process not entirely understood at the time the seeds were first frozen more than four decades ago.
"I'd like for the public to get a good, quality chile pepper, and advances like this are important in keeping the chile industry alive in New Mexico," said Chris Biad, president of Biad Chili. The new chiles, and their seeds, are exclusively available first through his company.
Biad's Reserve NuMex Heritage 6-4, a pepper with medium spiciness, was first released in 2009. Biad's Reserve NuMex Heritage Big Jim is hotter than the 6-4 and will be available in 2010.
"If you want something with more bite, the Big Jim is your pepper," Bosland said. "And for those who really need to kick it up a notch, we're hoping to release the NuMex Heritage Sandia in 2011. It's a really hot pod and good for both red and green."
Another goal of the Heritage line was to achieve more heat consistency with the Big Jim pepper, something that can vary greatly from plant to plant. Bosland said the new NuMex Heritage Big Jim has a heat rating of 7,000 Scoville Heat Units, making it slightly milder than an average jalapeño. He plans to go back and select for a medium heat Big Jim variety as well.
A portion of the sales from Biad's Reserve will help the Chile Pepper Institute in raising money for an endowed chair in chile pepper research and to establish a new, expanded Chile Pepper Institute facility.
"This gives us a chance to give back to the university and support the work they do for the industry," Biad said.
Biad graduated from NMSU with a degree in agronomy and continues to have a close relationship with the university. His grandfather came to the United States from Italy in the late 1940s and began farming chile with his two sons in southern New Mexico, originally using his roof to dry red chile after harvesting.
"I think chile is right up there with water when it comes to importance in New Mexico," said Anna Emerick-Biad, marketing and sales director for Biad Chili. "It's a staple. It's almost a lifestyle."
For more information about NuMex Heritage chiles, or the Chile Pepper Institute, visit http://chilepepperinstitute.org. Chile products as well as NuMex Heritage seeds can be ordered from http://biadchili.com.
"Eye on Research" is provided by New Mexico State University. This week's feature was written by Justin Bannister of University Communications. It was taken from the upcoming issue of NMSU's Research & Resources Magazine, which will be available during the Spring 2010 semester online at http://researchmag.nmsu.edu/2010_SP/index.html.
NMSU Produces Super Chile With 500 Percent More Flavor and Aroma