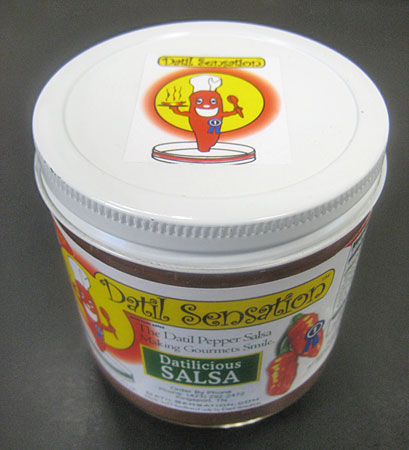 The highly underrated datil pepper is commonly known for two things. One, it is similar both in terms of heat level and fruity flavor to most habaneros (the later of which is my favorite of the super-hot peppers). Two, most of the datil peppers in the world are grown in the St. Augustine, Florida area – in fact, the town holds its own Datil Pepper Festival every year. Wayne King of the small eastern Tennessee burg of Blountville also grows these types of chiles and uses them as the base ingredients for a plethora of condiments and jams under the name of Datil Sensation. He recently sent me a large sampling of these products for me to test and review, the first of which is called Datilicious Salsa.
Ingredients:
Tomatoes, Sweet Onions, Bell Peppers, Vinegar, Brown Sugar, Datil Peppers, Herbs and Spices.
Aroma:
4 out of 5. Nice, sweet and peppery with a tinge of sweet onion. It's similar to a lot of your commonplace, generic salsas, but with a bit of extra added oomph.
Appearance and Texture:
3.5 out of 5. This salsa's thick, chunky consistency is right on par with with I like – hearty and full of substance. There are times when I prefer the liquid between the pieces of tomatoes, peppers and onions to be watery, and other times pasty. This is one of those instances where I would have liked it to be a touch thicker. A minor gripe, of course, and this is still a good-looking salsa.
Taste and Heat:
3.5 out of 5. Very nice and pleasant, with a gourmet-quality flavor. Although it's not strikingly different than other salsas, the datil chile chunks have a clean, distinctive taste and at times they really shine through in Datilicious Salsa. Fresh peppers and tomato grab you right away, with a slight, delayed heat that hits the back of the tongue and the mouth. One aspect I must mention is that this, like few other salsas or sauces I've consumed, has a very noteworthy separation between the fire from flavor. By that, it's an almost eerie, "stereo"-like sensation where the vegetables take one side and the burn takes the other, with little blending of the two. And heat-wise it does pack somewhat of a fiery punch at around 2.5 out of 5, with 5 being nuclear-hot.
Datil Sensation Datilicious Salsa is a bit on the pricey side at $7.50 for a 16 ounce jar. Is it worth a look? You betcha. Get the Datilicious goods at http://www.datilsensation.com. Technically, you can't – e-commerce capabilities have not yet been added to the website so you can look at the prices and products and send payment via snail mail. The site does display PayPal integration, but as of this writing it is not functioning.
Review – Datil Sensation Datilicious Salsa