It's new flavorings time at Buffalo Wild Wings, and when I got word of two new sauces they were offering – Jammin' Jalapeno and Thai Curry – you had better believe that I wanted to try them. The Jammin' Jalapeno sounded intriguing, as its marketing description was, "Spicy jalapenos, blended with a touch of tequila and a hint of lime. Sweet heat." Yet it was B-Dubs' spin on another Asian flavor that got me walking through their doors. Of course, with most of their new sauces, they come attached with all the standard phraseology to go along with it, e.g., for a limited time only, etc.
Jammin' Jalapeno
Jammin' Jalapeno was completely not what I had expected. This sticky, glaze-like coating proved to be a bright, sweet fruity affair heavy on lime (almost bordering on lemon-esque on the tart-o-meter), with lighter supporting performances from jalapeno peppers, garlic and tequila. The lack of burn was a minor disappointment, but taking into consideration what a corporation's view of what a jalapeno-level heat would be, would it be a shock to anyone?
In summary, Buffalo Wild Wings' Jammin' Jalapeno is a palatable, genial and adequate enough to please my tongue for a bar food meal. Would I order this again? That's tough to say, yet I did enjoy every bite of this. My recommendation is that if you're hankerin' for a low heat, citrusy spin on traditional or boneless buffalo wings, give this a whirl for yourself. If may or may not become one of your regulars.
Overall Taste: 2.5/5
Heat: 1/5
Thai Curry
The big surprise here out of the pair was the Thai Curry. The sauce was a warm, cozy and rich blending of curry spices, strong on cumin, turmeric and pepper. It wasn't loud in your mouth, and instead boasted a smooth tickle of a more subdued mustard-based Asian sauce. I liked it. It was ultimately delicious but never rising above ordinary.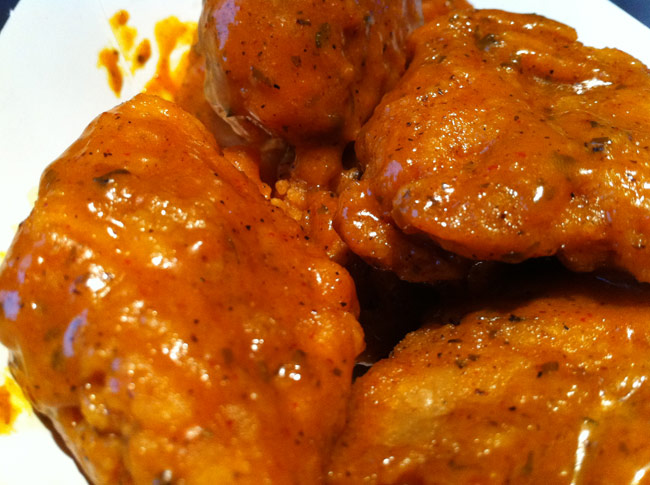 Let me state this: if you love intense curry flavors, then you may find this sauce too weak. Since I'm not the biggest fan of curry (or Indian-style cuisine in general), the milder kick was just enough for me. It could have had quite a bit more heat, but for a general flavor that would appeal to a broad range of spice fans it was dead-on where it should have been.
Overall Taste: 3/5
Heat: 1.5/5
Review – Buffalo Wild Wings Jammin' Jalapeno and Thai Curry Sauces