Spicy Three Pepper Sauce is a condiment at QSR roast beef giant ARBY's that was been in development over 10 years ago and is now in a good number of stores across the U.S.. I rarely go inside ARBY's restaurant themselves, but when I last did I came across the spicy sauce among their other sauces on the condiment bar. Of course, you know ol' Scotty had to try it!
The Spicy 3 Pepper Sauce is a dark, quasi-creamy red liquid with far more density and substance than, say, a Tabasco Pepper Sauce. It is thin and pourable enough for dipping and slathering on sandwiches, yet is sticky enough with a consistency of most commercial wing sauces.
The taste? Very, very good. Surprisingly good. A quick Google search does not uncover any ingredients list (not surprising for a fast food product), but there's definitely a good deal of tomato-like sweetness present. The peppers are dialed up enough in the flavor harmony enough to get a formidable hit from a non-descriptive chile burst, yet it stays subdued enough not to be able to distinguish what three peppers are being used. My guess is that cayenne and paprika are included.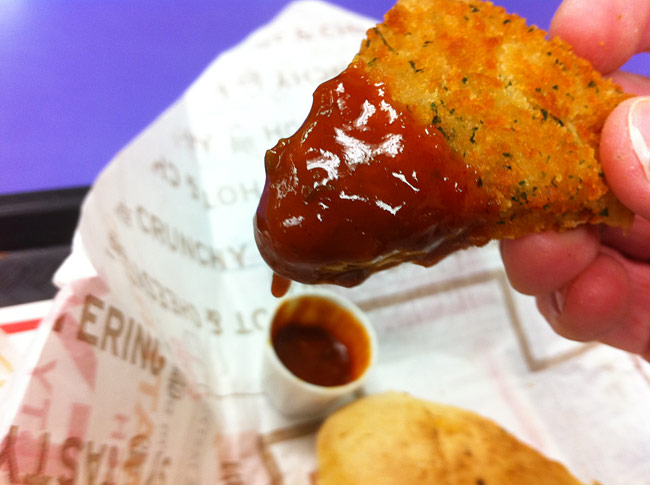 As you can expect, the heat is geared for the masses. Translation: it's not very spicy. But with the rich taste, there are very few complaints from me in that department.
I thought ARBY's Spicy 3 Pepper Sauce was excellent on my Loaded Potato Bites. If there was anything that would go well with this side, it would be this lovely dipping condiment. I tried it on my French Dip Sub as well. Not as spectacular as on the Potato Bites, but still yummy.
Unfortunately from what I gather, the Spicy 3 Pepper Sauce is not available in to-go packets of any kind, and can only be acquired by actually dining in and getting it for yourself at the condiment bar. I supposed an option if you're wanting to take some with you as carry-out is to walk inside and request a to-go cup with a lid and fill it yourself. Whatever the case, I recommend this rare semi-spicy treat from a fast food chain.
Overall:
Review – ARBY's Spicy Three Pepper Sauce