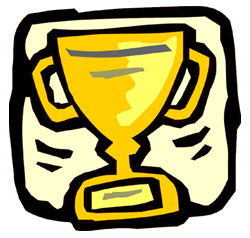 It's hard to believe another year is coming to a close. With that, it's time for me to award what I considered to be the elite fiery food products of 2009. To qualify for the running I had to either formally review the product on my blog or try it out for the first time this past year.
Although most of the items listed below could be classified as "spicy", overall flavor trumps fire any day. I judged the products based on several factors, including taste, aroma, texture, consistency, versatility, and balance of heat and flavor.
Best Hot Sauce
Since this is the broadest category, several candidates for an all-around winner pop up. Both Intensity Academy Hot Cubed Hot Sauce and Benito's Naranja Organic Hot Sauce are excellent for fresh-tasting, carrot-based sauces. If you're looking for a spicy and saucy steak topper, CaJohn's Bourbon Infused Hot Sauce is hard to beat. And Suck Creek Wings' mysterious WFR Hot Sauce is like breaded, peppery hot wings in a bottle. I'm gonna have to be indecisive call this one a four-way tie.
Honorable Mentions: Nando's Chickenland Peri-Peri Cooking Sauce, Cheater 5 Totally Tubular Salsa Taquera, Benito's Hot White Hot Sauce and Kung Fu Monkey Brand Red Dragon Pepper Sauce are all tasty in their own unique ways.
Best Wing Sauce
I have my old standbys, such as Ott's Wing Sauce, and newer faves like Defcon Sauce's Defense Condition #2. But one that was new to me this year that blew me away was CaJohn's Jolokia Wing Sauce 10. It was scorching hot, flavorful and creamy like a good buffalo sauce should be.
Honorable Mention: Suck Creek Wings Original Wing Sauce.
Best Salsa
Everything they produce is high quality, but Santa Fe Seasons' Flamin' Pineapple Salsa is the cream of their crop and also the best fruit-based salsa I've ever eaten. Great pineapple flavor and a nice dose of habanero heat. Perfect for either snacking or cooking.
Honorable Mentions: Tostitos Sweet and Spicy Summer Salsa, Santa Fe Seasons Grilled Garden Salsa, Superchile's Superchile Fire! Salsa, Gunther's Gourmet Fiery Peri-Peri Dark Cherry Salsa and Montezuma Brand Lime & Garlic Salsa.
Best Barbecue Sauce
BBQ is a crowded and super competitive category, but one that rose head and shoulders above all others this year was Jake's Barbecue Sauce – Medium Hot. It's thick, has a deep, rich flavor and has a small chile pepper-infused kick.
Honorable Mention: Intensity Academy Chai Chipotle Q Barbecue Sauce.
Best Mustard
Crazy Uncle Jester's Blazing Hot Mustard, hands down. It's smooth, delicious, sweet, complex and best of all HOT! Everything you'd want in a spicy mustard.
Honorable Mention: Race City Sauce Works Lucky Dog Smokey Habanero Honey Mustard.
Best Condiment (Other)
Intensity Academy's Chai Curry Chup has a laundry list of ingredients that sounds like it wouldn't go well together. Chai tea? Curry? Ketchup? Who cares…this eclectic blend works fabulously. A special, spicy, tomato-based condiment.
Honorable Mention: Twodogs Unleashed Sweet Hidden Heat Salish.
Best Seasoning/Rub
Just Simply Good Stuff's Original Rub, Smoky Jalapeno, and Smoky Mesquite Salt Seasonings are, to me, required stuff for every kitchen. They're so versatile it's amazing.
Honorable Mentions: Defcon Sauces Smokey Dust, Cajun Heat Voodoo Ash Seasoning and Charles Vergos' Rendezvous Famous Seasoning.
Best Spicy Snack
Despite them suffering the same fate as many of Trader Joe's products (the store chain loves to carry items for a short time and then yank them from the shelves), for the time they were available Trader Joe's Habanero Pistachios were a horribly addicting snack. R.I.P.
Honorable Mention: Sunny Gully Farm's Fire Corn.
Best Chili Mix/Seasoning
Cindy Reed Wilkins knows her stuff. There may be no better pre-packaged chili seasoning than Cin Chili Mix.
Best Sweet & Spicy Product
From truffles to caramels to ice cream sauces to spicy hot chocolate, Cow Girl Spicy Chocolates "go to eleven" on my taste scale. Probably like no other company, they have truly perfected the duality of sweet and heat with their Buckin' Hot Habanero Caramels and Delicately Hot Caramel Dessert Sauce. Simply amazing.
Honorable Mention: Sunny Gully Farm's Fire Corn (again).
Best Burn of the Year
Being a hardcore heat freak means having to try out every super-hot sauce and additive imaginable. Few manufacturers pump out multi-million Scoville Heat Unit extract-based products that actually taste good. CaJohn's is one of those few, and their Mongoose sauce is the best – and hottest – extract sauce I've eaten this year. A drop or two of this works splendidly at adding a tongue-throbbing inferno to most dishes.
Products of the Year
Yup, when the dust settled, Cow Girl Spicy Chocolates had to be crowned the grand champion. If you like a bit of heat in your foods and are also a fan of chocolate or caramel, you owe it to yourself to try out Cow Girl's offerings. They have to be eaten to be believed.
My Picks for the Best Products of 2009