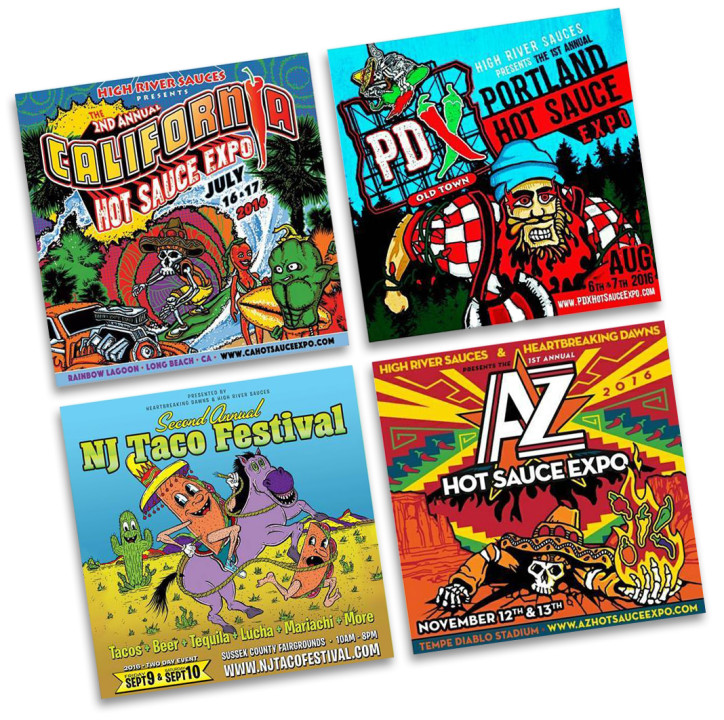 Just when you think things couldn't get any hotter, think again.
More fiery foods events are being set ablaze all of the U.S. this year. And while more events does not necessarily equal satisfaction and success on all levels, there are a handful of events – including a pair of new expos – that have an excellent chance of elevating the chilehead community to another exciting level. Why, you might ask? Because they are produced or co-produced by none other than Steve Seabury himself, the man behind the hugely successful New York City Hot Sauce Expo.
Both returning for a second go-around are the California Hot Sauce Expo and the NJ Taco Festival.
The California Hot Sauce Expo, scheduled for July 16th and 17th, is similar in a lot of ways to the kick-ass NYC event in its formatting, with vendors galore and spicy eating contest, just instead hosted in sunny Long Beach, CA as opposed to the cool, crisp Brooklyn streets.
The NJ Taco Festival, while alike in a lot of ways to the aforementioned expos, obviously has a more taco-centric approach, and will have more in the way of taco and food vendors, contests, Mexican wrestling, and live heavy metal music. The New Jersey event is co-produced and co-sponsored by Heartbreaking Dawns Sauces, and is slated for September 9th and 10th.
Brand spankin' new to 2016 are events that, like the CA Hot Sauce Expo, brings spicy foods to a largely untapped market in the western United States.
On August 6th and 7th we have the Portland Hot Sauce Expo. The Pacific Northwest is going to prove they are just as fanatical about hot foods as anyone else in America, and this show is prove it.
The Arizona Hot Sauce Expo takes that same winning formula and hopes to set fire to the Southwest on November 12th and 13th. This event is presented by both Heartbreaking Dawns and High River Sauces.
So there you have it…plenty of incendiary events to plan for if you live near one of those geographic areas. They are not to be missed.
Oh, and I'm just getting started, as there are many, many other chile pepper and hot sauce festivals being held around this great country of ours. Looks for announcements and press releases on other events in the coming weeks!
My Chilehead Calendar of Hot Sauce/Chile Pepper Events is always a work in progress. If you are running an event and want it added to the calendar and featured on the blog, please contact me and send me a press release with all of the details. Thanks!
[GARD]
Hot Sauce Festival Season Heats Up in 2016