As promised a few days ago, below is my review for Buffalo Wild Wings Ghost Pepper Sauce and Salted Caramel BBQ Sauce wings. These two wings sauces, along with their Classic Margarita Sauce is a brand new trio that's part of B-Dub's "Sauce Lab" – which is a slick marketing term for "limited time only" flavors for their namesake chicken pieces.
I'm all about great taste, but what is especially notable is that after asking the former head of research and development, Sylvia Matzke-Hill, about the possible introduction of a ghost pepper sauce, the Minneapolis, Minnesota-based restaurant chain has finally released one.

In a display purely for show, the wait staff is instructed to bring out any Ghost Pepper Sauce Wing order wearing protective eye goggles.  And yes, that is a flashing light on the tray with the wings…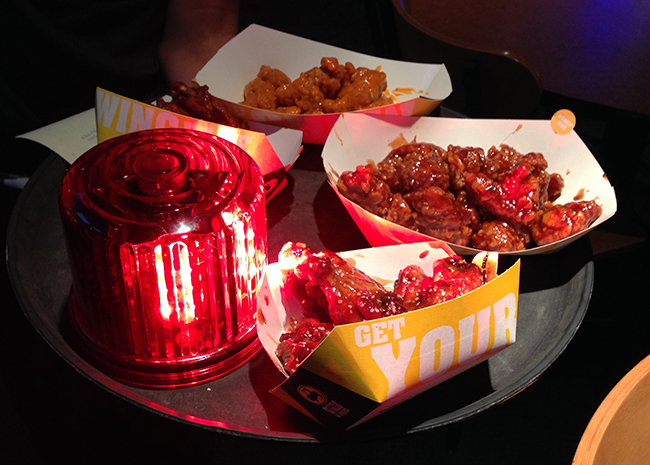 I was a good boy and finished my wings!
And now, on to the reviews…
Salted Caramel BBQ Wing Sauce
There are probably far fewer of you reading this section of the review, but that certainly does not make it any less worth discussing. I'm all for big, bold taste; and this, with its huge potential at combining a barbecue condiment with something that is not only trendy in the case of "salted caramel", but it's also right down my alley with the striking and mouth-watering combo of "sweet and heat", can perhaps deliver the goods and become a top favorite.
So here is Buffalo Wild Wings' Salted Caramel BBQ Sauce. Well, as you can see in the photo, it's slathered with a general reddish-color wing coater that is accented with large flakes of salt that is around the size you'd find on a large soft pretzel. Not surprisingly, a taste on the tongue reveals a balanced mix of a tangy BBQ elixir and the candied sensation of gooey caramel with a light dose of saltiness. It is actually extremely similar to Buffalo Wild Wings' own honey BBQ sauce in overall flavor. It's very, very good, although the BBQ portion of the equation was a touch too much on the tomato-y side. If BWW would have toned this aspect down just a hair, this wing chain would have had a solid winner on their hands in having an unorthodox, sweet caramel sauce, almost treading over into the "dessert" genre.
Heat: 

Overall Flavor: 

Ghost Pepper Wing Sauce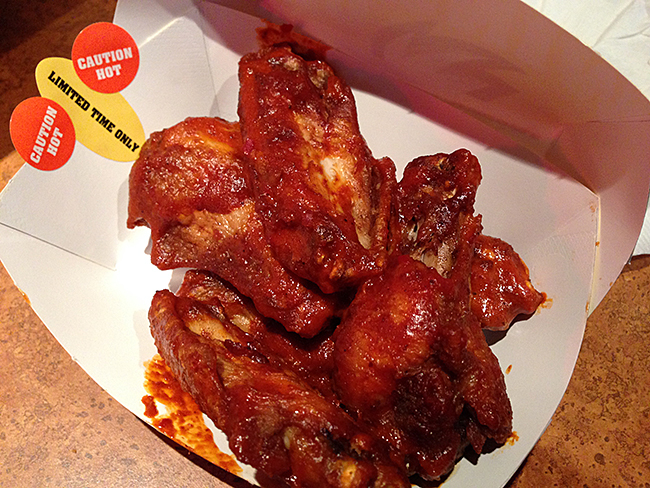 And now for the sauce you've all been waiting for… Buffalo Wild Wings Ghost Pepper Sauce.  From anecdotal reports, this fiery wing sauce is the one to trounce Blazin' Sauce as BWW's hottest on the Scoville Heat Scale, even though "officially" nothing has been announced as to its SHU rating.
Even though this is a dark red sauce with a texture and look of Blazin' Sauce, thankfully BWW Ghost Pepper Sauce does not contain the nasty chile pepper extract to produce the heat, as most discriminating chileheads are turned off by the bitter, chemical-like taste that extracts introduce.  From the marketing and the signage, Buffalo Wild Wings states that their Ghost Pepper Sauce uses chipotles for smokey tones and ghost peppers (AKA Bhut Jolokias – which were the hottest chile peppers on earth a few years ago, before they were dethroned by Trinidad Scorpions and Carolina Reapers) for the gargantuan heat.
[GARD]
Flavor-wise? Oh yeah, a vast improvement over the Blazin' Sauce.  It still lacks the creamy, tangy tones of a classic buffalo wing sauce, and in this case opts for a smokier, darker and grittier feel and taste. I was slightly disappointed that it does not cross over into that hollowed "delicious" territory. Yet I feel that if you've stopped in a B-Dubs location and you're craving incredible heat, you won't have to sacrifice as much in the flavor department.
Okay, okay, you're begging me to describe the heat.  Well, yes, I think this is the hottest that the wing chain has ever produced. This is definitely not a sauce – like Red Robin's Ghost Pepper Sauce – that may contain small amounts of the fabled chile but has very little burn.  Oh, no. This unequivocally packs a mighty wallop in terms of fierce-some fire. After eating one wing, a slight tingle developed on the tongue; and after two, I knew that this wasn't a sauce for lightweights. By wing number four or five, the lovely "360-degree vice-grip on the tongue" developed with a burning, throbbing sensation hallmarked by some of the more incendiary hot pepper products I've ingested in the past.
If you're a chilehead, chances are you'll like this. It's not going to win any flavor awards, but if you want a surprisingly good kickass burn in your mouth and on your lips, get Buffalo Wild Wings Ghost Pepper Wings while you still can.
Heat: 

Overall Flavor: 

Review – Buffalo Wild Wings Ghost Pepper Sauce and Salted Caramel BBQ Sauce