I'm currently in the midst of a well-deserved vacation in Branson, Missouri. This current jaunt is my first real personal or family break in three years, the occasional weekend getaway or hot sauce show notwithstanding.
What's there to do in Branson and what is there to do in this town? Well, it's often criticized or lampooned as a mini Vegas strip for rednecks, a heavily commercialized, tourist trap-like stretch with numerous country music shows, restaurants, hotels, and gift shops. The main strip, highway 76, is without much exaggeration in a perpetual traffic jam from mid-morning until midnight. For all of its criticisms, it's still hard to beat as a mecca for bite-sized, family-friendly entertainment, especially for those who play their cards right.
Eating can be a big part of any trip, and here's a few quicky reviews for munch-down joints I've been to on this vacation.
Baldknobbers Country Restaurant
This eatery is adjacent to the excellent country music and comedy show of the same name. It's a restaurant containing a buffet, and one of the best ways combating those non-committal dining decision moods (you know, where no one can agree on anything and no one entree jumps out at you as being a "must get") is to opt for the "all you can eat" bar. You just know that at least one thing's gotta be good. But we noticed that the buffet table looked small. Now, maybe I've been spoiled by the multi-table, multi-station super-bars, but even by less amped-up 1980s standards of smorgasbords the selections were meager here at the Baldknobbers restaurant. Out of non-salad items, we're talking around a dozen food selections.
I got some BBQ ribs, fried chicken, fried okra, mashed potatoes and brown gravy for my first plate. The ribs were overdone and lacking any semblance of being smoked and were slathered in a cheap barbecue sauce. The fried chicken was dry and flavorless and the mashed potatoes reeked of being of the instant variety. I followed up this helping by getting a second round of fried okra (this was decent) and some of the moistest apple cobbler I could find in the hot table.
Oh, and about that apple dessert? It too was another dry and overdone offering. And as bad as that was, the cherry cobbler was pathetically burnt and dehydrated all to hell. It's as if this stuff had been literally sitting in the buffet for six hours and was not removed for dinnertime patrons such as us. This was inexcusable: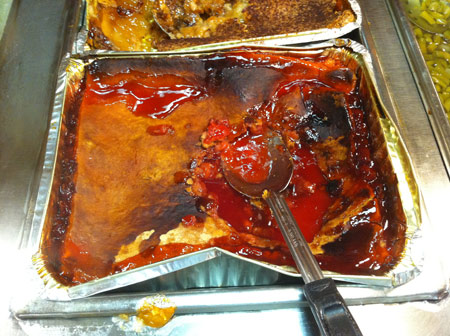 For 12 bucks a pop for adult buffets, this was a huge disappointment and rip-off. Since the wait staff was nice, I'll be generous and rate the Baldknobbers Country Restaurant a D-.
Plantation Restaurant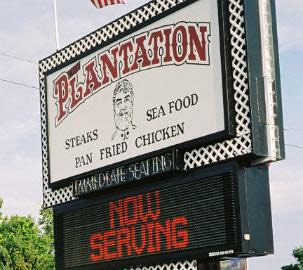 We had heard some positive word about this place, so we had better hopes the next night's meal. Little did we know know that the Plantation was a buffet similar to the Baldknobbers and even had a buffet layout pretty darn close to it too. To the Plantation's credit, they did offer a dessert and a baked potato bar in addition many of the same foods.
It was hit or miss with the buffet items. The ribs were even worse than Baldknobbers', with a mushy consistency and had no taste, no seasoning and sauce of any kind (methinks they were boiled and then baked at high temps). The rotisserie chicken chicken was
nominally good with some moisture and savoriness, and a pasta salad with some sort of a mayo base wasn't all too bad.
I enjoyed my custom-made baked potato as well. The highlight of the evening was undoubtedly the blackberry cobbler. Flavorful and scrumptious with the right balance of sweetness, richness and lightness, this was top-notch stuff. It instantly raised by overall perception of the meal a notch or two.
Another 12 dollar buffet that's way overpriced. The only time that amount of change per person is worth it is if you're including unlimited steak, seafood, a bakery bar, and lots of other odd and ethnic items available. But this time it was nearly worth it, thank to the remarkable dessert. My grade for the Plantation would be B-.
Branson Restaurant Reviews Part One