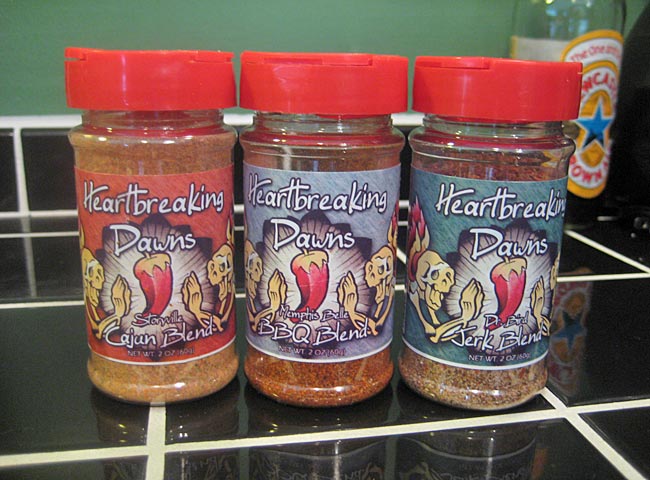 Johnny McLaughlin and Nicole Ramsperger of Heartbreaking Dawns shipped me their three hot sauces this past Winter and I was pleased overall with their offerings. While I wasn't blown away by their efforts, I found something positive about each sauce and considered Heartbreaking Dawns to be an up-and-comer in the fiery foods industry to keep an eye on.
Some time after I had met Johnny and Nicole at the Fiery Foods Show in March, they had sent me another trio of products, this time out it was some dry spice blends. I am extremely pleased to report that while I thought their sauces were good, these dry rubs are even better. I truly believe they are hitting their stride with these seasonings.
Just reading the names of these products – Dr. Bird Jerk Blend, Memphis Belle BBQ Blend and Storyville Cajun Blend – will tip you off to their flavor and utility. Seeking to test these all out once, a uniform base of grilled chicken breasts seemed like a good candidate for a meat that would bring out the flavor of these. More on that in a bit….
Dr. Bird Jerk Blend
Ingredients:
Onion, Salt, Black Pepper, Allspice, Ginger, Nutmeg, Thyme, Red Pepper, Dried Habanero
Good stuff. Nicole and Johnny have gotten the base flavor for a Jamaican-style jerk rub down pat, yet there are few surprises to this. That's certainly not a negative, because if you're in the search for a flat-out zingy island-inspired spice blend. Dr. Bird is moderately hot but not for a typical jerk seasoning.
A good deal of its kick and personality is derived from the allspice and ginger. It's bright, pungent and almost sweet, with a whirlwind of complementary savoriness coming from the onion, salt and thyme. There is pepper (black, red chile and habaneros) on the back end that offer just enough fiery punch to appeal to chileheads.
Chicken and all its various forms and types – whole, parts, wings, baked, grilled and braised – is the obvious meat to apply this to. Jerk turkey with Dr. Bird sounds nice. And pork tenderloin would be absolutely lovely with this rub blend.
Overall Score: 4.0 out of 5.
Memphis Belle BBQ Blend
Ingredients:
Onion, Salt, Black Pepper, Allspice, Ginger, Nutmeg, Thyme, Red Pepper, Dried Habanero.
Wait a minute, those above ingredients are identical to the Dr. Bird Jerk Blend. I'm almost sure this was a typo, as I can taste other things in this that the listed components couldn't recreate.
Memphis Belle BBQ Blend is easily one of the best rubs I've come across in quite a while. It's tangy and onion-y with just the slightest bit of sweetness. Marjoram, mustard, salt and brown sugar are major components in what I could detect. There's also a touch of heat and spark so assuming there's some paprika and garlic powder would not be too far off from being true. The flavors are very well balanced and this would appeal to both fans of smoked pork shoulder and brisket as well as people who would want a simple duster for a burger, a rib-eye or fried wings with. Yup, this belongs in everyone's spice rack as an all-purpose rub. This gets a huge thumbs up from me.
Overall Score: 4.5 out of 5.
Storyville Cajun Blend
Ingredients:
Black pepper, Onion, Cayenne, Majoram, Thyme, White Pepper, Garlic Powder, Salt, Paprika
A worthwhile approximation of that Mississippi Delta that most of us love. Superlative performances from garlic, black pepper and salt form a nice core, with thyme, cayenne and paprika giving this a Southern fried flavor. I tasted this mix straight, and it reminded me of the spice blend in my own homemade jambalaya recipe (hey, that immediately puts Heartbreaking Dawns on the right path!).
I found that this spice blend was the hottest out of the three. In this respect it's true to the cajun cuisine I like. It's certainly not spicy enough to ward off most fans of good food.
I can think of a half dozen applications and dishes for Storyville Cajun Blend. Some grilled and smoked andouille sausage with a sprinkling of this seasoning would be heaven. A crispy-skinned cornish hen with a dusting of Storyville. Grilled or baked shrimp. Meatloaf. A rack of St. Louis-cut spare ribs. A quick, impromptu spice mix for a stomach-warming catfish gumbo. Mmmmm…it's getting me hungry again!
Overall Score: 4.5 out of 5.
Grilled Chicken with Heartbreaking Dawns Dry Rubs
A took some four chicken breasts and gave each one a healthy coating of Dr. Bird Jerk Blend, Memphis Belle BBQ Blend and Storyville Cajun Blend (the fourth received some D-Dog's Apple Rub). I let them rest in the fridge for about 3 or 4 hours.
I removed them from the icebox after the grill was heated up and gave each chicken piece an additional smattering of each rub blend. After cooking them up to perfection, it was time to chow down.
I cut large hunks of each breast for sampling. Tater tots with a shake or two of CaJohn's Fire Dust and green beans were the sides.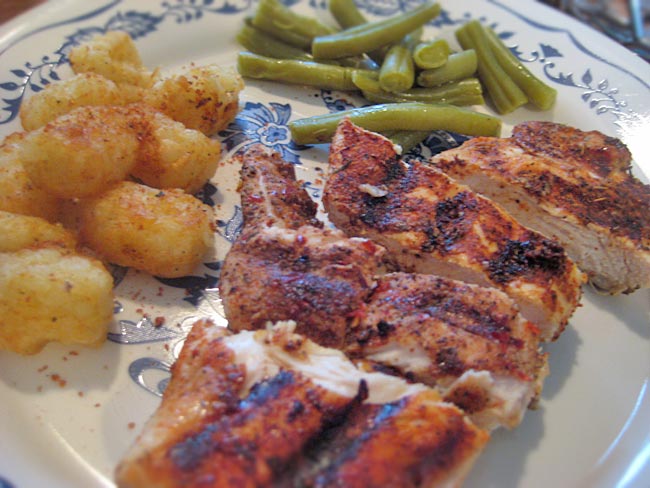 All three seasonings were nice. As I like to use heavy amounts of rub, I thought the allspice in the Dr. Bird Jerk Blend was a bit too overpowering – enough to have the lingering "taste" in my mouth a half hour later – in a couple of the bites but were otherwise tasty.
In Conclusion
Heartbreaking Dawns has the potential to really make their mark in the business. They're set to be an exhibitor at the Weekend of Fire in a few weeks and I can't wait to see what else they're coming out with.
Each seasoning blend comes in a 2 oz plastic shaker bottle and is available for $4.95 a piece at http://www.heartbreakingdawns.com, plus the extra added shipping charge.
Review – Heartbreaking Dawns Dry Rubs