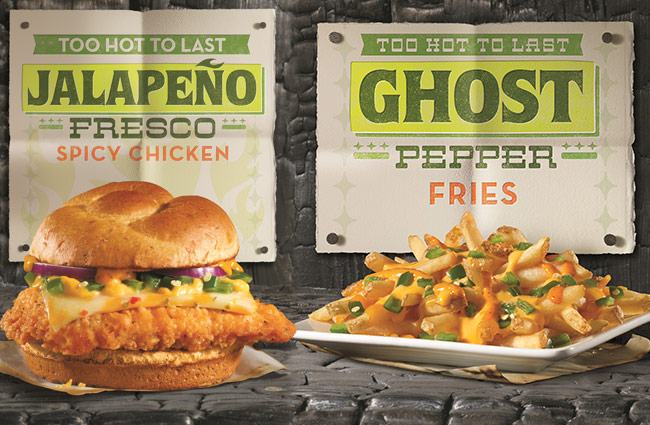 Wendy's is soon debuting two spicy limited-time menu items next week that is great for the Chilehead on the go – the Jalapeño Fresco Spicy Chicken Sandwich and Ghost Pepper Fries.
The sandwich features Wendy's signature spicy blend and 100% all white meat chicken breast, topped with fresh, diced jalapeños and specially made ghost pepper sauce, and capped with a bakery-inspired, freshly toasted red jalapeño bun. The heat is complemented with savory flavors from warm, melty cheese sauce, delicious Colby Pepper Jack cheese and a crunchy red onion. Recommended Price: $4.99.
The Ghost Pepper Fries are smothered in cheese sauce and then topped with diced, fresh jalapeños, shredded cheddar cheese and a ghost pepper sauce. Recommended Price: $1.99.
Although "spicy" or jalapeño-laden sandwiches are typical for fast food chains nowadays, ghost pepper-flavored items are still our of the norm. I plan to test out these fries and see if they would appeal to both chileheads as well as the mild-mouthed general public.
Wendy's Brings Heat with Fresh Jalapeños, Ghost Peppers with Two New Spicy Offerings