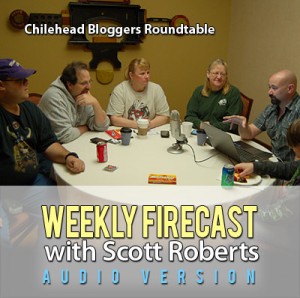 The Audio Weekly Firecast with Scott Roberts:
Episode 008 – Bloggers Round Table from Jungle Jim's Weekend of Fire 2012
This round table discussion featured bloggers from ScottRobertsWeb.com, ILoveItSpicy.com, TheHotZoneOnline.com and HotSauceDaily.com and took place during the 2012 Weekend of Fire Fiery Foods Show in Fairfield, Ohio. We touch on a number of topics including what spicy new products we enjoyed at the Weekend of Fire, a lengthy discourse on video reviews of chile peppers ans hot sauces on YouTube and how they compare to written reviews, competing events to hot sauce shows, and a Hot Sauce Blog-era Old School Chilehead Reunion in 2014.
Links mentioned in the episode:
• HotSauceDaily.com
• ILoveItSpicy.com
• TheHotZoneOnline.com
• Jungle Jim's Weekend of Fire
• 2GuysTalking Feedback Gauntlet (provide feedback and enter to win $100)
Listen Instantly!
 Click Above to Listen to This Episode Now!
Download this episode |
Subscribe via iTunes |
Subscribe via RSS Feed
Weekly Firecast Episode #8 – Bloggers Round Table From Weekend of Fire 2012