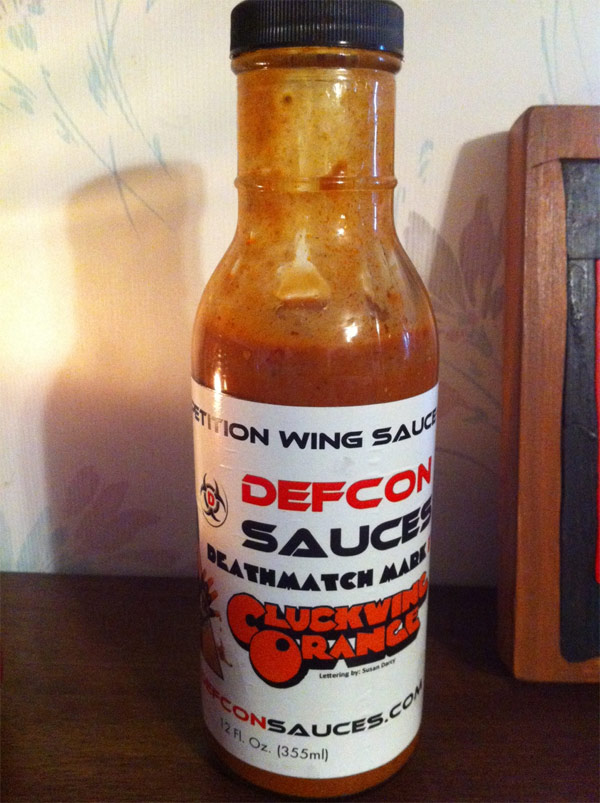 Is there impartiality around the Roberts homestead towards DEFCON sauces? You betcha! We are definitely a "DEFCON house"!
Now, before you rush in to figuratively lynch me and bash the above statement into thinking that I do not take my role as reviewer or critic seriously, I will certainly take a stern critical eye to the things that John and Maggie Dilley (AKA the DEFCON "Creator" and "Createss") call into being. Their Hobby Horse and Habby Pony Sauces float around the "so-so" level in my preference (simply because I'm not a huge horseradish fan), and their Def-Konichi Asian style tipping sauce (which I believe is now defunct) didn't exactly pop my taco.
That having been said, I don't think any soul alive has topped DEFCON for pure wing sauce yumminess (which the exception of Ott's Buffalo Sauce in the mild category) with the Defense Condition series, which includes Mild (#3), Medium (#2) and Hot (#1) variations. All three are superb, "must-own" products.
Now, John has developed an indendiary wing coater especially for his now-famous Deathmatch Wing Contests. Since his aim was to torture instead of wow people with their taste, this Deathmatch sauce ain't exactly something most chileheads would sit down with when they have a hankerin' for some flavorful chicken flappers.
Three refinements later to the Deathmatch Competition sauce line, and DEFCON has hit buffalo wing nirvana with the Deathmatch Mark IV Cluckwing Orange Wing Sauce. Not only is this by far the biggest leap forward to the Deathmatch series, but John has even bested the hallowed Defense Condition lineup. According to John, a year and a half went in the making this delicious brew, and every second spent developing it was paid off in spades for him. I'm not one to throw around accolades freely, but Cluckwing Orange is simply the best buffalo wing sauce I have ever eaten.
Ingredients:
Hate, Distilled Vinegar, Aged Cayenne Peppers, Salt, Water, Canola Oil, Paprika, Cream, Cayenne Pepper, Peri-peri Pepper , Capsicum Pepper Extract, White Wing Vinegar, Scorpion Pepper, Salt, Paprika [Scott note: second appearance in ingredients list], Xanthan Gum, Sodium Benzoate (as a preservative), Natural Flavors, Garlic Powder, A Smattering of Disdain
Aroma:
5 out of 5. This is pure DEFCON creamy dreaminess. If there were ever a wing sauce to make your nose dance and your mouth to water, it would be >Deathmatch Mark IV Cluckwing Orange.
Appearance and Texture:
4.5 out of 5. Deep rich, extra thick and orange. If there was a big deficiency of DEFCON's Defense Condition sauces, it would be their appearance and perhaps even their consistency as they had an odd "speckled look" when pouring out of the bottle, along with a viscosity a tad on the runny side. Not this new Cluckwing Orange. It's beautiful to behold, and it's hefty texture will stick wonderfully to wings. The only thing preventing this from getting a perfect score is the fact that it may be ever so slightly TOO thick; if you do not prefer wings with an ultra-thick covering of sauce (and the extreme heat of this will build up rather quickly) then it may become too much for you after the third or fourth chicken piece.
Taste Straight Up:
5 out of 5. Smooth, rich, creamy and peppery. Elegant and brilliant. It seems like Dilley had taken his Defense Condition building blocks and made not only the texture denser, but also the overall flavor richer. It's like buffalo wing velvet on your tongue.
You may be asking, "Scott what about the added Trinidad Scorpion chile peppers? What about the extract?" Well, either DEFCON uses so little of the Scorpions that their distinctive bitter, floral taste doesn't come through, or that it blends in flawlessly in with the flavors of the other peppers that it really doesn't matter. And the chile extract, which is the nasty, chemical agent that ruins virtually every sauce it's included in? The extract is a non-issue. You taste so little of it that it really doesn't matter; and I had to consume about 8 wings before it became vaguely notable. It's really nothing to even discuss. It's akin to a common housefly bugging you for 60 seconds in the middle of an otherwise pitch-perfect tropical vacation that you would take with the girl of your dreams.
Taste on Food:
5 out of 5. Stellar on both grilled and fried wings, and also as a dip for on chicken breast tenders. I on occasion will create a DEFCON buffalo burger, and I can't imagine Cluckwing Orange Wing Sauce being any less wonderful than the Defense Condition was in this application. I can't wait!
Heat:
4.5 out of 5. This may be the kicker for some. Deathmatch Mark IV Cluckwing Orange Wing Sauce is not made for the meek, but only those who can stand extreme amounts of spicy heat. This is without a doubt a sauce that will leave even experienced chileheads with numb lips, burned mouths and scorched throats. Unless you're the type who can regularly take the hottest stuff that chains like Buffalo Wild Wings and Quaker Steak and Lube can dish out, Cluckwing Orange is going to be too much for you.
Label:
Visually, this is an obvious and clever spoof of the artwork from the film "A Clockwork Orange". Taking the place of the bowler-hatted Malcolm McDowell (who appeared inside the "A" on the movie poster) is John Dilley in self-described "Mad Max meets the Matrix" gear, with blood dripping from his right pinky finger towards a scorpion animal. Even the pre-title tagline from the 1971 film poster is parodied, with DEFCON's sauce label reading, "Being the Dark Product of a twisted man whose principle interests ate Other Peoples' Pain, Ultra Malevolence and Thrash Metal". Classic!
Overall:

DEFCON has blown me away and obliterated all expectations with this ridiculously great Deathmatch Mark IV Cluckwing Orange Wing Sauce. This is the new wing sauce standard and an instant culinary classic. It's in the running for my favorite New Product of the Year. Get some now at DefconSauces.com! This happy condiment comes in a 12 oz. bottle and runs for $15; a little pricey but SO much worth it!
Review – DEFCON Deathmatch Mark IV Cluckwing Orange Wing Sauce