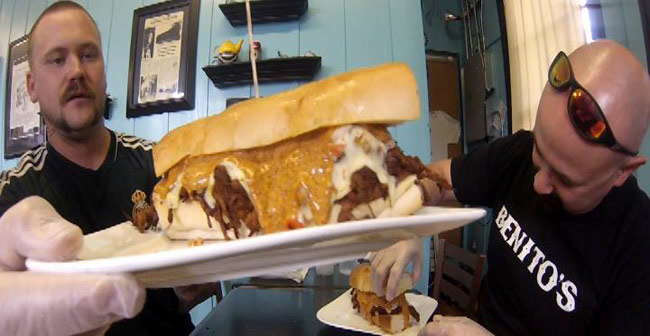 Jerret Ulmer of HeadAddicts.com and I sauntered into the de.lish Cheesecake Bakery and Cafe in Florissant, Missouri a few weeks ago to see if we could conquer their Inferno Challenge.
The basics of the Inferno Challenge are this: eat an entire philly cheesesteak-type roast beef sandwich (the meat is cooked with ghost pepper powder, and is topped with pepper cheese, a thick, super-hot chile pepper powder-laden yellow-orange sauce, and liberally doused with large chunks of jolokia and scorpion peppers) within 30 minutes. No food or drinks or drinks are allowed within the first minute of the challenge, but after the 60-second mark water is allowed, as are the potato chips and dill pickle spear provided on the side.
Were Jerret and I able to handily defeat the Inferno Sandwich Challenge from De.Lish Cheesecake Cafe and win a free t-shirt and a photo spot on their Wall of Fame, or did this incendiary behemoth best us? Watch the video below to find out!
One last thing I will stress: this is the last spicy eating challenge in which I will ever partake. I am officially hanging up my hat in that regard. While I will still leave myself to sample various super-hot sauces and chile peppers as I see fit, I have nothing left to prove. I will leave the fiery "fun and games" to the newer guys, or simply those with the titanium digestive systems and speedy jaws.
De.Lish Cheesecake Cafe
1060 Saint Catherine Street
Florissant, MO 63031
Hours: Tue – Wed: 8:00 am – 7:00 pm, Thu – Sat: 8:00 am – 9:00 pm
Phone: 314-831-7400
Email : delishcheesecakes@gmail.com
Facebook page: http://www.facebook.com/pages/delish-Cheesecake-Bakery-and-Cafe/246011882080357
Trying the Inferno Sandwich Challenge from De.Lish Cheesecake Cafe