While perusing the dried snack/nuts aisle at one of my local Trader Joe's, I noticed bags of Chile Spiced Mango slices on the shelf and thought I'd give them a whirl. Hey, I'm all for combining spice and heat with just about food item, including ones that are predominantly sweet. Some of these types of culinary partnerings are successful, while others are a complete flop. Trader Joe's Chile Spiced Mango slices fall somewhere in the middle.
Ingredients
Dried mango slices, sugar, paprika, salt, citric acid, and cayenne
Smell
The aroma given off by the open bag was light yet borderline unpleasant. Strong paprika odors were accented by mild sugary and fruit smells. I advise not to linger with your nose stuck in the bag; just get down to business and start eating.
Texture and Appearance
The slices ranged from one to two inches in length and a little over 1/8 of an inch in thickness. The dark reddish-orange chile spice and light salt were clearly visible all over each piece of mango, which when combined with citric acid and natural mango stickiness give the snack a gritty, messy feel when handling. Be sure to have a few napkins or even a wet wipe handy when consuming a bunch of these – you'll need 'em if you don't want to have orange fingers!
Taste
The paprika is a bit overpowering. I would have preferred less of this and more of a pure fiery, peppery kick. The mango brings a nice sweetness to the mix. The chewiness of the fruit is about right – it's not too tough and it's not too soft and limpy. The aforementioned grittiness is noticeable, too (neither an asset nor a liability in my opinion).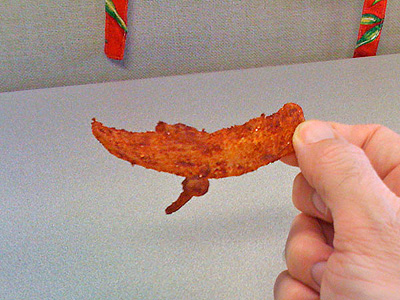 Heat
Like I've mentioned, this could have had less of the milder paprika taste and more of a straight, cayenne heat blast. The hotness would register around 1.5 on a scale from 1 to 5. I'm guessing the mango's sweetness would have still been able to balance out any additional fire.
Label
A nicely designed label that fits well with the rest of the Trader Joe's line of snacks. It has a faded background illustration of a mango and a cayenne pepper.
Overall
These Chile Spiced Mango slices aren't bad at all and are worth a try, but I certainly wasn't impressed. If you like mango (especially the dried variety) then these may be down your alley. Personally, I'll just stick to Trader Joe's regular sweetened & dried mango slices.
You can pick up a bag at a Trader Joe's near you. If you're not sure where a store is, you can have a look on their website's locator: http://www.traderjoes.com/locations.asp
Review: Trader Joe's Chile Spiced Mango