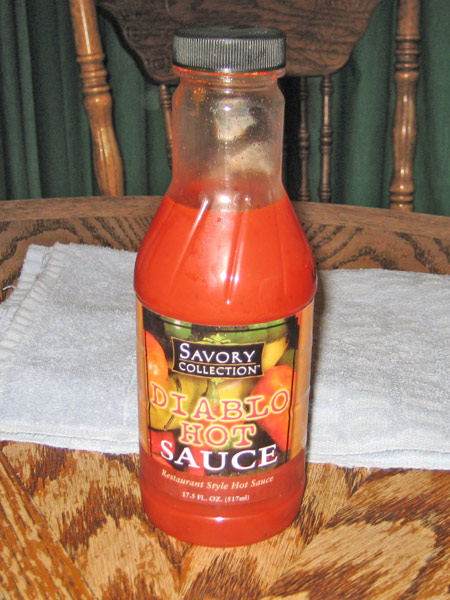 Here's a brand of generic habanero pepper sauce I stumbled upon at one of my area grocery stores for only one dollar: Savory Collection's Diablo Hot Sauce.
Ingredients:
Cayenne peppers, vinegar, water, salt, habanero peppers, xanthan gum, and other preservatives, spices, and coloring.
Aroma:
3 out of 5. It has your basic vinegar and cayenne blend, and smells a bit "sweeter" than Frank's Red Hot. Not too pungent, and not too weak.
Texture and Appearance:
4 out of 5. Diablo possesses a pretty reddish-orange hue with numerous specks of spice visible. Although it's a fairly runny sauce it's not "watery" by any means.
Taste:
3 out of 5. Dominant vinegar and spice flavor, with strong hints of sweet, non-descript, vegetable-like overtones. It's got a decent taste that borders on the "plain" side of the food spectrum. I couldn't imagine this sauce covering a plate full of hot wings, as I don't think the taste would compliment unbreaded chicken very well. Instead, I would recommend Diablo on breaded chicken breast strips or eggs.
Heat:
2.5 or 3 out of 5. It's a good balance between being favorable to both pepper novices and the more hardcore chileheads. It's cool enough to douse large amounts on your food, yet fiery enough to those with a cast iron stomach. Once you taste it you'll feel a slight sting, thanks to the habaneros. There's no delayed heat and warms your tongue almost immediately.
Label:
For some reason I like this label. It looks clean, classy, and to-the-point. For being a "bargain" sauce, it has a nice overall design and use of colors.
Overall:
It's not a bad find for only a buck. Don't expect the world out of it; park your highly-attuned taste buds at the door and you'll find some adequate burn if nothing else is available in your fridge.
It comes in a 17.5 ounce "unbreakable" plastic bottle. You may be able to find it at a supermarket near you; I picked my bottle up at a Food For Less here in the midwest. More info can be found at the manufacturer's website: http://www.privatelabelfoods.com/hot_sauce.php.
Review: Savory Collection Diablo Hot Sauce