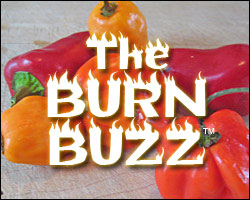 Here's my first 2010 edition of the Burn Buzz, where I list hot n' interesting links about spicy food and BBQ that have been floating around on the intertubes lately…
Chick-fil-A Spicy Chicken Sandwich Coming Nationwide
Locally Made: Bill Hutchison Solves the New Mexico Pepper Debate – Helping to Answer the Question "Red or Green?"
The Great New Mexico Chile War – More on the Red vs. Green debate, plus a mishmash of other subjects.
Building A Better Pepper – Chile pepper farmer Ed Curry and growing chiles in Arizona.
Nestle's Hot Sauce Heats Up – The food company introduces a new hot sauce in Malaysia.
Hot times in the city: Farmers process hot peppers on Saginaw 'assembly line' – Growing chile peppers in Michigan
New celebrity diet pill Capsiplex hits the UK streets – Capsaicin-based diet pill is claimed to burn as many calories as one would burn in 90 minutes of a brisk walk.
The Burn Buzz – Spicy Food News 2/8/10